Add a touch of sophistication to your high tea menu with Neil Perry's curried egg sandwich recipe.
I have loved curried egg sandwiches my whole life – my mum used to make a cracker. It's funny the way we often disdain commercial bread, but in reality, for this kind of finger sandwich, nothing works quite as well as fluffy white bread. And never underestimate the deliciousness of eggs and mayonnaise.
I love the way the French cut a boiled egg in half, lay it cut-side down on the plate, cover it with mayonnaise and perhaps some chives and then serve it with some beautiful crusty bread. I have had this simple dish many times at Le Comptoir in Paris and loved it – I always end up building my own egg and mayo sandwich!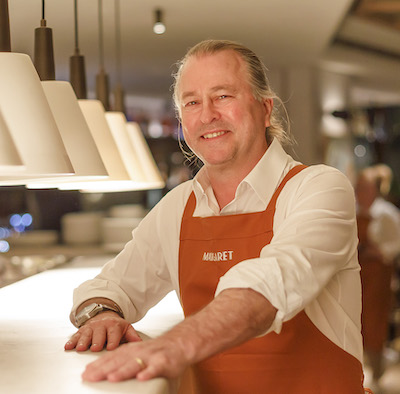 Images and text from Everything I Love to Cook by Neil Perry, photography by Petrina Tinslay. Murdoch Books RRP $59.99.
Ingredients:
5 eggs
4 tablespoons Kewpie mayonnaise
2 teaspoons Bolst's or Keen's curry powder
8 slices of very fresh, fluffy white bread
Soft butter, to your liking
Sea salt and freshly ground pepper
Method:
Boil the eggs in salted boiling water for 8 minutes, then remove, run under cold water and peel. To make this easier, crack the shells all over and leave them to soak in cold water for 10 minutes – it's also better to start peeling from the base (more rounded end) of the egg.
Put the eggs, mayonnaise and curry powder into a bowl. Mash together with a fork until evenly mixed but still slightly chunky. Season well with salt and pepper.
Lay the slices of bread on a chopping board or bench and spread with butter. Put a quarter of the curried egg mayonnaise in the middle of four of the slices, then spread it out evenly to cover the whole slice. Top with the other slices of bread and press down ever so gently. Use a bread knife to trim off the crusts and cut each sandwich in half. Serve immediately.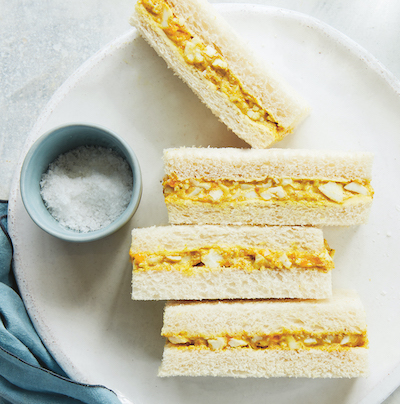 Variations:
This filling is great in a rustic baguette with lettuce or watercress for texture.
Also, it's not out of the realm of possibility to add a tasty cheese like cheddar or gruyère for something more substantial than finger sandwiches – just make double the quantity of curried egg mayo and you will have enough for a couple of generous sandwiches.
---