Serves
40 small choux buns
Equipment
large baking tray
---
Salted Caramel Choux Buns recipe by Emelia Jackson.
These creamy caramel choux buns are simple perfection. They are filled with a diplomat cream, which is a crème pâtissière that has been lightened with whipped cream. The result is a soft and luscious cream that has the stability of a crème pâtissière.
Images and text from First, Cream the Butter and Sugar by Emelia Jackson, photography by Armelle Habib. Murdoch Books RRP $59.99.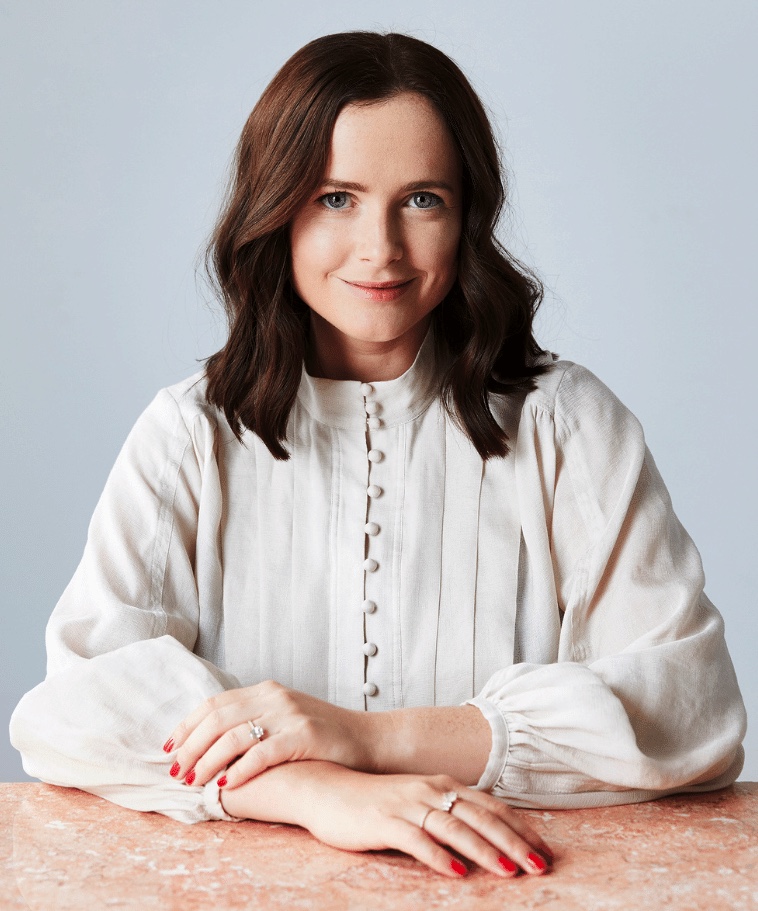 1 batch Choux pastry, baked into 7 cm (2¾ inch) buns with Craquelin, with Icing (confectioners') sugar for dusting.
Salted caramel sauce:
480 ml (16½ fl oz) full-cream milk
300 ml (10½ fl oz) thickened (whipping) cream
300 g (10½ oz) caster (superfine) sugar
1½ teaspoons sea salt flakes
Salted caramel diplomat cream:
100 g (3½ oz) caster (superfine) sugar
70 g (2½ oz) cornflour (cornstarch)
2 eggs
2 egg yolks
1 teaspoon vanilla bean paste
Salted caramel sauce (see above)
50 g (1¾ oz) unsalted butter, cubed
300 ml (10½ fl oz) thickened (whipping) cream
First, make the salted caramel sauce. Warm the milk and cream in a small saucepan (this will reduce spluttering when you pour the mixture into the hot sugar). Next, pour the sugar into a saucepan over medium–high heat and cook, stirring constantly, until deeply caramelised. This is a dry caramel (i.e. there's no water added) that won't crystallise if you stir it while heating – in fact, continuous stirring will ensure the caramel browns evenly.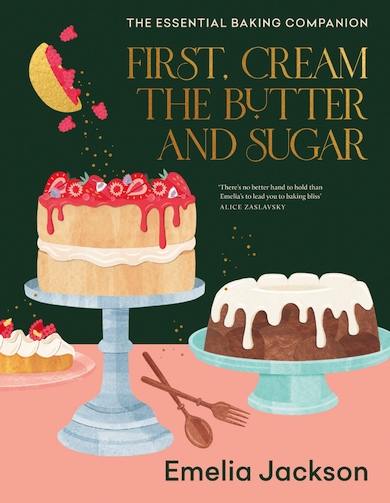 Pour the warm milk and cream into the caramelised sugar and cook for 1–2 minutes to melt the sugar that may have hardened. Stir in the salt. Remove from the heat and set aside 180 g (6 oz) of the sauce for filling the choux buns. Use the remaining sauce to immediately make the diplomat cream.
Put the caster sugar, cornflour, eggs, egg yolks and vanilla in a bowl and lightly whisk to combine. Whisk in the remaining hot salted caramel sauce, then return the mixture to the pan and cook until thickened, about 3–4 minutes. Remove from the heat and whisk in the butter to make a crème pâtissière. Cover the surface with plastic wrap and place it in the fridge until completely chilled – a minimum of 4 hours, but overnight is always best.
Whisk the cream until medium peaks form. Lightly whisk the chilled crème pâtissière to loosen it, then fold in the cream. Transfer the diplomat cream to a piping bag fitted with a round nozzle.
To assemble, cut the tops off the choux buns and dust the buns with icing sugar. Pipe the diplomat cream into each bun and use a warm spoon to create an indent in the top. Transfer the reserved salted caramel to a piping bag and cut off a small part of the tip. Pipe about 1 teaspoon of the salted caramel on top of the diplomat cream for an extra caramel hit.
Choux pastry
I use this base choux pastry recipe in all applications – eclairs, choux buns, Paris-Brest and compressed choux. It's a no-fail recipe that I've developed over years of experimentation. Outlined below are a few key steps for achieving the perfect choux. Many recipes call for milk, but I've found that I get a crisper result using water in the dough. You can certainly split the water quantity and use half water and half milk, if you prefer (the milk solids will add flavour). It's worth remembering that choux pastries are best eaten as fresh as possible.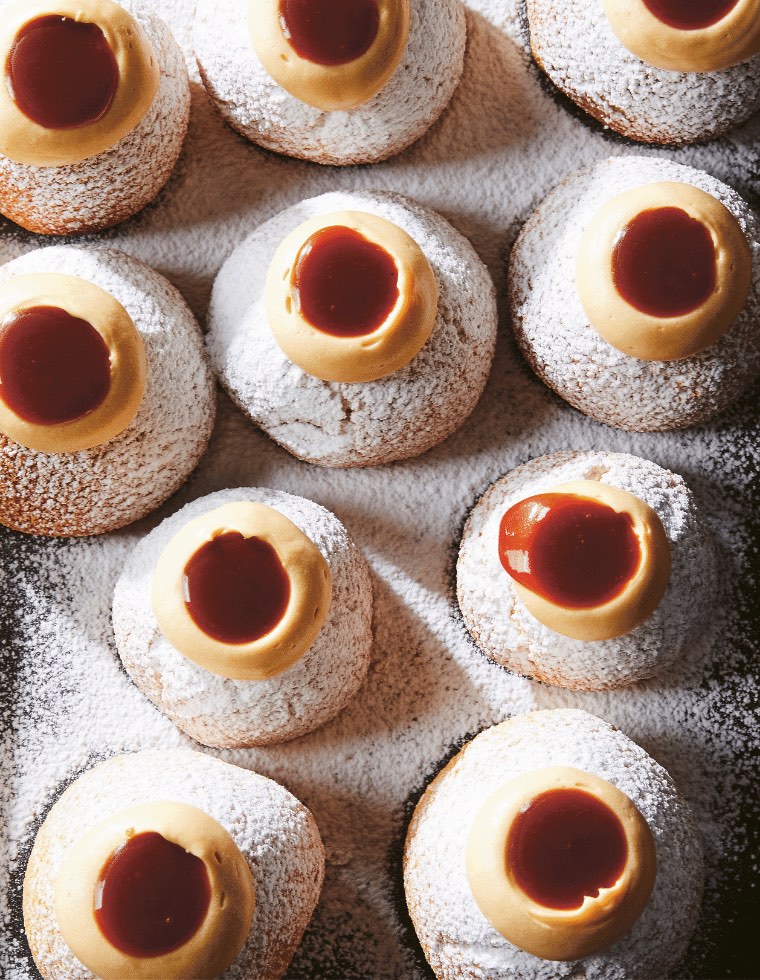 Makes about 40 small choux buns, 20 eclairs, 15 Paris-Brest or 20 compressed choux
100 g (3½ oz) unsalted butter
1 teaspoon caster (superfine) sugar
1 teaspoon salt
140 g (5 oz) plain (all-purpose) flour
265 g (9¼ oz) whole eggs (weight without shells)
Step 1
Preheat the oven (check the temperatures for the different types of choux on pages 294–295). Line a large baking tray with baking paper.
Step 2
Pour 225 ml (7½ fl oz) water into a saucepan, add the butter, sugar and salt and bring to a rapid boil. Add the flour and cook this roux for 5–7 minutes or until a thick crust forms at the base of the pan (this ensures the flour is well hydrated, giving you the best and most consistent results).
Step 3
Transfer the hot roux to the bowl of an electric mixer fitted with the paddle attachment. Mix on medium speed until all of the steam dissipates – this ensures any excess moisture that could weigh down the choux evaporates and you are left with the lightest pastry.
Step 4
With the mixer running, add the eggs, a little at a time, and mix until the dough comes together to a silky, shiny batter. It should just fall off your scraper when you lift the batter out of the bowl – not too thick and not too thin.
Step 5
Transfer the choux to a piping bag fitted with the appropriate nozzle and pipe it into shape on the baking tray. I top my choux pastries with craquelin before baking. Craquelin is an extra pastry that's added to the top of choux pastries. It gives incredible flavour, extra rise and expansion, as well as a slick, professional finish.
Step 6
Bake the choux for at least 45 minutes before opening the oven door. Choux pastry rises from the build-up of steam in the oven, so if you open the door too soon, you risk the choux collapsing. I often find, especially in Australia, people don't bake their pastries for long enough. We want them to be dark – this gives a caramelised, complex flavour, rather than a pale choux with flavour notes of flour.
Step 7
Once the choux are a deep-golden, caramelised brown colour all over, they can be removed from the oven and left to cool at room temperature. Note that if they aren't cooked enough, they run the risk of collapsing while cooling, so please, please, pretty please cook your choux until they are a dark golden brown.
Piping and baking the choux
1. Line a baking tray with a perforated silicone baking mat for best results (you can also use an unperforated silicone baking mat or baking paper).
2. Fit a piping bag with a 1–1.5 cm (½-5/8 inch) round nozzle.
3. Fill the piping bag with the choux batter and pipe the buns in even rounds, roughly 3 cm (1¼ inches) in diameter, leaving ample space for them to spread and rise.
4. Top each bun with a 3 cm (1¼ inch) round of craquelin pastry.
5. Bake at 160°C (320°F) for 1 hour or until a deep golden brown. Remove from the oven and allow to cool at room temperature.
Craquelin pastry
This is a secondary pastry – consisting of equal quantities of sugar, butter and flour – that essentially melts over the top of your choux pastry. It insulates the pastry, giving you the perfect, symmetrical rise. It's also delicious – a sweet, crackly coating that stays crisp even when the choux softens from its filling. The best thing about a craquelin (other than the taste)? It gives you the perfect choux, every time. Use it on choux buns, eclairs or Paris-Brest.
To get an understanding of the role of the craquelin, bake some choux with craquelin and some without – you will see the massive difference it makes.
100 g (3½ oz) caster (superfine) sugar
100 g (3½ oz) unsalted butter, softened
100 g (3½ oz) plain (all-purpose) flour
Mix the sugar, butter and flour together until the mixture has a paste-like consistency. You can do this by hand if you're making a small quantity, or use an electric mixer if you are making a bulk batch. (The recipe has even quantities of the three ingredients, so it can be easily multiplied.)
Roll out the pastry between two sheets of baking paper until 2.5 mm (1/16 inch) thick. Place in the freezer to set.
Cut the craquelin dough into the desired shapes and then return it to the freezer. Place the craquelin directly from the freezer on top of the unbaked choux.
---