The Poernomo Brothers to bring the KOI Dessert Bar and Monkey's Corner to Melbourne at the brand new HWKR Food Centre for a three-month pop-up.
HWKR is Melbourne's first futuristic, South East Asian inspired food centre set to launch 8th February 2018. KOI Dessert Bar and Monkey's Corner were invited by HWKR to be one of the grand opening vendors, in what will be an interchanging line-up of innovative local, interstate, and international chefs and food stalls.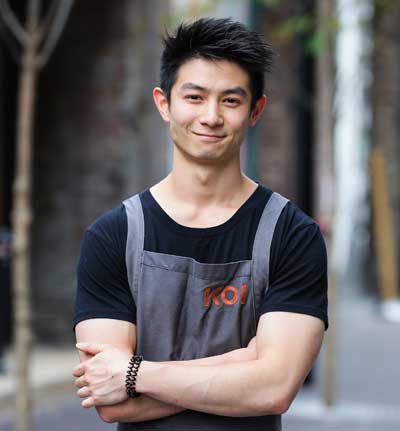 Located at the ground floor of the award winning EQ Tower in the heart of Melbourne's CBD, HWKR will mix revolutionary elements with a traditional Asian hawker centre style offering to create a unique and interactive dining experience. Combining digital signage, neon lights, cashless transactions and app powered ordering, including ordering via WeChat – HWKR will be a premium food court experience unlike any other.
This is the first interstate offering for both venues, and an exciting opportunity to showcase the inventive, Asian inspired savoury dishes of Monkey's Corner alongside sublime KOI desserts and cakes to the discerning Melbourne market. The pop-up will include some of Monkey's Corner and KOI's stand-out signature dishes such as Monkey's Corner's Ox Tongue and KOI's Mango Yuzu and Nomtella cakes, alongside exciting exclusives created especially for HWKR.
MasterChef sensation and Australia's Dessert King, Reynold Poernomo, will establish and manage the HWKR outpost for the first few weeks – ensuring an authentic and unforgettable Monkey's Corner and KOI Dessert Bar experience in what is set to be Melbourne's newest 'it' destination for a modern interpretation of South East Asian hawker centre style dining!
KOI Dessert Bar and Monkey's Corner
When: 8th February – to the end of April 2018
Open 7 days a week
HWKR, EQ Tower, Ground Floor, 137 A'Beckett St, Melbourne