Prepare to be delighted when you take afternoon tea at Aimee Provence High Tea Parlour in Buderim. Possibly the Sunshine Coast's best kept secret, this quaint little parlour with its feminine and French-provincial inspired décor will charm you.
With a menu boasting three different afternoon tea options, as well as a gluten free and vegan option, the High Tea Society indulged in what is aptly named the 'crème de la crème' offering.
Beginning with a not so traditional and somewhat retro prawn cocktail, the high tea was off to a unique start. But amongst the vintage-chic décor, it somehow worked. Served in the classic martini glass, the prawn cocktail was a delight and had me questioning why this 70s classic ever went out of style.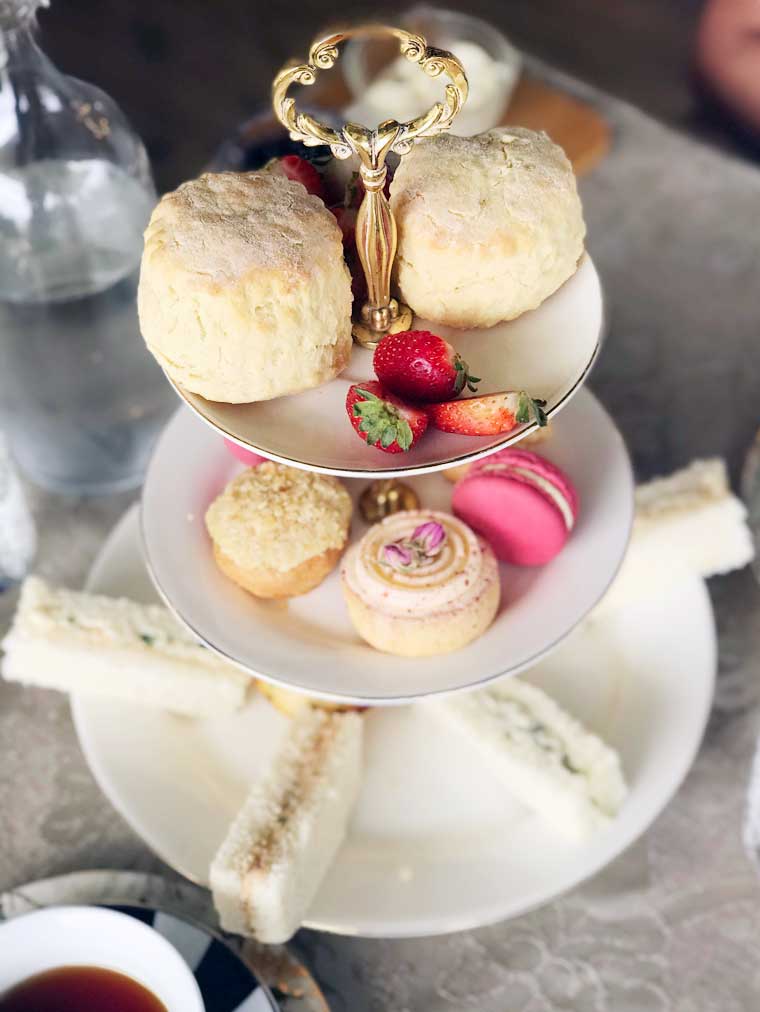 With a tea selection that would rival any major hotel restaurant, we ordered a classic French Earl Grey to match the interior design. Our three-tiered high tea stand boasted ribbon sandwiches including Chicken Waldorf celery and grapes, walnuts with mixed herb mayonnaise; and smoked salmon dill and lemon mayonnaise. What was most pleasant about these sandwiches was their freshness. I was particularly pleased with the grape and celery inclusion in the Chicken Waldorf inspired sandwich. Next we indulged in a selection of savoury canapés including a mini quiche and mini chicken pie.
Served with a glass of pink sparkling wine (very quaint indeed), the pastry on the canapés were crispy and delicious.
The freshly baked scones were a delight, with clotted cream, fresh strawberries and the bold choice of blackberry jam. I'm beginning to appreciate Aimee Provence's willingness to not play it safe with their menu choices, whilst still colouring within the lines and offering you the satisfying high tea experience you came for.
The sweets fit the theme of the room; pretty, pink and sweet with rose water. This is the kind of high tea experience you want to take your mum to. It would also make a lovely first high tea experience for a mother/father to share with their young child.
There's something about the atmosphere that makes you feel safe and warm. Anyone taken here for a treat wouldn't be able to help but feel special.
The style of the venue, with its somewhat over-the-top interior design, may not be to everyone's taste. And while this is not the most decadent or extravagant high tea menu or venue, what Aimee Provence is able to do with their very small kitchen and floorspace, could rival that of some major hotels. I was pleasantly surprised to learn that 90 per cent of the menu is made on site with only a few items brought in through suppliers.
The service was also impeccable. The staff were friendly, attentive and had a thorough knowledge of the menu.
All in all, a lovely experience. I would highly recommend this venue for a classic girl's day out and somewhere to take and treat your mum.
Afternoon Tea at Aimee Provence High Tea Parlour Menu:
Sweet Selection:
A selection of Petite Four and French Macarons
Clotted cream, fresh strawberries and blackberry jam with freshly baked fruit & plain scones
Savoury Selection:
Ribbon Sandwiches: Chicken Waldorf celery & grapes, walnuts with mixed herb mayonnaise. Smoked salmon dill & lemon mayonnaise, Prawn Marie rose cocktail with crisp lettuce and savoury canapés.
Beverage Selection
A glass of Sparkling on arrival & a choice of our signature selection loose leaf tea or Barista made Coffee.
High Tea Queensland – find more experiences in
our High Tea Venue Directory