The magical alfajore. Anyone with a sweet tooth who has spent time in South America knows what I'm referring to here...
Throughout mine and Mr Man's excursion to Bolivia, Chile and Argentina, dulche de leche became an obsession, even worse than my constant flirting with the Argentine men to Mr Man's chagrin was my constant need to look for dulche de leche. Anything that contained that beautiful potion would end up in my gob, and when I discovered that the South Americans serve dulche de leche in the form of it smooshed between two pieces of shortbread and often covered in chocolate, I was at their bakeries several times a day. Addictive personality much? Who cares, this stuff is made by the gods.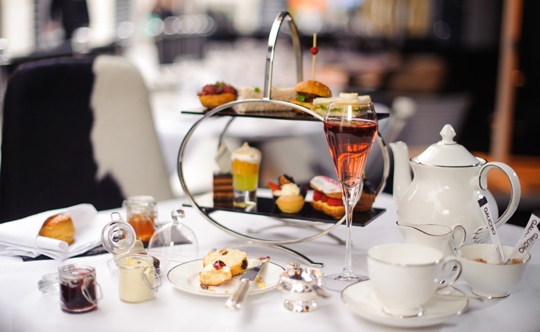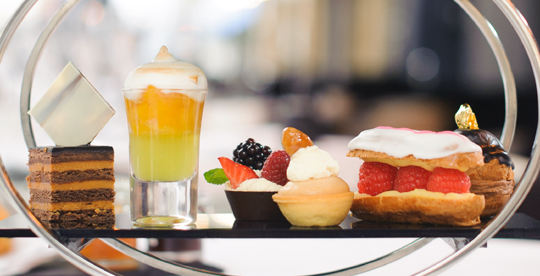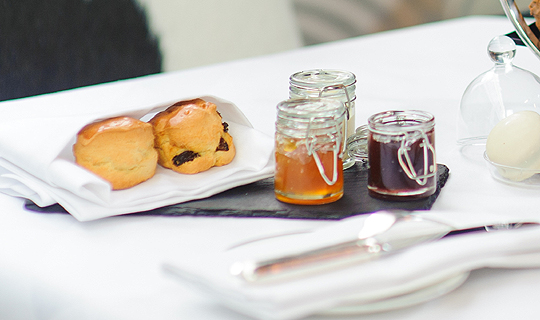 So when the manager of Gaucho's Piccadilly branch, the wonderful Diego, invited me to try their Argentine afternoon tea I replied to his email in a shot. He very clearly stated that they're not trying to compete with the traditional British afternoon teas, they just want to showcase Argentina's little known but fine tradition of patisserie. What he didn't inform me was that they would also be serving two other things that I fell in love with in Argentina – Malbec (but in the form of sorbet, more on THAT in a second) and beef.
As it was a cold day we opted to sit inside so the pictures have come out a bit dark, but the atmosphere was great, warm and classy. To start with we were served Veuve Clicque Rose champagne which was continually topped up throughout the afternoon. This came with white and dark chocolate alfajores, light croissants and scones, one croissant each filled with dulche de leche, one plain croissant and scone, one fruit scone. They came with a selection of spreads, the surprise highlight actually being the apricot jam which I would like a jar of, something I never imagined I'd actually like. Of course, dulche de leche was in there, along with cream for the scones.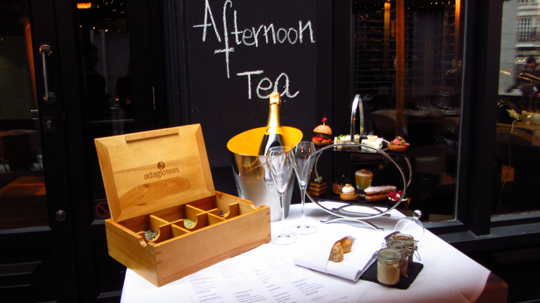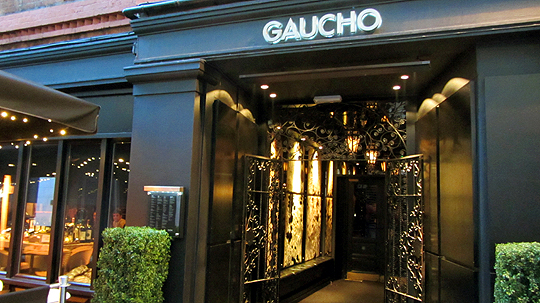 We then had a brief break between courses and were served one of the most incredible things I have ever had in a restaurant – Malbec sorbet. We were only meant to have a few spoonfuls of this stuff but every time the waitress came to clear it away I was holding onto it for dear life. A week later I was still thinking about it and telling everyone I know. I think it was the most perfect frozen thing I have ever had in my life. It was paired well with the Veuve Rose, almost too well!
Next up was the main event, their full afternoon tea spread, the alfajores, croissants and scones just being for starters.
Gaucho Piccadilly London Afternoon Tea Menu


Choripan – a chorizo, Chipoltle chutney and sweet pepper buger
Brioche topped with beef carpaccio and chimichurri (beautiful, Gaucho really know how to serve their beef)
Smoked salmon, cucumber and cream cheese sandwich
Egg mayonnaise, avocado, rocket and quail egg sandwich
Chocolate profiterole
Raspberry & custard éclair
Chocolate tartlet with cream and berries
Argentine chocolate cake (remember Mari Vanna's honeycake, well, this is along the same line of greatness as this, layers of chocolate and caramel perfection)
Lime jelly with mango and passionfruit
Dulce de leche cheesecake – at this point I died and went to heaven.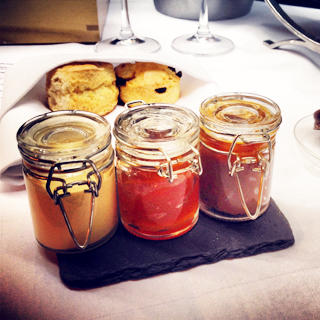 For the tea, supplied by local company Adiago Teas, I started with blood orange tea which was outstanding, and followed it with Yerba Mate – the national drink of Argentina. In Argentina I found Yerba Mate too bitter and don't recall liking it, but they've made this version quite palatable for us Anglophiles and I could have actually drunk it all afternoon.
Needless to say, I would HIGHLY recommend Gaucho's afternoon tea. I think Mr Man would enjoy this thanks to the excellent savouries and Malbec sorbet. The service was fantastic, I loved the decor, the atmosphere and the location (opposite Zara on Regent Street) was great. All in all, a rather lovely afternoon.