The Park Hyatt Sydney is credited world-wide as being a 5-star experience and our most recent visit to indulge in its new afternoon tea menu proved exactly why.
They've turned the more traditional high tea on its head, but it's that good we don't think anyone will object – we certainly didn't!
Gone is the silver stand in the middle of the table, replaced with a grazing style menu of 11 petite dishes which are grouped together and served to the table over seven different courses. It's an experience not unlike a fine dining degustation. Add in the floor to ceiling windows with the always amazing Sydney harbour view from Campbell Cove across to the Opera House and you've got yourself one decadent afternoon indeed.
Most dishes arrive arranged on their own plate and the friendly staff take the time to explain each item in detail and suggest the best order to eat them in for the full experience to unfold. So, settle into the comfortable armchairs in the "Lounge Room" and enjoy the ride.
First up is what we called the "canape charcuterie board" because all three pieces could be picked up delicately like any good cocktail party snack. Prosciutto wrapped around a finger of buttery puff and sprinkled with a dusting of aleppo pepper; a melt in the mouth bresaola parcel hiding a risotto filling; then our favourite, the silky chicken parfait served in a crisp tart shell with a generous zing of sour cherry powder on top.
The Caesar salad came next. A crunchy lettuce base topped with chopped prawns under a snowy mountain of freshly grated parmesan. It was light and refreshing, we'll definitely be making these at home, such a simple idea that's fun to eat.
The third course was a duo of a bright red gazpacho, lightly spiced and topped with a fried basil leaf, along with a salmon "sandwich". Two pastry discs sandwiching a filling of cream cheese and salmon roe which burst as we bit into them giving a salty hit to the dish. While it was delicious, we're wondering what it would be like if the cream cheese was whipped to make it a little lighter in texture.
The final savoury course – which was served warm – was a pillowy centre of potato encased in kataifi pastry. Always fun to eat, the kataifi pastry added a lot of crunch to the dish and the macadamia puree it was sitting on provided a creamy nuttiness.
The scones at the Park Hyatt Sydney have always been a standout and today was no exception. Freshly baked to order they're still served warm with clotted cream and strawberry jam that is more fruit than filler. Served between the savoury and sweet courses, they're the perfect size to complement the rest of the meal.
Moving right along to the sweet dishes, the next course arrived. The chocolate hazelnut tart was decadently rich with semi dark chocolate, the golden hazelnut on top adding to the crunch of the tart shell. The lemon myrtle cheesecake ball was smooth and tangy and when cut in half it revealed a lemon curd surprise.
The final dish included three elements. A scoop of tangy labne-based ice-cream topped with fresh berries which was enjoyable to eat alone. The super sweet strawberry consume was served on the side so you can pour a little or a lot over the top, it's up to you. Adding the two together balanced well with the tang of the ice-cream and the sweet of the syrup. Also included was a pastry cigar with marzipan and dried cranberries. Marzipan can be a little overpowering for some people, but this one added a nice nutty element and the dried cranberries gave another sweet yet tangy edge.
The talented bar tenders have developed a range of matched cocktails (menu below) to complement savoury through to sweet courses, along with a mocktail for those who prefer something lighter. In our opinion though, the option of a glass of Veuve Clicquot is the ultimate match before you select your Ovvio Organics tea or coffee. A word of warning with the teapots though, the handle gets quite hot!
Overall, we rate this experience very highly. A lot of thought has gone into the planning and development of this journey and it's executed to a very high standard. It's quite refreshing to see a menu heavy in savoury up front with some knockout sweets to end with. Spreading the dishes out over several courses meant we could slow down and relax, leaving with a satisfied feeling of having had an excellent meal in a beautiful location.
Park Hyatt Sydney Afternoon Tea Menu: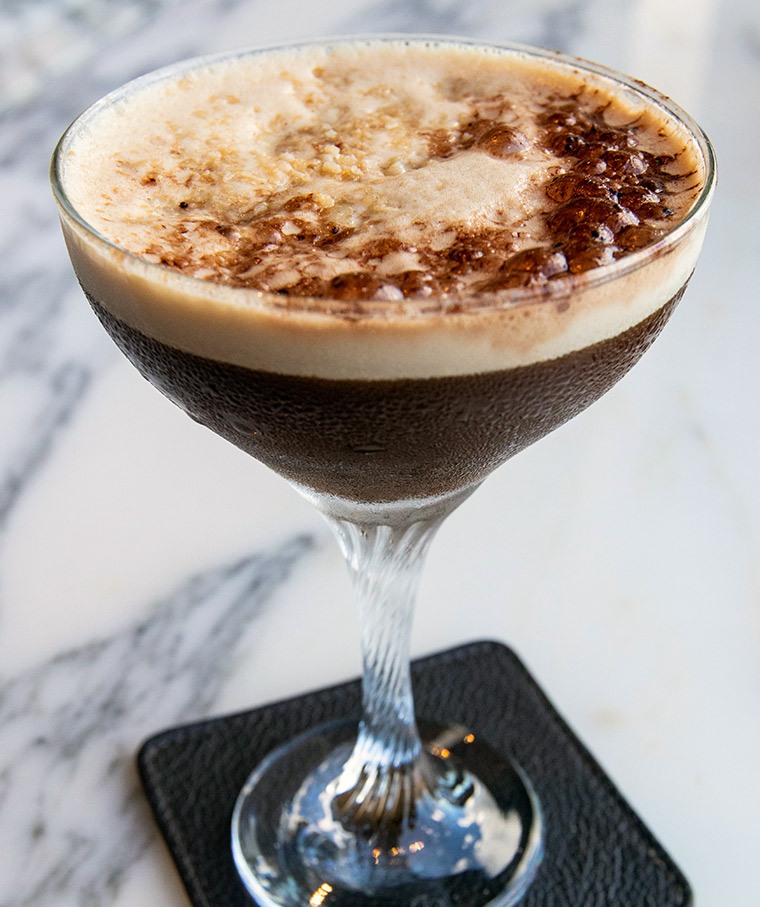 (served in sections)
Prosciutto grissini
Bresaola parcel, risotto rice
Chicken parfait & sour cherry tartlet
Prawn Caesar with Batavia lettuce and parmesan
Chilled gazpacho, crisp basil
Salmon roe & cream cheese sandwich
Pomme dauphine, macadamia, kataifi pastry
Freshly baked scones served with homemade strawberry jam & clotted cream
Valrhona chocolate & hazelnut tartlet
Lemon myrtle cheesecake & crispy kataifi pastry served with fresh fruit salad
Strawberry consommé, labneh ice-cream, marzipan & cranberry cigar
High Tea Sydney – find more experiences
in our High Tea Venue Directory