The Charles Grand Brasserie & Bar is an opulent European-style brasserie in Sydney's CBD. The original building was constructed in 1938 and the Art Deco influence remains to this day. With its soaring ceilings and heritage features you'll feel as if you're stepping back into a bygone era to enjoy your afternoon tea.
White-clothed tables are nestled against banquettes which overlook the brass-plated pass, as well as some more private booth-style tables which would comfortably seat four guests. There are several wait staff buzzing around in their white, crisp collared shirts and starched aprons, their attention to detail is second to none.
Upon being seated the warm scones were served first alongside a glass of NV Moet and Chandon. They are the most petite scones we've ever seen. Equally as good as their larger cousins it was nice to start the afternoon with the scones rather than waiting until the end when you're usually too full to enjoy them. Slathered with the jam and cream they matched the glass of champagne well.
The three savoury options were plated beautifully. The smoked salmon on brioche had generous folds of smoked salmon with salty pops from some pearls of salmon caviar. The carrot muffin was nice and dense without being overly "eggy". Topped with a sweet and silky carrot puree and a sprinkling of diced bacon it was very enjoyable. The gougeres were definitely our favourite savoury. Perfectly browned cheese puffs filled with a Brillat-Savarin cheese sauce, they were so flavourful we were in cheese heaven and could have polished off an entire tray of them.
With the savoury plates cleared and our teas chosen it was time to dive into selecting from the dessert trolley. Full to overflowing the wait staff wheeled it over to our table and described the many and varied options available to choose from. Everything looked fantastic and it was abundantly obvious that head pastry chef, Rhiann Mead (ex-Quay and Bennelong), is a master at keeping the trolley fresh and exciting. While there were a few staples that the regulars insist must never change, there is also room for Rhiann to experiment and offer weekly specials.
Our advice would be to each order something different and share so you can enjoy as much of the trolley as possible. If you're not quite sure what a particular item is, don't fret, the wait staff are adept at explaining what everything is and are happy to make suggestions so you get the best out of your trolley experience.
The one thing you absolutely must choose, no doubt about it, is the Russian honey cake. Don't be afraid of its towering 28 layers, they are but wafer thin. The golden honey sponge is feather light with a wonderful burnt-honey caramelisation. The dulce de leche in between has been whipped with some cream cheese to help temper the overall sweetness. From the moment the first forkful hits your tongue it's clear to see why this cake is a permanent fixture on the trolley, there will be protests if it's ever removed. It's that good that since our visit we've considered just randomly popping in for a cheeky slice as the bar.
Learn more about the Afternoon Tea at The Charles Grand Brasserie & Bar.
The Charles Grand Brasserie & Bar Afternoon Tea menu: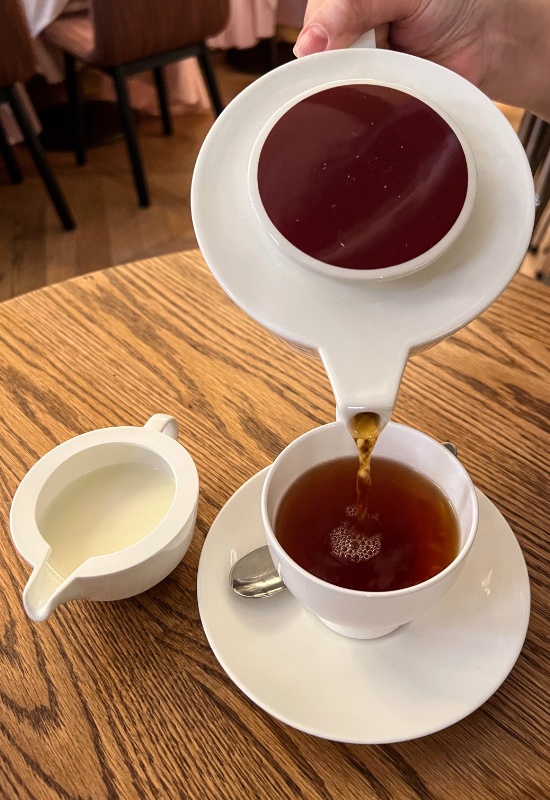 On arrival:
Scones with chantilly and seasonal preserve
Savoury:
Smoked salmon on toasted brioche
Brillat-Savarin gougeres
Carrot and bacon muffin
Dessert trolley
(choice of three, options vary daily):
Russian honey cake
Strawberry and white chocolate cheesecake
Marjolaine
Tiramisu tarte
Chocolate and feuilletine bar
Chocolate flake
Chocolate peanut cup
Macaron
Polenta and lemon madeline
Canele
Ricotta cannoli
High Tea Sydney – find more experiences
in our High Tea Venue Directory