Don't walk, run! Lennons Restaurant and Bar at the Hyatt Regency in Brisbane is offering a winter warming afternoon tea that will warm the cockles of your heart.
Unlike any afternoon tea you have tried before, this menu will encourage you to take a breath, slow down and enjoy a degustation of afternoon treats like no other. A unique and indulgent offering of truly comforting food; the perfect antidote to Brisbane's bitter cold-snap, rainy days, and chilly winds.
The amuse-bouche roast pumpkin and coconut soup with crunchy roasted pepitas and chilli oil, was a delicious morsel of goodness and a perfect way to start.
You begin to realise how much Lennons have committed to this winter menu when a steaming mug of Willie Smith cider appears at your table. With hints of cinnamon, I imagine this is what it's like to drink mulled wine in Europe during the cold festive season. We sip it slowly and enjoy the novelty of something that, like wearing a jumper and beanie in Brisbane, is a momentary experience worth savouring.
With no high tea stand in sight, the savoury selection is brought to the table as its own course and is closer to a cut lunch than the usual dainty finger sandwiches but I'm not complaining. Serving up a warm Reuben on thick sourdough, a smoked salmon and spinach wrap with dill and caper cream cheese, and the visually pleasing and delicious three-layered and round egg, chives and watercress on rye, you won't be disappointed.
Next, we were served the loveliest platter of sweets, which deserved to be on display in the window of an up-market patisserie. Not only were they visually stunning but they were equally lip-smacking.
Even the most unique afternoon tea menu must offer scones with jam and cream, and I was delighted to see Lennons even put their own spin on this classic by adding lemon myrtle to the cream. The chocolate and hazelnut cake with milk whipped ganache and orange confit was as decadent as it sounds but not overpoweringly rich – an often-challenging balance to perfect. But the absolute hero was the guava namelaka and strawberry Mille-Feuille. The term 'namelaka' comes from Japan and it's literal meaning is "ultra-creamy", and this dessert lives up to its description. The creamy layered slice was utter perfection. I would go back to Lennons just for this. It was pure joy with every bite.
Just when you think you couldn't possibly have another bite, the sweets trolley is wheeled over to your table and your arm is twisted to further indulge your tastebuds. And how could you refuse desserts that look as lovely as this. The offering included a stunning lemon cake with white chocolate frosting, a date cake with salted caramel sauce and a one-of-a-kind pear and mascarpone trifle.
It's fair to say that nobody is doing afternoon tea in Brisbane quite like this, so be sure to book in while it's still on offer at Lennons Restaurant and Bar. Because just like a Brisbane winter, it will be gone before you know it.
Afternoon Tea at Lennons Restaurant & Bar Menu: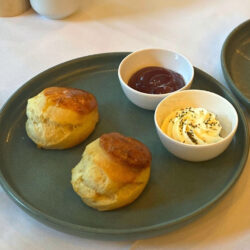 Glass of Champagne on arrival.
Amuse-Bouche:
Roast pumpkin and coconut soup, roasted pepitas, chilli oil (V)
Savoury:
Warm Reuben on sourdough
Egg, chives and watercress on rye (VEG)
Smoked salmon and spinach wrap, dill and caper Cream Cheese
Sweets:
Guava namelaka and strawberry Mille-Feuille
Buttermilk scones with strawberry jam and lemon myrtle cream
Chocolate and hazelnut cake with milk whipped ganache and orange confit
Sweets from the trolley:
Lemon cake with white chocolate frosting
Date cake with salted caramel sauce
Pear and Mascarpone trifle
With Willie Smith cider and your choice of barista coffee or tea
High Tea Brisbane – find more experiences
in our High Tea Venue Directory