Experience the French inspired "Couture High Tea" at Sofitel Sydney Wentworth until the end of November.
Until the end of November, you can experience the hotel for a French inspired "Couture High Tea." Served in the plush Velvet Lounge, it's a perfect way to meet up with friends for a relaxing weekend afternoon.
Once at our table we were offered a glass of bubbly, Moet Imperial Champagne. Time for a difficult choice though, go with the Moet or the signature gin cocktail, a heady mix of Tanqueray, Chambord, watermelon syrup, lemon and cranberry juice. The Moet Imperial was amazing, the cocktail also, not just for the delicious fusion of the gin and fruity flavours, but for the presentation. Ashma who looked after the high tea service for us, placed the serving plate on the table, the cocktail mix contained in a bottle lying on a bed of dried rose petals. Ashma then poured water on the petals, with dramatic effect, the dry ice beneath creating a sudden surge of silver mist.
Quite the dazzling showstopper for our high tea, unlike anything we'd experienced before. The teas too, a selection of Silver Jubilee by Dilmah, were bursting with flavour, my choice being the blood orange and eucalyptus, and my companion Nicky choosing the medium strength Italian almond, a fusion of tea, almond and nutmeg.
Ashma then brought beautifully presented three-tiered china stands and explained all the tasty treats on the menu.
On the middle tier were two petite scones, one with raisins, the other with raspberries, served with cream and thick berry jam.
Savoury treats included a mini baguette with rocket, tomato and slow roasted truffle beef, choux pastry topped with wasabi and caviar, a buttery chicken curry puff, and a quiche filled with egg and mushroom. The vegetarian offering included a delicious short crust pastry, a spicy Lebanese bread wrap filled with olives, sweet potato and capsicum, and a panini filled with egg, capsicum and cheddar.
The bite size sweet treats were decadent, with gold coated chocolate balls and flecks of silver as decoration. The selection included raspberry or chocolate cream filled macarons, choux pastries filled with rose and raspberry cream, mandarin-vanilla cannelés, opera cake, lemon myrtle meringue tart and salted caramel cheesecake.
The High Tea at the Sofitel Sydney Wentworth provides a reinterpretation of a traditional high tea, with the cocktail on dry ice a highlight, and with the soulful sounds of R&B playing in the background, it was a place to sink back into the plush lounges, and enjoy being there.
When visiting, allow extra time to stroll down to Circular Quay to the Sydney Opera House, and on to the Royal Botanic Gardens, or enjoy high end shopping at luxury boutiques, all just a short walk away.
Couture High Tea Menu: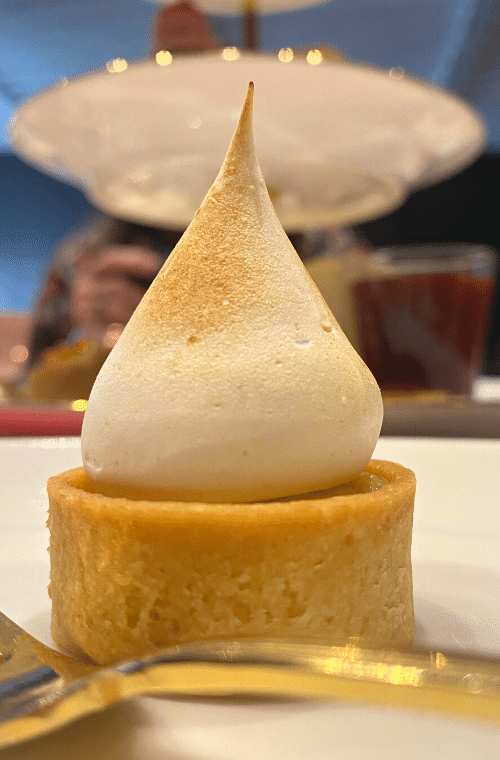 SUCRÉ:
Violet macaron
Raspberry & rose religieuse
Mandarin-vanilla cannelé
Lemon myrtle meringue tartelette
Opera cake
SALÉ:
Slow roasted truffle beef mini baguette
Tasmanian smoked salmon blinis, finger lime
crème fraîche
Petit pea choux and caviar
Traditional French chicken pithiver
Smoked duck and porcini quiche
Traditional scone with housemade strawberry jam and cream
French Champagne or Vogue Cocktail
Continuing the French immersion, Sofitel Sydney Wentworth has also launched Chic O'Clock, the epitome of Joie-de-Vivre where cocktails and conversation can truly be enjoyed over a French-style apéritif. The Chic O'Clock is available from 5-7pm from Monday to Friday at Soiree, Sofitel Sydney Wentworth.
High Tea Sydney – find more experiences
in our High Tea Venue Directory