It was a pleasure to return to the 5-star hotel, Sofitel Adelaide. The Easter High Tea is available on Easter Sunday and will be served on the ninth floor in the exquisite Garcon Bleu.
We were greeted with a glass of elegant French Brut sparkling.
The fish finger sandwich was the fanciest fish finger I have ever had. The texture and taste of the Barramundi Sandwich au poisson was amazing. Hopefully this will be a permanent fixture of the High Tea moving forward.
Such interesting flavour combinations of the Goat's cheese bon bon with honeycomb and onion jam. It completely works!
So cute and brilliant detail with the carrot cake pot plant. Very clever and very tasty.
The other stand out was the intricacy of the easter egg with chocolate hazelnut mousse and passionfruit gel. It was smooth and delicate. This deserves a permanent place on the high tea menu, maybe a different shape for each season.
The Sofitel Adelaide Easter High Tea was full of luscious flavours and amazing creativity with French inspiration.
All pieces on the tiers are made in-house with South Australian produce. The high tea items are handmade by uber talented pastry chefs de partie, Lydia Schofield and Victoria Willits.
The Sofitel Adelaide Easter High Tea is offered on Easter Sunday 9th April from 1pm. Get in quick because you will not want to miss the flavours and originality on offer!
Sofitel Adelaide Easter High Tea Menu: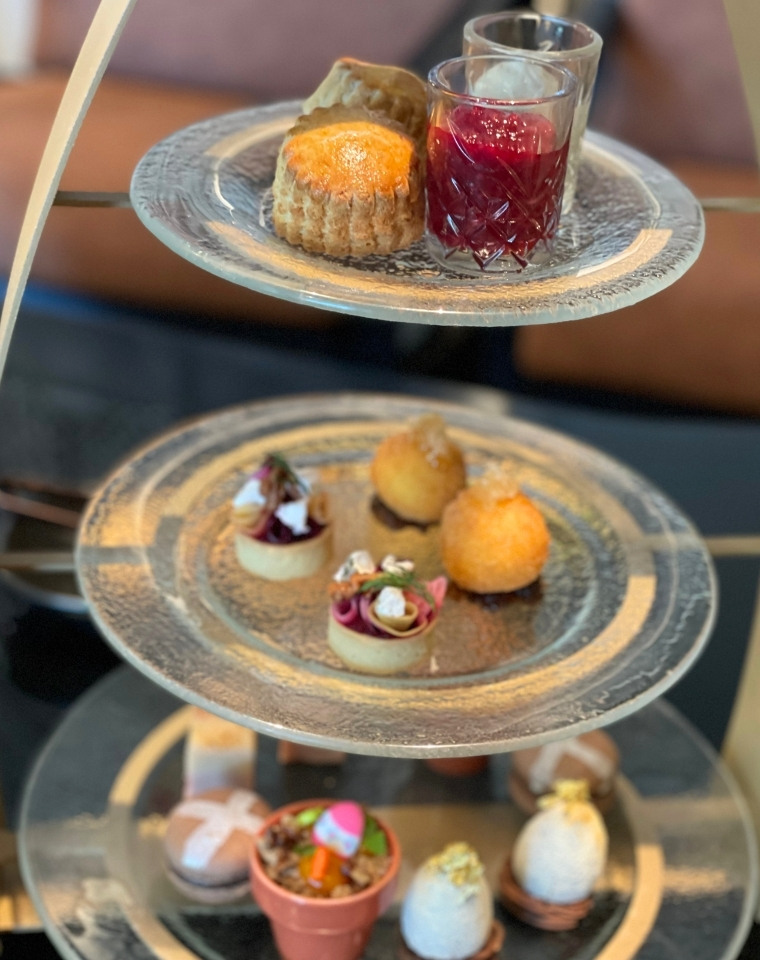 Sweet:
Scones withGarcon Bleu jam and créme Chantilly
Macaron, hot cross bun, spiced milk ganache
Mini flowerpot, carrot cake, chocolate walnut soi
Easter egg, chocolate hazelnut mousse,  passion fruit gel
Battenberg, raspberry sponge, marzipan
Savoury:
Beetroot tart, caramelised walnuts, feta
Sandwich au poison, brioche, Barramundi
Religieuse, smoked chicken, créme fraîche
Goat's cheese bon bon, honeycomb, onion jam
Pork and thyme sausage roll
Selection of Tea and Coffee
Glass of Sparkling Brut on arrival
Please advise at time of booking any dietary requirements.
High Tea in Adelaide – find more experiences
in our High Tea Venue Directory