The Sofitel Adelaide is South Australia's new and only 5-star hotel. It has only been open for six months. The French brand is dripping with luxury, gorgeous style and design.
We were a bit early so sat in the Déjà vu Champagne Bar in the lobby for a cocktail. The Espresso Martini was one of the best I've tasted, and the surrounds were elegant and relaxing.
The High Tea is held on the 9th floor in Garcon Bleu. We stepped out of the lift to elegant paintings, luxurious velvet seating and high ceilings.
The Sofitel Adelaide High Tea is inspired from their French heritage. All pieces on the tiers are made from South Australian produce and handmade by pastry chef, Lydia Schofield. The food was fresh, delicate and extremely tasty.
The savoury selection of the High Tea was very tasty and fresh. The Croque Monsieur is the French version of the humble ham and cheese sandwich. I would have a Croque Monsieur from Garcon Bleu anyday….so tasty and packed with cheese!
The scones were of a different texture due to the French style, but they were light and crispy with a lovely flavour. The Garcon Bleu jam tasted of pure raspberries and lightness.
The sweet portion looked very impressive and did not disappoint. The standout for me was the lamington. From the outside it looked like a raspberry lamington. To my surprise and delight with the first bite, caramelised white chocolate and raspberry gel oozes out. Absolutely delicious and very moreish! The Roulade au cassis was delicate and packed with blackberry flavours. Try only having one of them too! The tarte au citron was extremely fresh, light and packed with citrus flavour.
It's also not too late to book in for the Sofitel Adelaide Mother's Day High Tea in Garcon Bleu on Sunday the 8th of May between 2 and 4 pm with High Tea, Beverages and live music. I'm sure it will be a lovely afternoon with a beautiful atmosphere and excellent food.
Sofitel Adelaide High Tea Menu: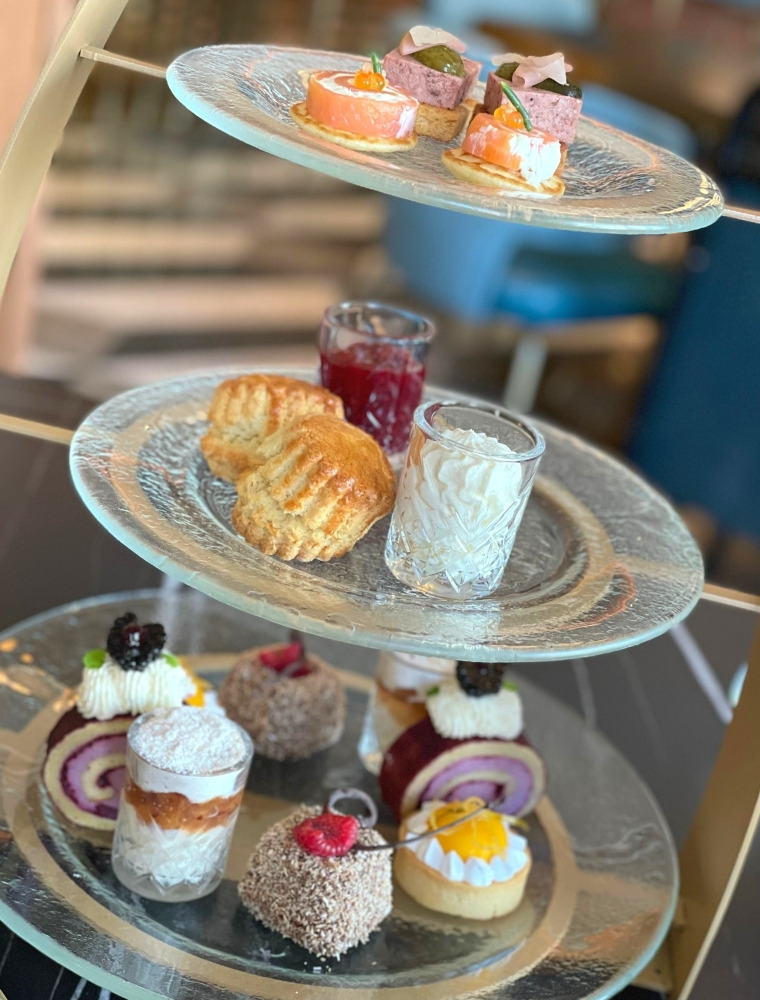 Sweet options:
Scones | GB jam | clotted cream
Lamington | caramelised white chocolate nameleka | raspberry gel
Roulade au cassis | créme Chantilly
Riz au Lait | apricot compote | white chocolate powder
Tarte au Citron
Savoury options:
Pork & fennel sausage roll | wasabi sesame | tomato chutney
Farm house terrine | cornichon pickles
Croque Monsieur
Smoked salmon blini | créme fraiche | finger lime
High Tea in Adelaide – find more experiences
in our High Tea Venue Directory