Tucked away in the pocket of buildings just before you enter The Rocks district, the team at Amora Jamison Sydney have launched a new high tea available every Sunday.
Served in the Amora Jamison Club Lounge on level 31, you'll be enjoying a generous high tea up amongst the CBD skyscrapers, with harbour views of course.
The Club Lounge is an intimate space, so you'll need to book this one in advance to secure a table. There is talk of extending the sessions out to more than just Sunday depending on demand and based on today's visit it's sure to become a popular high tea destination.
We visited on a sunny afternoon and the room was bathed in natural light. The tables were all set ready to go and it wasn't long before we had a chilled glass of Mumm champagne in hand waiting as the chefs prepared our high tea.
On its arrival to the table the stand was filled with one of the larger menus we've sampled in a while. This high tea can most definitely fall into the "lunch substitute" category. There were ten decently sized items to enjoy.
Our favourite savoury was the poppy and quinoa crusted brie. Make sure you eat this one while it is still warm so the cheese is at its gooey best and the crust is still nice and crunchy. Served with a beetroot relish the sweetness offsets the saltiness of the cheese quite nicely.
Here at High Tea Society we love a traditional cucumber ribbon sandwich, and this one was done with a bit of a twist. A sprinkle of mint and pops of preserved lemon are dotted through goats curd rather than cream cheese. It's something we haven't seen before and it was a great twist on tradition. The presentation was beautiful too with the thin strips of cucumber arranged on top rather than inside the sandwich.
The remaining savouries were done well too. The prawn roll was soft and fresh with a hit of spice in the thousand island dressing. The crab niçoise is served with a pipette of balsamic vinaigrette so you can dress it with as much or as little as you like. And the cheese and asparagus tart was the right balance of creamy cheese filling with fresh spears of lightly blanched asparagus on top.
Head chef, Gary Thakur, has teamed with Dilmah tea to create tea elixirs which he uses to enhance the sweets to great effect.
The blood orange lamington using a blood orange tea elixir reminded us of an iced-vovo in cake form. A light rectangular piece of vanilla sponge dipped in a sweet but tangy blood orange coating and rolled in coconut. Eaten alongside a glass of the blood orange tea each worked to enhance the other.
The candy grape tartlet with its dusting of gold had a hidden chocolate lining which was a nice surprise. The plump grapes added a juicy sweetness which was refreshing against the creamy centre.
Lemon tarts are common in a high tea, but never with a mint meringue topping. It was an interesting flavour match. Texturally the meringue gave a soft creaminess while the richness of the curd was tempered by the tang of the lemon.
Lastly, the salted caramel tart was equal parts chocolate ganache atop a rich salted caramel with pops of crunchy salt crystals to bring out the flavour in the chocolate. It's extremely dark and rich so we suggest you finish off with this one so you can enjoy the lighter flavours of the rest of the sweets first.
The scones were medium size and served warm with chantilly and jam. As you can see in the pictures, the jam is a creamy blushing pink. It was lightly flavoured with rose which was a pleasant floral change from the usual strawberry.
Overall, everything was presented beautifully. Head chef Gary greeted each table to have a chat and explain the menu in detail. It is clear he has put a lot of thought into making a well-balanced high tea which we can thoroughly recommend you try.
Amora Jamison High Tea Menu: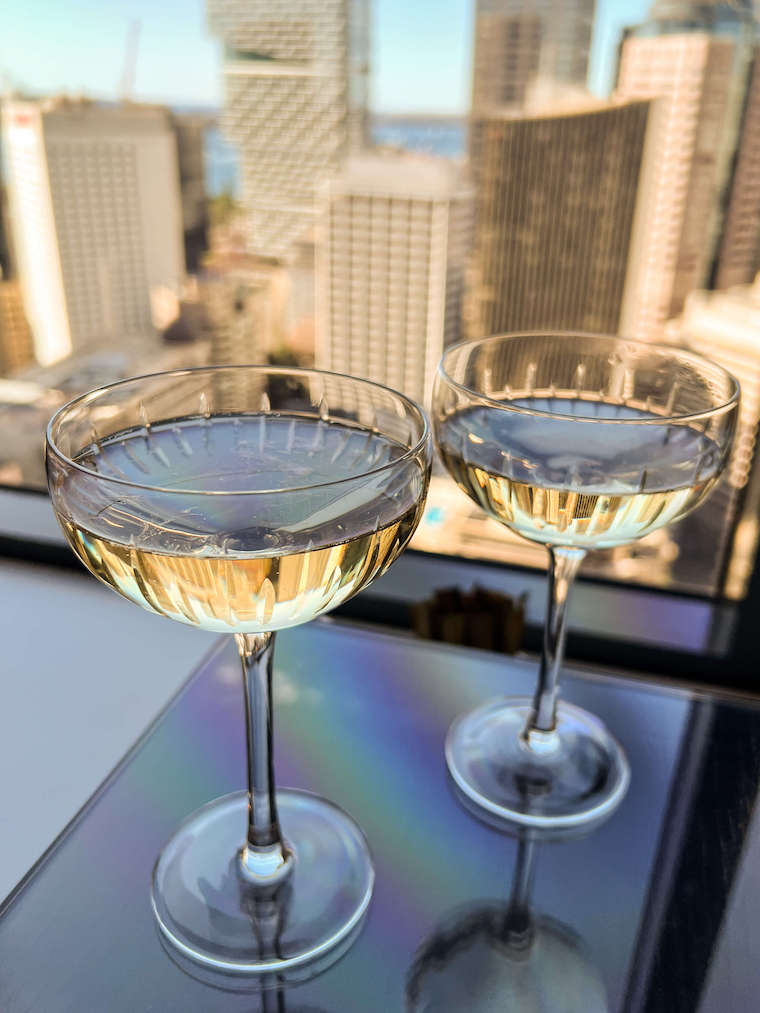 Savoury:
Eastern king prawn roll, chives, thousand island, pickles
Poppy and quinoa crusted brie, sweet and sour beetroot
Cucumber sandwich, minted goats curd, preserved lemon, chervil
Poached artichoke and crab niçoise, baby gem, roasted almonds, sweet paprika
Aged cheddar custard tart, asparagus, bush tomato chutney
Scones:
Buttermilk scones, whipped vanilla chantilly cream, rose, jasmine and honey infused preserve
Sweets:
Blood orange and eucalyptus tea lamington
Lemon tart, soft meringue, river mint, chamomile tea infusion
Salted caramel bar, raspberry crumb
Gold dusted candy grapes tartlet
Dilmah tea selection
High Tea Sydney – find more experiences
in our High Tea Venue Directory