I had the pleasure of experiencing the High Tea at Bacchus Restaurant in Brisbane, and I must say, it was a delightful afternoon.
From the moment I walked through the doors, I was captivated by the stylish deco and ambience of the restaurant.
The first bite of the egg sandwich was an explosion of freshness and flavour. It was a delightful start to our high tea.
The savoury portion of the high tea included chicken croissants, salmon sandwiches, and a mac and cheese croquette. Each of these offerings was carefully crafted and filled with flavour. The croquette was a particular standout with its creamy mac and cheese filling.
The madeleines with ruby chocolate and raspberry were a delightful treat for the senses. The passionfruit tart was refreshingly tangy, and the cannoli with ricotta and chocolate provided a delightful Italian touch. The seasonal macaron was a burst of flavour, and the lemon meringue tart was a harmonious balance of sweet and tangy. The Opera Slice, with its rich chocolate and coffee flavours, was a true masterpiece.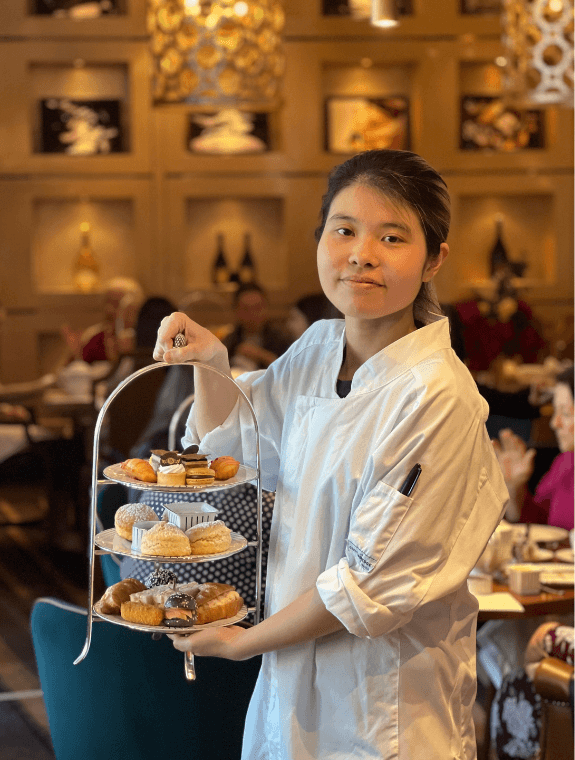 The scones, with their handsome appearance, were a true highlight. They had a biscuity outer crust that gave way to a soft and delicate interior. Served with jam and cream, they were the epitome of traditional English scones, and I couldn't resist having more.
The High Tea setting features the William Edwards teaware design The Goring London.
The High Tea at Bacchus is served with continuous Harney & Sons fine teas or barista coffee, allowing you to pair your treats with a variety of refreshing or rich beverages. Additionally, there is an option to add endless bubbles for an extra $40, making it perfect for a celebration or special occasion.
The standard High Tea at Bacchus is priced at $49 per person, making it a reasonably affordable High Tea. There's also an option for children at $35 per child, making it a family-friendly experience.
High Tea at Bacchus Restaurant Restaurant Menu: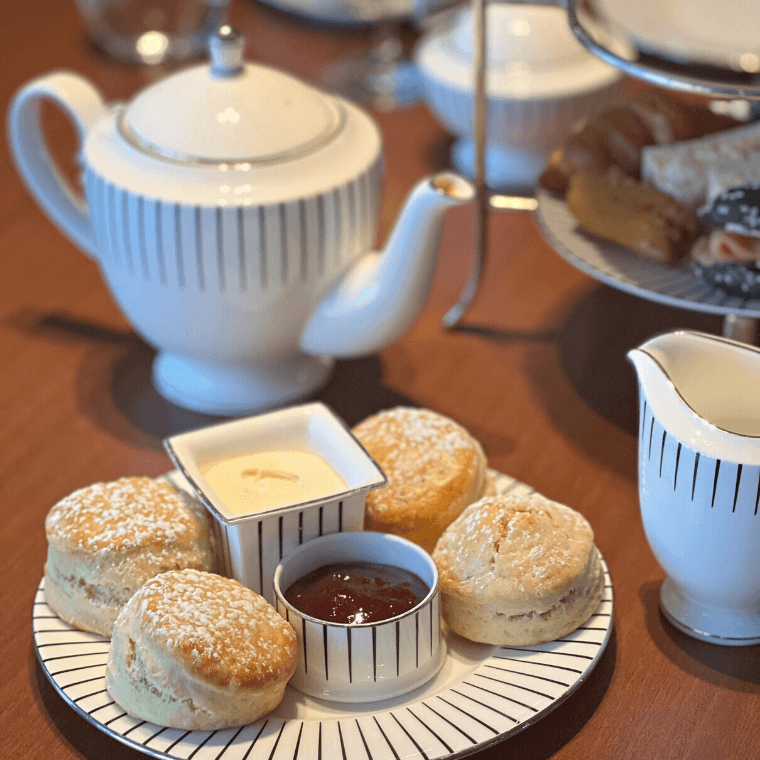 Savoury:
Egg sandwich with aioli
Chicken – Croissant, celery, capsicum & mayonnaise
Salmon smoked, cajun cream cheese
Croquette – mac & cheese
Sweet:
Madeleines – ruby chocolate, raspberry
Passionfruit tart
Cannolo – ricotta with chocolate
Macaron – seasonal flavour
Lemon meringue tart
Opera slice with chocolate and coffee flavours
Scones:
Served with continuous Harney & Sons fine teas or barista coffee
View this post on Instagram
High Tea Brisbane – find more experiences
in our High Tea Venue Directory