Take the slow road to Tyalgum and discover a quaint village with charm and character and a High Tea made with care, love and creativity, making it a highlight of any day trip or stay in The Tweed.
Take the slow road to Tyalgum and step back in time at Flutterbies Cottage Café, for a High Tea experience to savour.
Flutterbies Cottage Café is located in the charming town of Tyalgum around an hour's drive south of the Gold Coast or north of Byron Bay, making it a delicious day trip or reason to overnight in The Tweed. Take a country drive via Chillingham to Tyalgum and you'll be rewarded with a picturesque town with Flutterbies at its centrepiece.
Visitors to Flutterbies are amazed by what lies behind the sweet façade. Guests can wander through the maze of rooms brimming with beautiful décor and gifts then browse La Marketta Lane filled with artisans selling jewellery, fine linen, hats and more in a stunning garden setting. There is also a gin bar, coffee roaster, pizza house and bakehouse but we're here for the decadent tearoom.
The dedicated high tea room features cabinets of vintage tea sets, some gifted to Flutterbies by regulars who know they will be loved and cherished here. The tea room is pretty in pink and decked out with velvet chairs and crocheted tablecloths with a grand piano in the corner no less.
Our wonderful host Haniel presents us with a glass of Sparkling Rose Bliss Champagne topped with fairy floss and edible rose petals, creating a theatrical sense of arrival befitting the location and then talks us through the impressive high tea selection.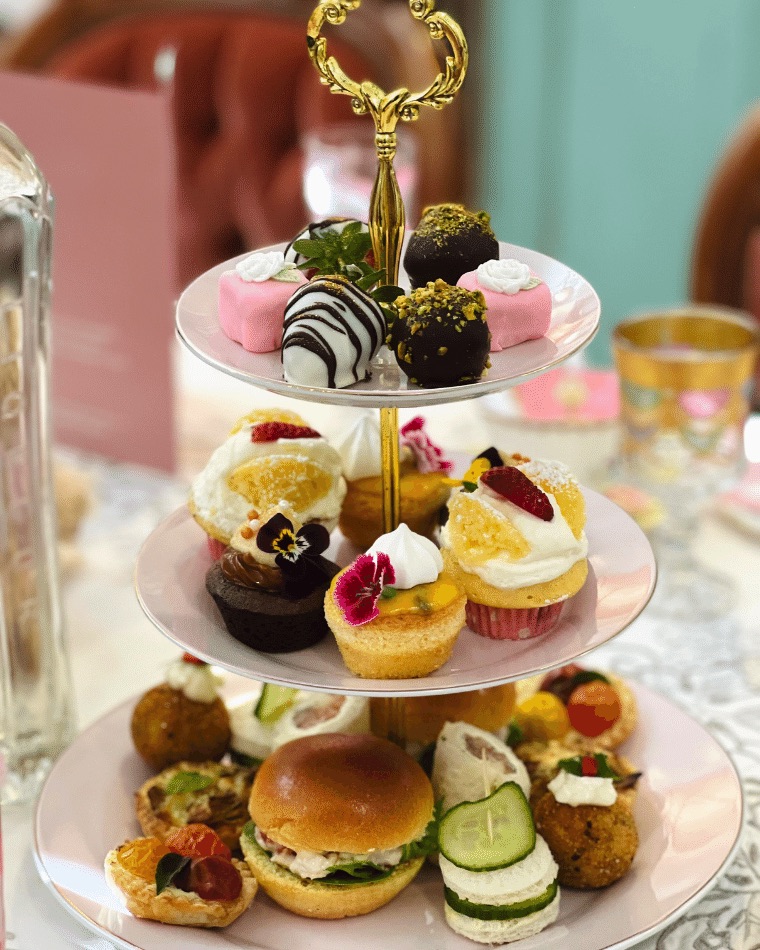 View this post on Instagram
The three-tiered high tea stand is brimming with delectable house made goodies and we start with the warm savoury items. The leek and feta tart is divine, warm and tasty with a perfectly flaky base, it's only our first morsel but assures us we're in for a treat. This is quickly followed by the baby heirloom tomato and basil ricotta tart and a mushroom and & thyme arancini with herb aioli and brioche slider with semi-dried tomato and chicken, all classic flavours, perfectly balanced and expertly executed. The salmon, cream cheese & dill roll was delightfully herbaceous and perfectly simple but beautifully presented.
The mini scones are presented alongside the high tea stand and come already laden with homemade strawberry jam and chantilly cream. They are petite and perfectly proportioned to accompany the rest of the high tea offering.
A highlight of the top tiers is the miniature Flutterbies cupcakes, a mini version of their signature butterfly cake alongside the white chocolate teacake with passionfruit curd which is refreshing and the pretty white chocolate dipped strawberry with dark chocolate drizzle and edible gold glitter.
The latest high tea menu is the collaboration of Pastry Chef Meredith Peters, Flutterbies resident "cake queen" who has been turning out spectacular creations since the cafe opened its doors in 2005 and Head Chef Essentia Devotion.
With prior notice, Flutterbies chefs will happily cater to dietary requirements such as offering vegetarian, vegan, gluten free options and work with guests to create an exquisite experience, with a minimum 24 hours notice.
Tea and coffee are included in your High Tea experience and Flutterbies offer a selection of loose leaf Royal Teas including French Earl Grey, Monk Pear or a House blend Rose and Peppermint. All are served in elaborate teapots and sipped from Royal Albert Bone China from England.
Flutterbies High Tea is made with care, love and creativity, making it one of the more memorable experiences you're likely to enjoy in New South Wales.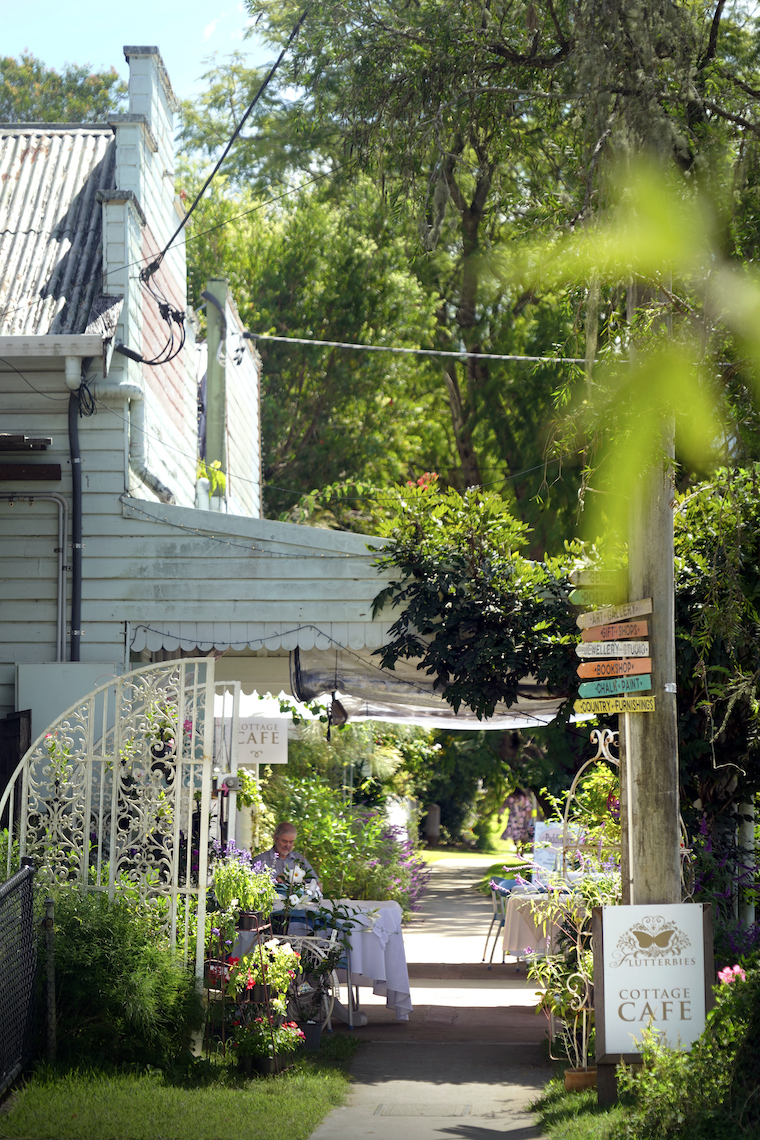 Sample High Tea menu:
A selection of Savoury Morsels
Smoked Salmon, Cream Cheese & Dill roll
Classic cucumber mint sandwich
Mushroom & thyme arancini with herb aioli
Brioche slider with semi-dried tomato and chicken
Baby heirloom tomato & basil ricotta tart
Leek & feta tart
Sweet Delicacies
Exclusive miniature Flutterbies cupcakes
Traditional mini scones with house-made strawberry jam & chantilly cream
White chocolate teacake with passionfruit curd
Earl grey and salted caramel brownie
The Cream of the Crop
Belgian chocolate & pistachio truffle
White chocolate dipped strawberry with dark chocolate drizzle & edible gold glitter
Vanilla buttercake wrapped in a rosewater fondant
Each guest receives a glass of Sparkling Rose Bliss Champagne. Specialty Rose Tea & Single Origin Coffee is served throughout the sitting.
High Tea NSW – find more experiences
in our High Tea Venue Directory