High Tea at JW Marriott Gold Coast is an elegant yet relaxed experience, perfect for an afternoon of indulgence on the Gold Coast.
High Tea at JW Marriott assumes a relaxed Gold Coast vibe, with high tea served at Chapter & Verse Lounge & Bar's breezy terrace overlooking the dazzling lagoon pool.
Fresh from a $35 million transformation, the new look JW Marriott Gold Coast has been reimagined by Australian design studio DBI, the building's original architects and interior designers, transforming the iconic property into a luxury resort with elevated status. The resort's new aesthetic is inspired by its natural surroundings, embodying the beauty and relaxed mood of coastal Queensland. The hotel now features 223 spacious guestrooms and suites, day spa and six food and beverage venues including Chapter & Verse where high tea is served.
We take a seat on the outdoor terrace, decked out with fun peacock style outdoor furniture overlooking the lush gardens and resort pool beyond. We're promptly served a welcome glass of Moet & Chandon Imperial Champagne on arrival and settle in for a convivial afternoon.
High Tea is presented on a round three-tier high tea stand laden with treats, in addition to a separate platter bearing a selection of scones. Charming Executive Chef Paul Smart talks us through the sweet and savoury selection.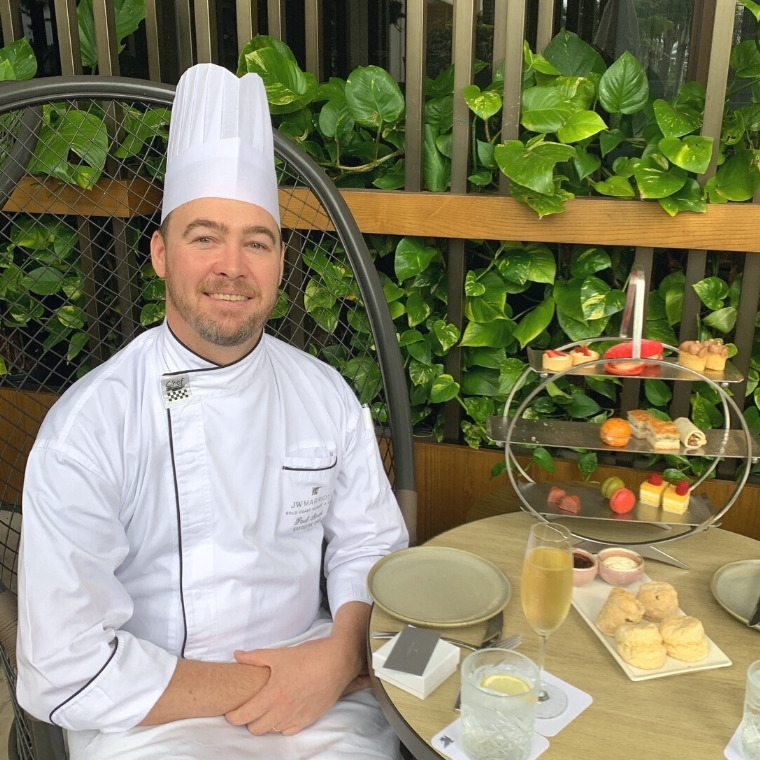 Paul Smart joined JW Marriott Gold Coast in October 2020 following two decades working for well-established and respected restaurants across the globe. Most recently he was Executive Chef at the Sofitel Legend Metropole Hanoi, where he led the kitchen teams across 10 prestigious venues. He also worked in the kitchens of SO Sofitel Bangkok and The Ritz in London. Smart provides creativity and expertise across all food and beverage venues to deliver on the high brand standards, whilst also championing their local environment. Sourcing and working with local producers from across the Sunshine State to create natural and nourishing yet sophisticated menu options has been a highlight.
Smart and his team succeed in creating High Tea with a difference, presenting an understated but perfectly executed afternoon tea. The savoury selection included homemade sandwiches, focaccia with chicken and brie, vegetarian wraps and salami brioche sliders. All the savoury items were fresh and delicious, however we would have liked to see at least one hot item on the menu.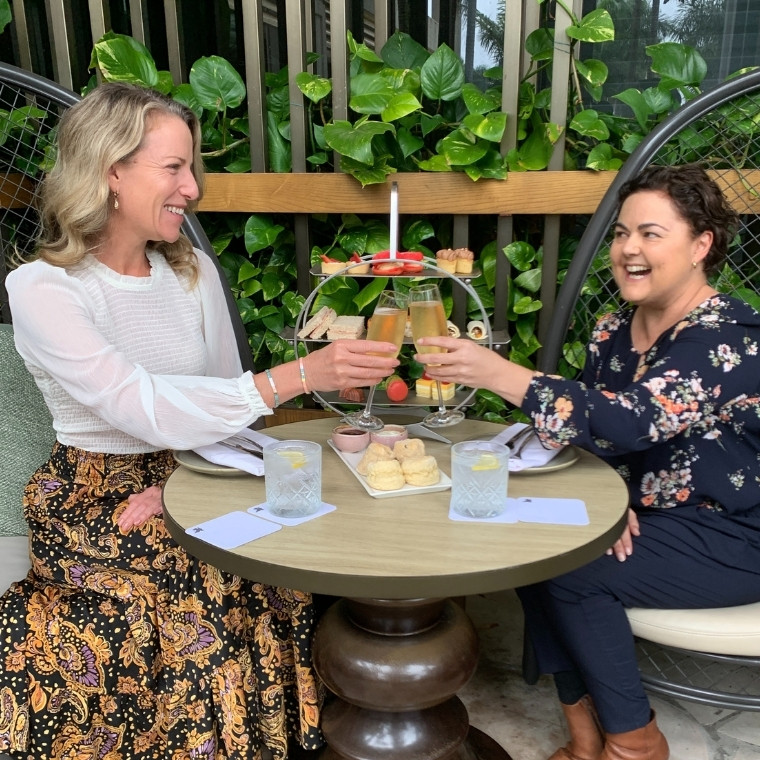 The sweet selection included a fruit tart with fresh strawberries, choux pastry with vanilla cream, friand with hazelnut cream, macarons, passionfruit slice and heart shaped bonbons. Again, all were perfectly executed and not overly sweet making for an enjoyable experience of afternoon grazing.
The highlight was the homemade scones, both the traditional and fruit scones were perfectly cooked and a lovely size – not too small, not too large, but just right for a dollop of jam and cream.
With prior notice, the JW Marriott chefs handle dietary requirements with ease, making subtle changes to the existing menu so that dietary items closely resemble the originals. Gluten free, vegan, dairy free and other dietary requirements are all catered for.
View this post on Instagram
JW Marriott Gold Coast also offers a variation from the traditional high tea with "High Seas" a seafood inspired high tea, High Cheese, High Bees and High Seeds and Leaves featuring plant based vegan items from the JW Garden. Plus the resort offers a Teeny Tiny Tea crafted with a variety of both sweet and savoury dishes with kids flavours in mind.
The outdoor setting amongst holidaymakers gives the experience a more relaxed atmosphere than traditional high tea venues, allowing us to easily linger longer over tea & coffee. The exotic selection of German Ronnefeldt teas included Wild Berries, Morgentau, Fancy Sencha, Black Assam as well as Jasmine, Earl Grey and English Breakfast served in pretty pink tea cups. Service is to JW Marriott high standards but with friendly flair in keeping with the Gold Coast location.
High Tea at JW Marriott Gold Coast is an elegant yet relaxed experience, perfect for an afternoon of indulgence on the Gold Coast.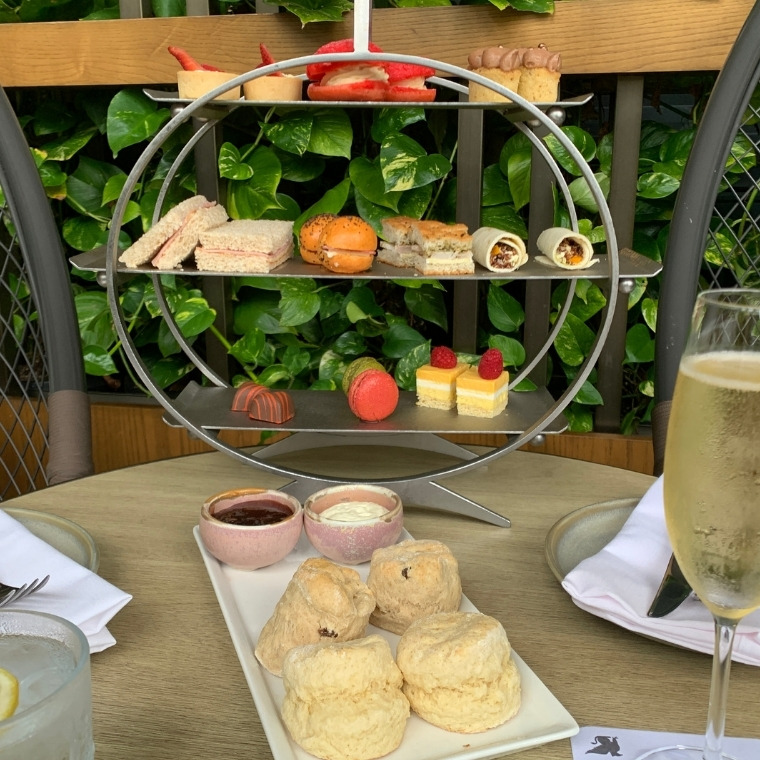 JW Marriott Gold Coast High Tea Menu:
Indulge in a variety of both sweet and savoury dishes, in addition to freshly baked scones with double cream and homemade jams.
Crafted pastries include hinterland wild mixed berry tart and JW macaron.
Gourmet sandwiches filled with Bangalow pork, truffle Cheddar cheese, Witches Chase Brie and JW Garden basil pesto.
Beverages:
Welcome glass of sparkling wine or Champagne
Freshly brewed coffee
Selection of Ronnefeldt leaf tea
High Tea Gold Coast – find more experiences
in our High Tea Venue Directory