Enjoy your afternoon tea at one of Singapore's highest hotel lobbies, The Westin Singapore with a specially curated menu just for International Women's Day.
Located on the 32nd floor of The Westin Singapore, it was a feast for the eyes as we overlooked the scenic views of Marina Bay. The high ceiling and full glass windows at the Lobby Lounge also accentuated the spaciousness and brightness of the space, and of cos that also means good natural lighting for amazing pictures of our Seafood Afternoon Tea.
I always start with the savoury classics – the sandwiches. The Smoked Salmon Sandwich topped with salmon caviar was not only presented elegantly but it was as sophisticated as it looked. Never belittle a Cucumber Sandwich. It was light and surprisingly refreshing, reinvigorating our palettes for what's to come next – the Lobby Lounge Signature Lobster Thermidor served with champignon mushrooms, mustard and mozzarella cheese. The lobster chucks were thick and were substantially coated with sauce, albeit like seafood chowder but richer in texture and flavour.
To celebrate International Women's Day, Chef had specially designed the desserts around a floral theme, incorporating either floral designs or flavours. But also ensuring a well-balanced flavour profile with a good mix of sweet and tangy components that kept us going to the last piece of dessert!
My eyes were immediately drawn to the magenta coloured Lavender Macaron. I don't think I've seen a shade of macaron as beautiful and luxe as this. It has a chewy texture, definitely for those who prefer their macarons to be slightly denser. My personal favourites would have to be Rose Financier which had a light crisp on the outside but moist on the inside, and also the Raspberry Chocolate Cake, which checked all the boxes for being a good chocolate cake – moist, fudgy, but not too dense. The Manjari Passion Floral Mousse was also fun to have – with so many flavours packed in a small cup, every mouthful felt like a mini explosion going on.
Finally, we have a selection of Assorted Kueh and Local Delights, showcasing some of the popular favourites of Singapore's traditional snacks – multi coloured steamed kueh lapis, kueh salat (green top with glutinous rice below), multi layered baked kueh lapis and steamed tapioca kueh. Coconut milk and pandan leaves are the main ingredients used in most traditional kuehs, giving them its fragrance and a taste of nostalgia, especially for locals.
Lobby Lounge serves tea from a locally established brand, TWG. Offering 11 classics including the silvermoon green tea, vanilla bourbon red tea and an oolong prestige black tea. Guests may also opt for their TWG Signature Tea Cocktail, made from vodka, TWG waterfruit green tea, fruity syrup, lemon and blueberry.
All in all, at S$45++ per person, you do get a decent variety of both sweet and savoury items, including half a lobster each. Plus you get to enjoy a fantastic view from one of the highest hotel lobbies in Singapore. I would say it offers good value for money and definitely worth a visit. Do note that the Special menu only runs till the end of March 2021.
High Tea at Lobby Lounge, The Westin Singapore Menu: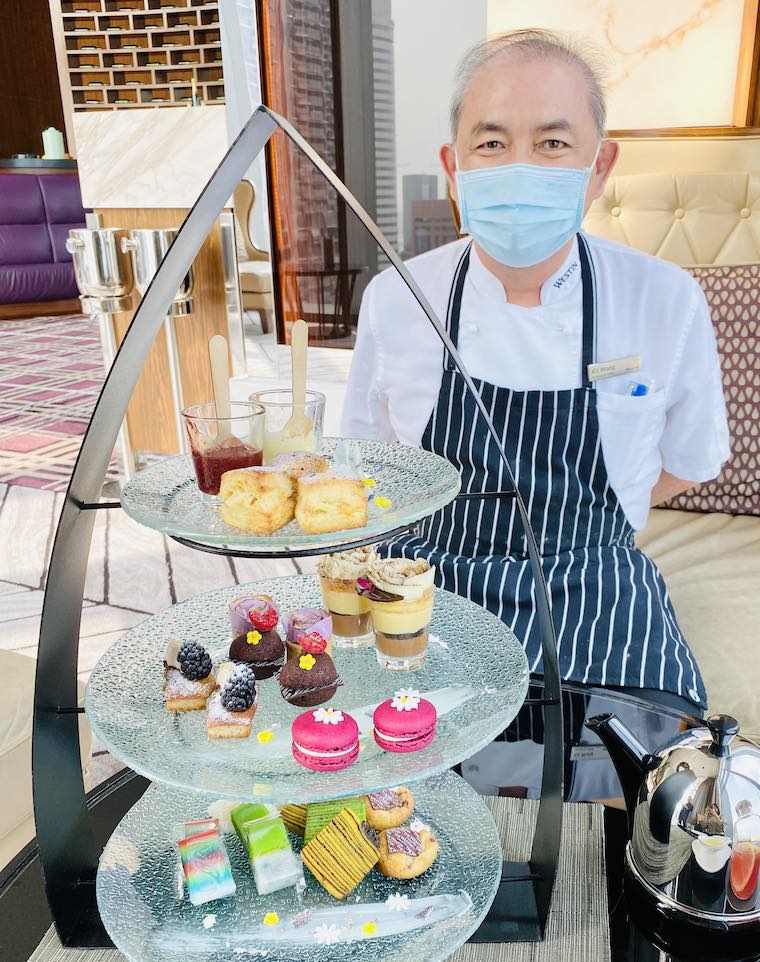 Savoury:
Crab Roll – brioche, mustard, caper, lime
Smoked Salmon Sandwich – brioche, cream cheese, fresh dill, salmon caviar
Cucumber Sandwich – soft herb, cream cheese, white bread
Lobby Lounge Signature Lobster Thermidor – champignon mushroom, mustard, mozzarella cheese
Sweets:
Rose Financier
Lavender Macaron
Raspberry Chocolate Cake
Assorted Kueh and Local Delights
Violet Chocolate Chip Cookies
Vanilla Bean Scones
Citrus, Cassis Meringue Tartlets
Manjari Passion Floral Mousse
You may highlight any dietary restrictions while making your reservations, preferably 2-3 days before your visit so Chef can make the necessary arrangements.
High Tea Singapore – find more experiences
in our High Tea Venue Directory