Perth's Duxton Hotel is one of the city's more refined hotels in terms of style, comfort, décor and location, so the addition of High Tea to its restaurant offering seems a natural progression.
The food presentation is pleasing and the tea selection wide.  A choice of high tea menus – with or without a glass of bubbles – is welcome, and a separate children's high tea menu a great touch.
This venue is most popular on weekends and can easily cater for groups with prior booking.  Although we visited mid-week, there was a healthy number of high tea diners, testament to its increasing popularity in Perth.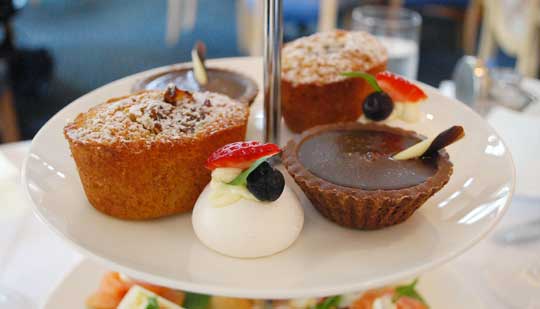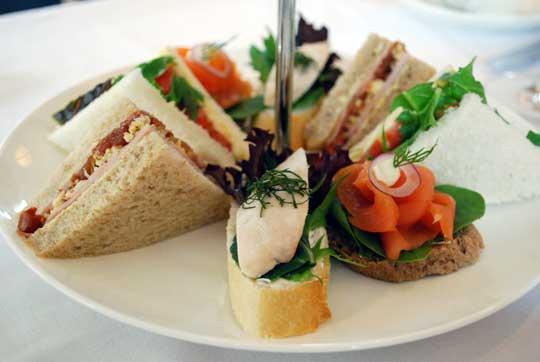 High Tea suits the formality of The Duxton's Grill Restaurant with its tasteful furnishings, tall French cedar doors and professionally-trained service staff.  The addition of white linen and white-gloved service for high tea made our afternoon out feel more of a special occasion.
A printed menu with food and tea information competed the presentation quality.
The three-tier High Tea selection included afternoon tea sandwiches, scones with jam and cream and petit fours.  This was all served to the table.
The quantity was sufficient – ten items per person, and ranged from standard High Tea fare of smoked salmon sandwiches and fruit scones, through to the more interesting Mini Fruit Pavlova and the decadent Belgium Chocolate Tartlet.
A stand out on the food front was its freshness.  It was clear that each item was made fresh and with care.  The meringue of the pavlova was chewy and delicious, and the sandwich combinations provided variety in both fillings and breads – no bland sarnies here.  The Fig and Walnut Friand was surprisingly light.
Our waiter diligently asked after any dietary restrictions before serving our afternoon tea, and was happy to provide advice on the tea selection, which included several options from Traditional Afternoon tea through to more exotic Asian and Indian fruit and spice varieties.
High Tea provides a good use of the Duxton's Grill Restaurant between lunch and dinner service.  The restaurant décor is fairly typical of a five star hotel dining experience.  Service is efficient and polite.  The teaware is standard hotel issue.
The Duxton provides a good quality High Tea experience in terms of food, tea, setting, and service.  There are no surprises here, but we didn't really need any.  The package was reasonable value and the location makes it a great option for a mid-week afternoon client meeting with a difference, or weekend treat with girlfriends or family.