An exquisite high tea in a Parisian setting at the Emporium Hotel's Belle Époque, in the heart of Brisbane.
Located in the vibrant South Bank precinct, this elegant establishment is renowned for its opulent charm and impeccable service.
Belle Époque transports you to a bygone era of sophistication with Parisian charm. The decor is a blend of classic and contemporary, with plush velvet seats, crystal chandeliers, and ornate mirrors adorning the space. The ambience exudes an air of refinement without feeling pretentious, making it an ideal spot for high tea.
View this post on Instagram
Presented on a three-tiered stand, was a visual delight that promised a symphony of flavours. The selection was a testament to both quality and creativity. Traditionalists will find comfort in the Roast Chicken and Chive Finger Sandwich and the fluffy scones served with Raspberry and Rose Jam, Passionfruit Curd and Devonshire cream. But what truly set Belle Époque apart was its adventurous approach to high tea. Think savoury treats like Devilled Egg Tartlet, and Salmon and Beetroot Brioche with Horseradish Crèam Fraîche that delighted my taste buds with every bite.
For those with a sweet tooth, the dessert selection featured miniature pastries that were as beautiful as they were delicious. The Grapefruit and Guava Tartlet was a zesty revelation, while the Rum Baba, Caramelised Banana with  Salted Caramel Whip was the Love the stand out of the sweet selection.
Of course, no high tea is complete without a cup of tea, and Belle Époque offers an impressive selection of teas to complement your meal.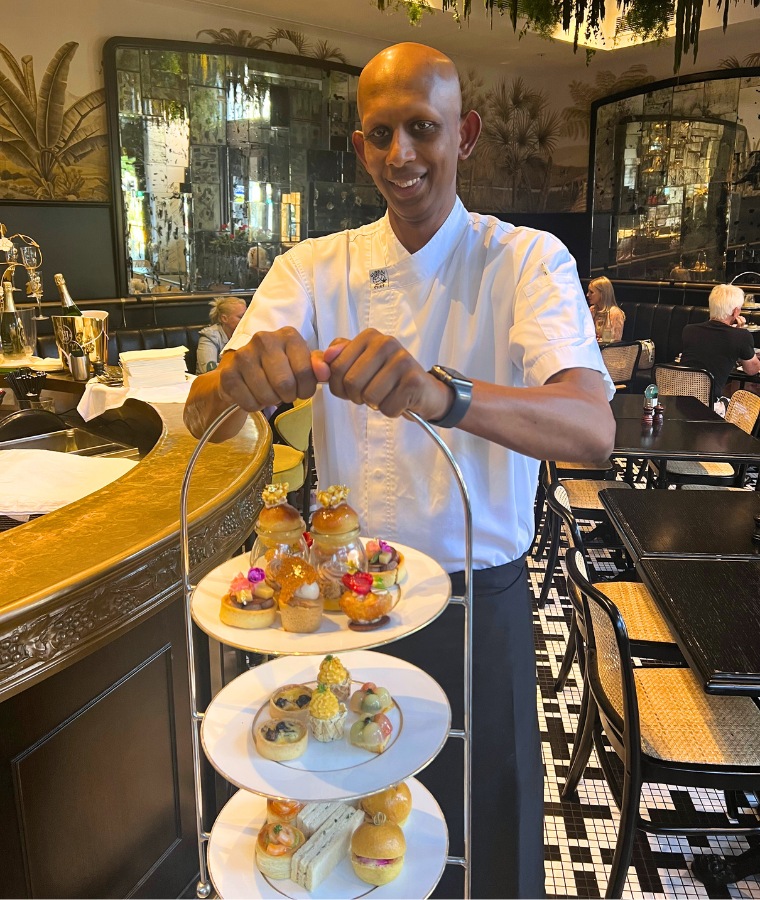 High Tea at Belle Époque is the creation of Executive Pastry Chef, Charith Ponnamperuma. Charith boasts an impressive resume that includes positions at the seven-star Emirates Palace Hotel in Abu Dhabi, the Michelin Star restaurant Alain Ducasse in Doha and the six-star luxury cruise liner Regent Seven Seas Voyager.
With prior notice, the Emporium can accommodate dietary requirements including: gluten free, vegan, vegetarian, dairy free and nut free options.
High Tea at Belle Époque, at the Emporium Hotel Brisbane, offers an elegant ambience and an innovative menu, it's a culinary journey that leaves a lasting impression. If you're in Brisbane and looking to elevate your high tea game, Belle Époque is the place to be.
Belle Époque High Tea Menu: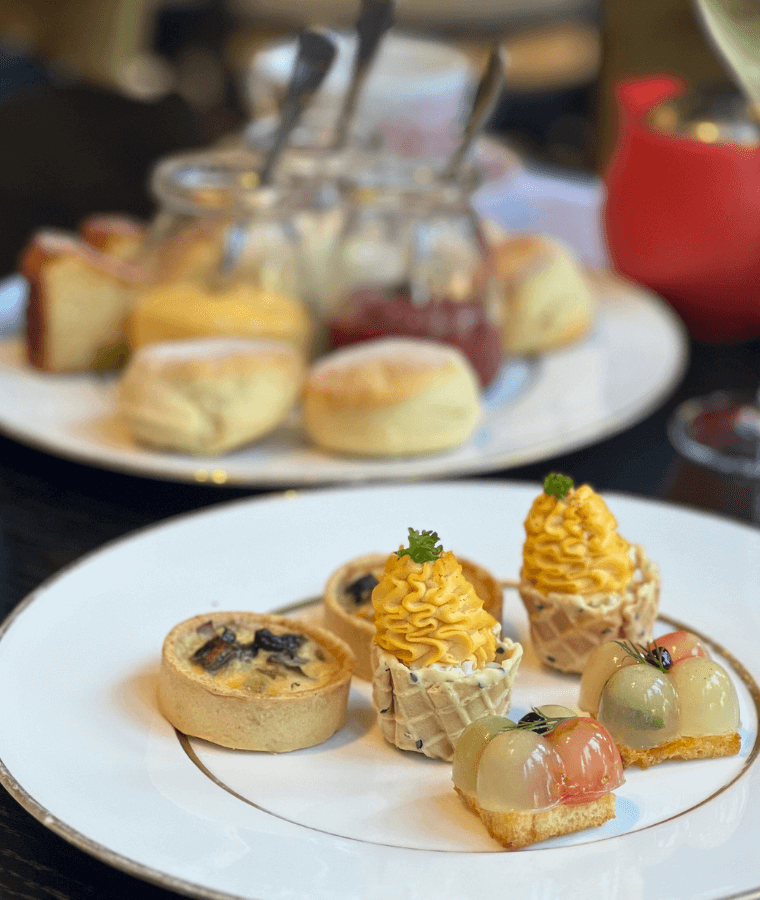 Savoury:
Roast chicken + chive sandwich
Devilled egg tartlet (gf)
Prawn cocktail + avocado Vol au Vent
Salmon + beetroot brioche, horseradish crèam fraîche (n)
Heirloom tomato + asparagus terrine (gf, n, vg)
Leek, mushroom + goat cheese quiche (gf, vg)
Scones:
Freshly baked plain, apple + raisin (vg)
Served with our selection of Raspberry + rose jam, passionfruit curd, Devonshire cream (gf, vg)
Sweets:
Rum baba, caramelised banana, salted caramel whip (n, vg)
Redberry + lime choquette, raspberry gel (n, vg)
Grapefruit + guava tartlet (gf, vg)
Hazelnut cheesecake, Oryola chocolate cremeux (gf, n, vg)
Lemon + pistachio tea cake (n)
High Tea Brisbane – find more experiences
in our High Tea Venue Directory