High Tea at Emporium Hotel South Bank's Belle Epoque fuses Parisian style with seasonal flavours for an exceptional afternoon tea experience.
High Tea at Emporium Hotel South Bank comes with high expectations, given the glamorous surrounds and Emporium's impeccable reputation for quality and style.
Emporium has found its new home in South Bank with a dazzling fit out and first class facilities. The exquisite boutique hotel offers 143 luxuriously appointed suites, a spectacular rooftop bar, infinity edge pool and restaurants & cafes including the beautiful Belle Epoque a Parisian style patisserie.
It's here at Belle Epoque that High Tea is served for an afternoon of indulgence. The elegant surrounds of the patisserie makes a stunning setting for afternoon tea with glamorous black and white tiles, plush velvet bar stools, spectacular gold leaf chandelier and gilded mirrors making you feel like you've been transported to France.
The Emporium High Tea experience has been expertly crafted by Executive Pastry Chef Alex Norman (nee Liddle), with a rotating menu that takes advantage of seasonal flavours. British born Alex, has called Australia home for the past 9 years and has been honing her craft at establishments such as One & Only Hayman Island, Palazzo Versace before joining Emporium Hotel.
Alex finds creating High Tea in winter the most challenging and most rewarding, as there is less produce available so you need to be more creative. Alex highlights the Guava & Banana Mousse, saying "Guava is one of the most interesting fruits in season at the moment. In summer, everything is available and in abundance like cherries, stone fruit and mangoes so you're spoilt for choice, but in winter you're forced to think a little bit more and get creative."
The three-tiered extravaganza is so tempting, we dive straight in and devour the warm pulled pork brioche with apple and fennel slaw before snapping pictures of the elegant spread! The brioche is a great choice, offering a little bit of warmth for winter. The spinach pesto and feta pinwheel is a tad over caramelised on this occasion but otherwise the savoury dishes were a pleasing start.
The remaining two tiers feature the sweet selection, displayed as a separate plate per guest with no sharing required. The signature item is the 'Belle-a-Ron', Emporium's signature macaron with flavours that change seasonally. This winter, it features blueberry, lemon and sherbet.
The Choux bun is topped with leopard print chocolate providing some colour, fun and whimsy to the stand, as Alex didn't want the High Tea stand to appear too gloomy for winter. The Chocolate biscuit with Valrhona Tainori Ganache and Salted caramel is a riff on the iconic Tim Tam. Alex says "Valhrona Tainori is imported into Australia just for me, as it's my favourite Valhrona product and it wasn't available here." Valhrona Tainoir is a dark chocolate couverture with 64% minimum cocoa and pure chocolate butter, making for a rich and indulgent biscuit.
However, the standout for us was the Wattle seed & Mascarpone Delice with Hazelnut dacquoise, wattle seed ganache, mascarpone cream and Frangelico. It was so original, with unusual textures and Australian flavours, topped dramatically with toffee; a real triumph.
The final plate features plain vanilla scones and Emporium blend tea-soaked sultana scones with candied orange and jams that change seasonally, ours with apples and berries.
With prior notice, the Emporium chefs handle dietary requirements with ease including offering gluten free, vegan, vegetarian, dairy free and nut free options.
The ground floor patisserie isn't for the exclusive use of High Tea aficionados so you'll be sitting alongside locals drinking coffees, ladies who lunch and hotel guests soaking up the Parisian style vibes of Belle Epoque. Service is seamless from the efficient and knowledgeable team, making for a delightful afternoon setting.
High Tea at Emporium Hotel South Bank's Belle Epoque is filled with charm and Parisian flair and one you'll want to return to regularly to enjoy Executive Pastry Chef Alex Norman's seasonal creations.
Emporium Hotel Brisbane High Tea Menu: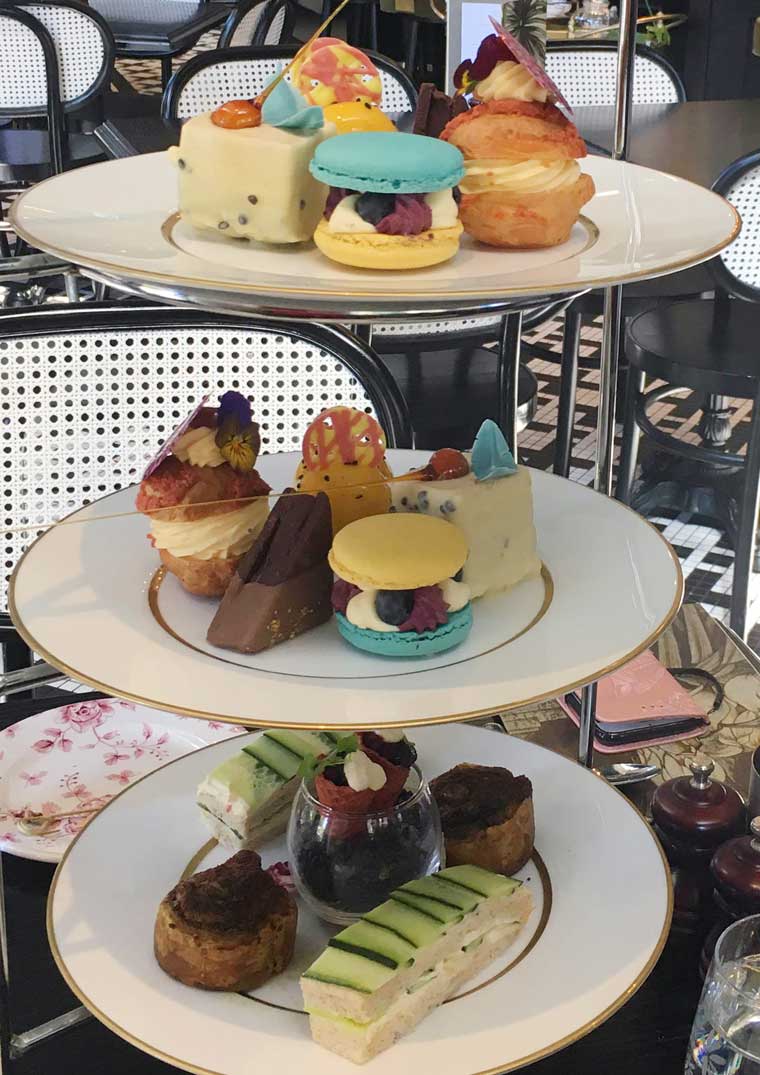 Savouries:
Spinach pesto & feta pinwheel
Pulled pork brioche, apple & fennel slaw
Cucumber, lemon crème fraiche finger sandwich
Beetroot, honeyed goats cheese cone
Sweets:
Belle-a-Ron
Signature macaron, lemon gel, blueberry posset, white chocolate cremeaux, lemon sherbet
Chocolate biscuit, Valrhona Tainori Ganache, Salted caramel
Wattle seed & Mascarpone Delice: Hazelnut dacquoise, wattle seed ganache, mascarpone cream, Frangelico
Guava & Banana Mousse: Guava compote, passionfruit crunch, sesame financier
Rhubarb & Custard: Choux bun, rhubarb compote, custard cream
Emporium blend tea-soaked sultana scones: Hedgerow jam, thick vanilla cream
High Tea Brisbane – find more experiences
in our High Tea Venue Directory