Quaint with a dash of fun. That's the best way to describe your high tea experience at Dandelion and Driftwood (D&D), possibly Hendra's most popular café.
Upon arrival, you get the impression that there's never a dull moment at Dandelion and Driftwood (D&D). From the large groups of women celebrating special occasions spilling out of the entrance, to the families having lunch and brunch, to the couples on dates enjoying signature lunch platters as big as their tables. The atmosphere is very much alive at this café.
Despite the busy surrounds, attention to detail is not lost. Our tea order arrived with a darling little card describing the blend selected (dandelion) with instructions on the temperature it should be poured (80 degrees Celsius) and the infusion time (four minutes). The card even provides advice on milk and sugar for this blend of three Chinese black teas with blue cornflowers. Tolerable! It decried.
In my almost 8 years reviewing high teas, this was a first. But I would expect nothing less from owners Peter and Penny Wolff, who are pioneers of speciality tea and coffee and opened D&D in 2010 with a desire to share their passion with their customers.
The high tea itself had all the traditional trimmings (scones, finger sandwiches, mini desserts and pastries) with a few unique gems (croissants and a large red velvet cupcake). As for the traditional, it was clear as soon as you took a bite out of your first sandwich that they were made fresh. The pillowy and fluffy goodness of the white bread had a delicate cake-like texture and made them some of the best finger sandwiches I've tasted. The selection included curried egg, salmon and cucumber, creamy chicken, and ham with sweet mustard relish. The chicken was particularly pleasing, with no grisly bits and perfectly creamy, it melted in your mouth.
The pea and leek tart and French sausage roll (what makes it French? I do not know) were also delightful. The savoury selection went down particularly well with a glass of La Zona Prosecco NV. The wild card serving of quince and camembert croissants certainly caught my attention. You'd be forgiven for asking am I have breakfast or brunch or high tea? But veering away from the traditional works well for this venue with its café atmosphere and old school charm.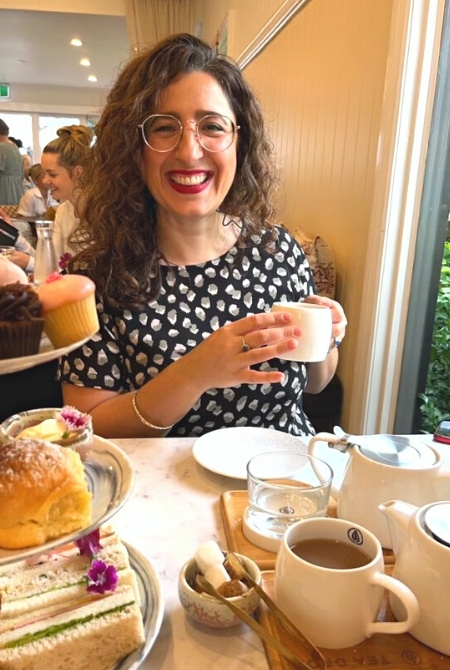 The scones were also a highlight paired with Paul Granger raspberry jam, which was the perfect balance of sweet and tart. And the final tier of desserts topped off a lovely high tea experience. The selection included mini lemon and caramel tarts, a 'vintage' cupcake, a chocolate flourless cupcake, a macaron, and a large red velvet cupcake.
This is a high tea with lots of personality at a venue with an equal amount of spark. While the portions were more than generous for two people to share, it does irk me when high teas require you to physically split certain foods so you can sample everything on the menu. I normally overlook this when it happens on the final dessert tier, because you're normally too full that you're more than happy to just have a bite. But I was disappointed to have to cut and share the finger sandwiches, they were just so darn good they deserved a serve per person.
Overall, a delightful café high tea with great attention to detail, fresh ingredients and an affordable menu.
High Tea Brisbane – find more experiences
in our High Tea Venue Directory