There is so much history and beauty at Mt Lofty House. English lawyer Arthur Hardy originally bought the house after migrating to South Australia to seek out a warmer climate.
In 1983 Mt Lofty House was sadly victim to the Ash Wednesday bushfires in South Australia. In the mid-eighties, Mt Lofty House was rebuilt and restored to a luxury boutique hotel for the public to enjoy and is highly successful today.
We were incredibly lucky to enjoy the stunning Piccadilly Valley views with the high tea held in the Hardy's Verandah Restaurant (HVR).
All high tea items are freshly made on the premises. HVR blend their own black and herbal teas with tasty and interesting flavours ranging from Chamomile Coma to Floral Blush.
The HVR high tea items tasted great; and were full of flavour and freshness. The standout for me was the house-made waffles and liver pate with Truffle Honey. The flavours were so interesting and worked so well. My only complaint is, there was not enough of it! I could have easily taken an entire plate outside and feasted on them while enjoying the views.
Katsu is also a flavour I am fond of and the one at HVR did not disappoint. The Chicken Katsu sandwich with wasabi mayo and celeriac sauerkraut was moreish.
The HVR seasonal macaron had fresh cream in the middle instead of ganache. It was a fabulous change and lifted the standard macaron to a more enjoyable level.
The Green Tea with vegan chocolate ganache and sugar floss was creative with innovative and pleasurable flavours.
66% Valrhona Dark Chocolate Marquise was to die for. A full-size birthday cake with these flavours and texture would be amazing!
High Tea at Hardy's Verandah Restaurant in Mt Lofty House was luxurious, tasty, and worth doing more than once! After the High Tea we walked around the grounds and soaked up the beauty and gardens of Mt Lofty House.
Hardy's Verandah Restaurant High Tea Menu: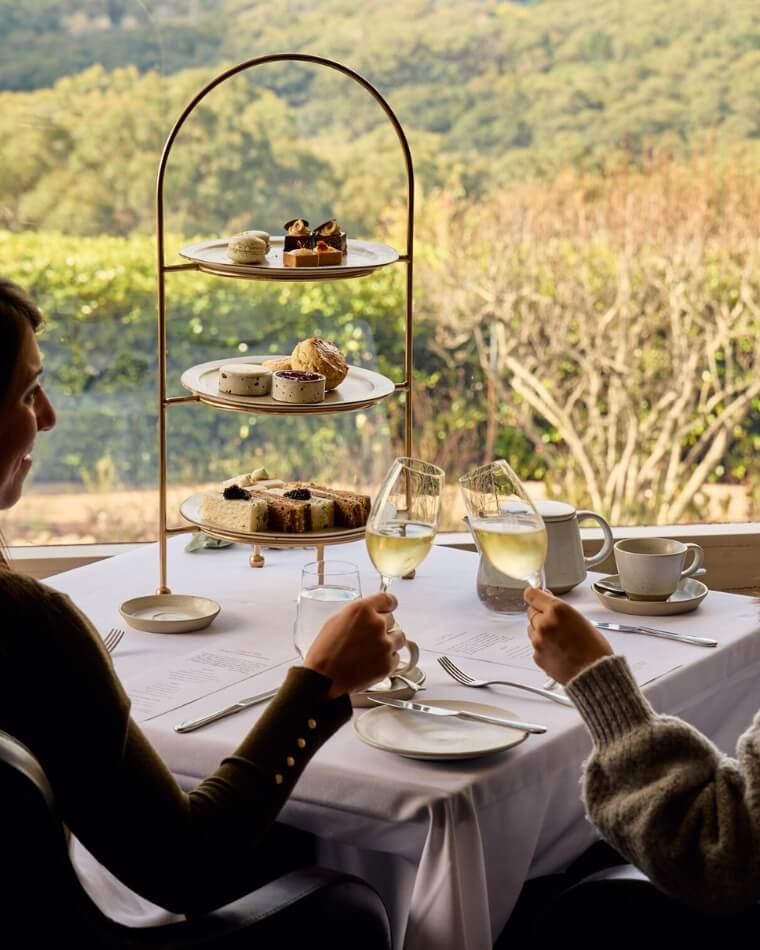 (items may vary)
Savoury:
Leek and Bacon Quiche
Smoked trout, rye bread, gribiche
Fresh cucumber and cream cheese sandwich
House-made waffles and liver pate, Truffle Honey
Chicken Katsu sando, wasabi mayo with celeriac sauerkraut
Sweet:
66% Valrhona Dark Chocolate Marquise
Local Yuzu and Lemon tart, finger lime
Green tea with vegan chocolate ganache, sugar floss
Shortbread type of scones, jam, and cream
HVR Seasonal macaron
Unlimited Tea and Coffee
Black Teas and Fruit and Herbal Blends including:
French Earl Grey
Nanna B's Tea
Green Citrus Cleanse
Floral Blush
Please advise of any dietary requirements when making your booking.
High Tea SA – find more experiences
in our High Tea Venue Directory