Hotel Indigo is a new stylish, boutique hotel on Market Street in the CBD. It is in a great location with the Adelaide Central Market and Gouger Street restaurant precinct a short walk away.
An Indigo High Tea is served in the Market and Meander Eatery and Bar with a nice décor of gorgeous leather pink seating. Retro perfection for a high tea setting!
Each of the items on the high tea are made fresh on the premises with local produce. You can most definitely taste the high quality of the ingredients. An Indigo High Tea serves daily in two afternoon sessions.
The high tea starts with a glass of Prosecco or a Gin and Tonic. As someone who doesn't drink wine a Gin and Tonic was very welcome. The Gin served was from Never Never Distilling in the gorgeous McLaren Vale.
The savoury items were tasty, light and packed with flavour. The lobster bun with green goddess dressing and lettuce was fresh and delicious. The crispy pork belly milk bun with Calabrian honey + chilli jam and mustard pickled red cabbage was moreish!
The sweet elements of the high tea were delicate and rich in flavour. The Macarons were chewy and packed with flavour. The flavours we had on the day were coffee and raspberry. The in house made chocolates were delicate and rich with flavours including praline and caramel.
There weren't any scones in the menu, which are of course a traditional favourite of a High Tea. We didn't notice until after we finished as we were enjoying An Indigo High Tea menu as it was.
Hotel Indigo serve T Bar tea. It is local business and always do lovely tasting teas. The staff were very attentive and friendly too.
An Indigo High Tea – Market & Meander Menu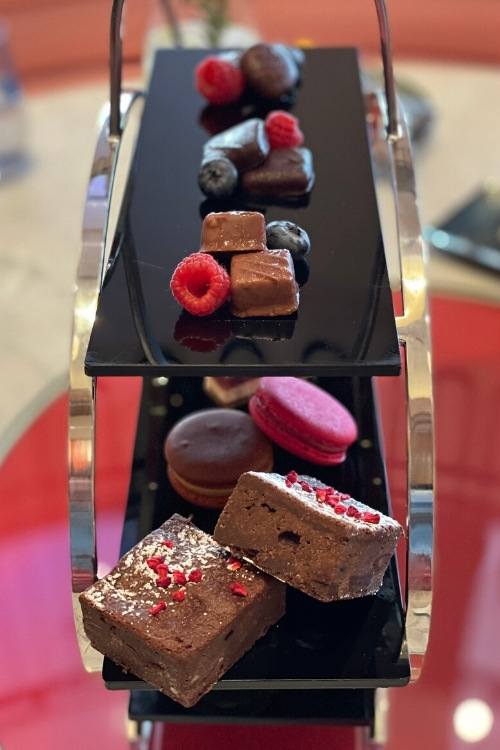 Savoury:
Lobster bun green goddess dressing and baby cos lettuce
Crispy pork belly milk bun calabrian honey & chilli jam with mustard pickled red cabbage
Gin smoked ocean trout mascarpone with lemon thyme and mint
Barossa ham quiche la vera ricotta and soft herbs
Sweet:
Indigo bonbon selection: rochers praline with desires' framboise, caramels tendres and passions
Macarons
Petit fours saint germain
M&M vegan brownie
Indigo orange-almond cake
Includes free flow barista coffee and t-bar teas
Advise dietary requirements at the time of booking.
High Tea in Adelaide – find more experiences
in our High Tea Venue Directory