High Tea Society recently enjoyed a feminine, on-trend high tea at Mary Eats Cake in Brunswick, as part of the Melbourne Food and Wine Festival.
The brainchild of dynamic duo Sarah de Witt (a tea sommelier) and Jessica Hillbrick (a French trained pastry chef), Mary Eats Cake has quickly become a go-to destination for high tea fans and hen's day celebrations in Melbourne's inner North.
High Tea Society was lucky enough to experience a special collaboration between Mary Eats Cake and Brunswick Wine Shop, which saw us enjoy glasses of local Victorian wines alongside our high tea.
When we arrived at the rustic-yet-glam two storey venue, several hen's days and baby shower celebrations were in full swing, with long tables dotted with vintage high tea stands, fresh flowers in glass jars, and bottles of Paul Louis Blanc de Blancs French sparkling. Upstairs are two smaller, sun-filled rooms, which can be booked for private events. In addition to high tea, guests attending in groups can elect to try a whole host of add-ons, including flower crown making workshops, a wine pairing package, signature cocktails or even a calligraphy class.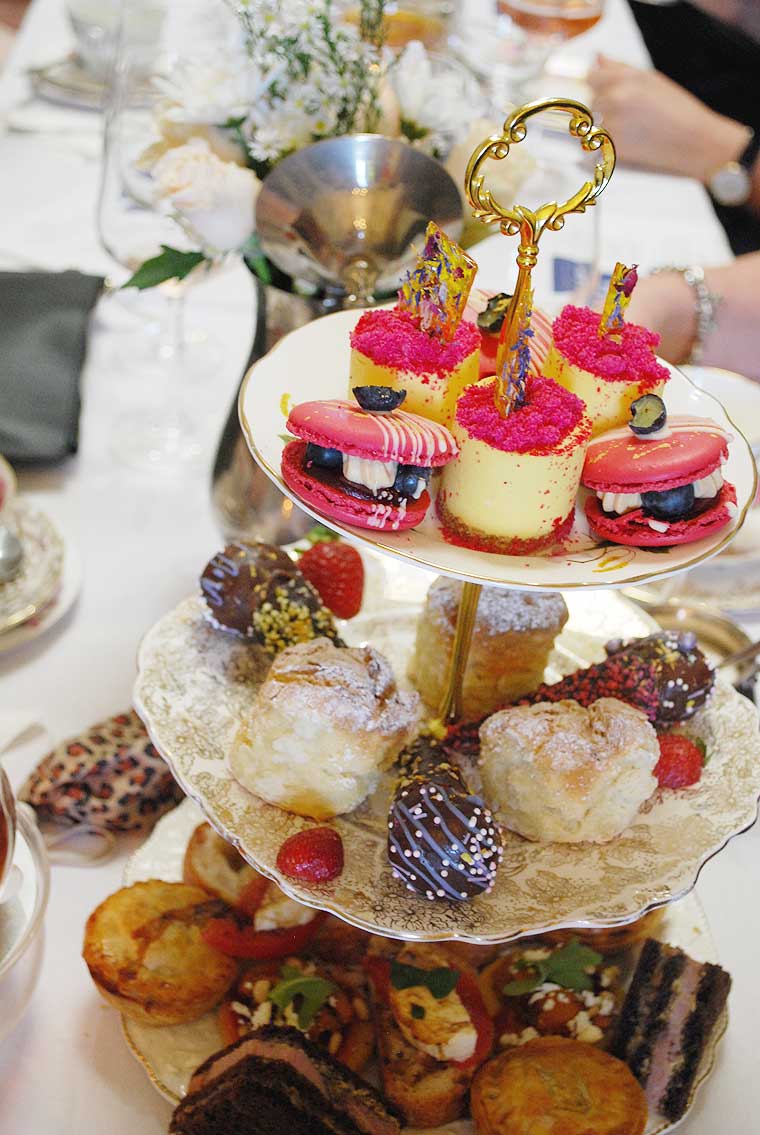 The high tea itself is served on a three-tiered stand, with savouries and sandwiches on the bottom tier, then scones in the middle and a selection of eye-catching cakes and sweets on the top. Sandwiches, rather than being of the traditional finger sandwich variety, are a little more edgy, but no less tasty, with fillings like slow cooked beef and caramelised onion, or fresh tomato, basil and mozzarella. The pie, a mini pithivier served warm, was a real highlight with flaky pastry and a well-seasoned filling. The scones were a bit dense and biscuity, though they still tasted quite nice when smothered in jam and whipped cream. While visually very appealing, the sweets were also a bit hit-and-miss. The mango cheesecake was very popular, whereas the lemon, lavender and chocolate cake-pop was almost universally left half-eaten by our dining companions. For vegetarians, there was a mini lemon tart in lieu of the cheesecake, and this was sublime; really tangy with a thin buttery shell of shortcrust pastry.
Several delicious blends of organic tea were free flowing throughout the high tea, served in pretty glass teapots on top of tea light candles to keep them warm. The lemongrass and ginger tea, as well as the juniper tea with pink peppercorns, were both real highlights and worth a return visit alone, if you're a bit of a tea snob!
Mary Eats Cake can cater for gluten free, vegetarian, vegan and pregnancy high teas. This fun and friendly venue would be suitable for well-behaved children and they are catered for with a children's high tea menu for $26 per child. It is easy to see why Mary Eats Cake is so popular (bookings are essential!). The venue has a relaxed, accessible and celebratory vibe and staff are bubbly and attentive. This is the perfect place for a big group celebration with your most fabulous friends.
Mary Eats Cake High Tea Menu:
A selection of four savouries, for example:
Slow cooked beef, caramelised onion and dijon mustard sandwich
Fresh tomato, mozzarella and basil open baguette
Leek, mushroom and creamy chicken pie
Roast pumpkin, feta, pinenut and rocket on arepa
Scones:
Homemade scones served with jam and cream
A selection of three sweets, for example:
Mango sherbet cheesecake
Macaronade with rose jelly and lychee cream
Lavender, lemon and chocolate cake-pop
To drink:
A selection of organic teas, blended in house
Paul Louis Blanc de Blancs French sparkling (additional $10)
The Melbourne Food and Wine Festival is held in March each year.