Mary Eats Cake is a high tea experience curated by two specialist culinary talents in Brunswick, Melbourne.
What happens when you bring together two passionate food and beverage connoisseurs?
You are taken on a gastronomic journey filled with characterful tea infusions and delightful unique sweet and savoury treats with a story.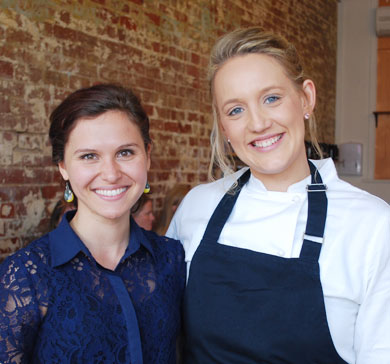 Meet Sarah de Witt, the Tea Sommelier behind Impala & Peacock artisan teas and French trained pastry chef, Jessica Hillbrick. The pair met over a Bridal magazine shoot in 2016, and after sharing tea and cake, and their mutual love and appreciation for High Tea, joined forces to bring you this wonderful new High Tea experience in Brunswick, Mary Eats Cake.
The name plays on Marie Antoinette's famous 'let them eat cake' and the experience definitely reflects the fun-loving, down-to-earth, indulgent only sometimes health-conscious alter ego of Mary in all of us.
The gorgeous terrace with French-esque décor and whitewashed exposed brick walls is filled with vintage teaware, flowers, cute quotes and multiple photographic opportunities. The venue also boasts lovely upstairs rooms that can booked exclusively for that perfect bridal or baby shower, birthday or group special occasion, at no additional charge for 12 people or more. They also offer an extensive gluten free/ vegan option that all would be envious of.
High Tea starts with a palette cleanser of Mary's signature blend of black tea, roses, calendula and cornflowers. Once the palette is prepared it is time to tackle the beautiful Royal Albert bone china three-tier stand of savoury and sweet selections.
The savoury medley is paired with Brunswick Breakfast Tea and the sweet assortment with Mint Variation Tisane, an infusion of peppermint, spearmint, lemongrass, lemon, verbena, lemon balm, lemon myrtle and provincial lavender.
We started with the roasted pumpkin, raspberry and beetroot dip, rocket and goats cheese spinach bread sandwich. Its bright and distinctive colours made it look more like a sweet but absolutely fulfilled our savoury cravings. The buffalo mozzarella, macadamia nut pesto and sun-dried tomatoes on crostini was a delightful treat followed by a tomato quinoa salsa with mozzarella and basil on a crispy polenta base. Finally the warm mushroom, leek and three-cheese quiche, was an excellent savoury finale with its pastry crust full of melted cheesy flavours.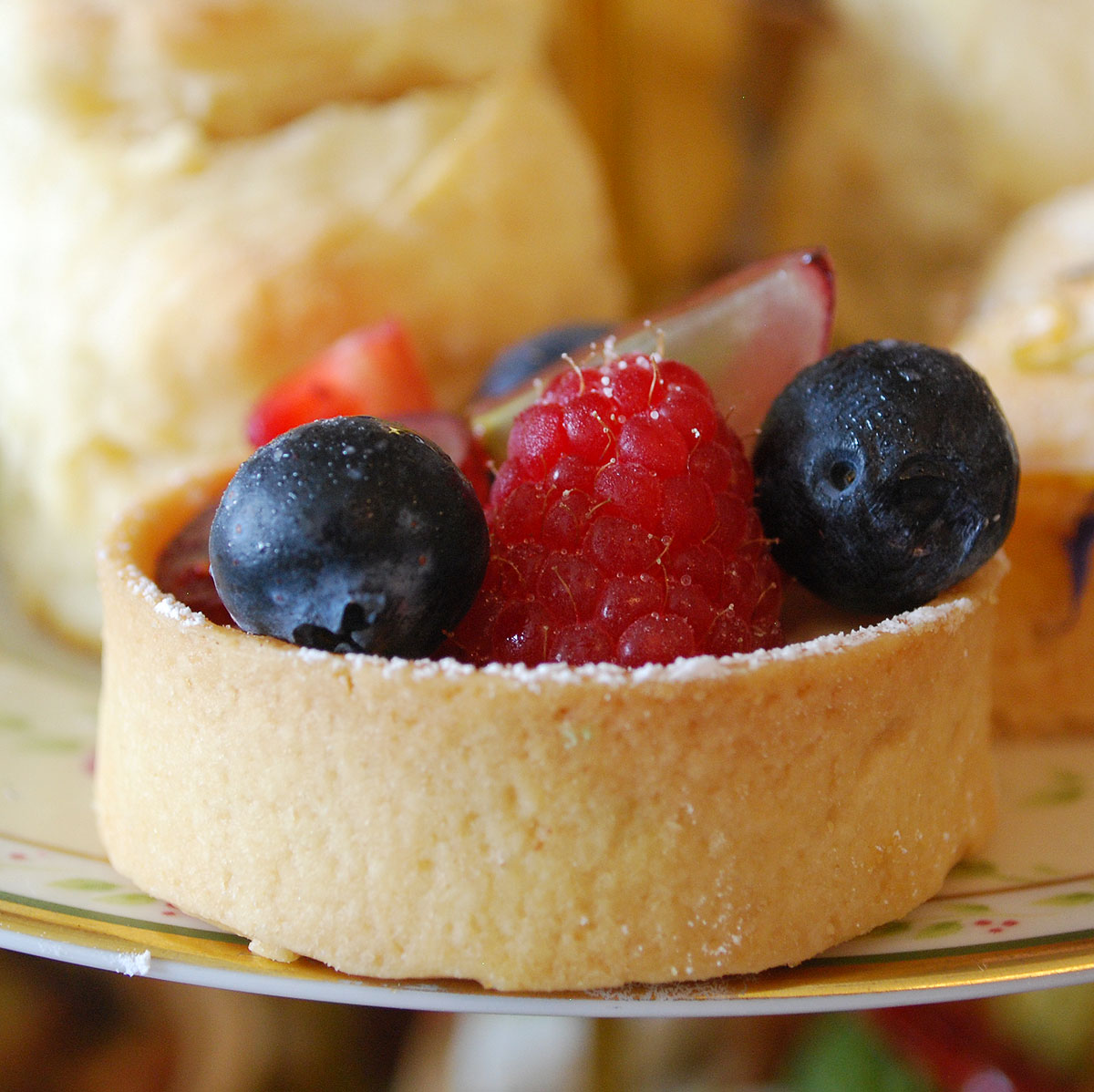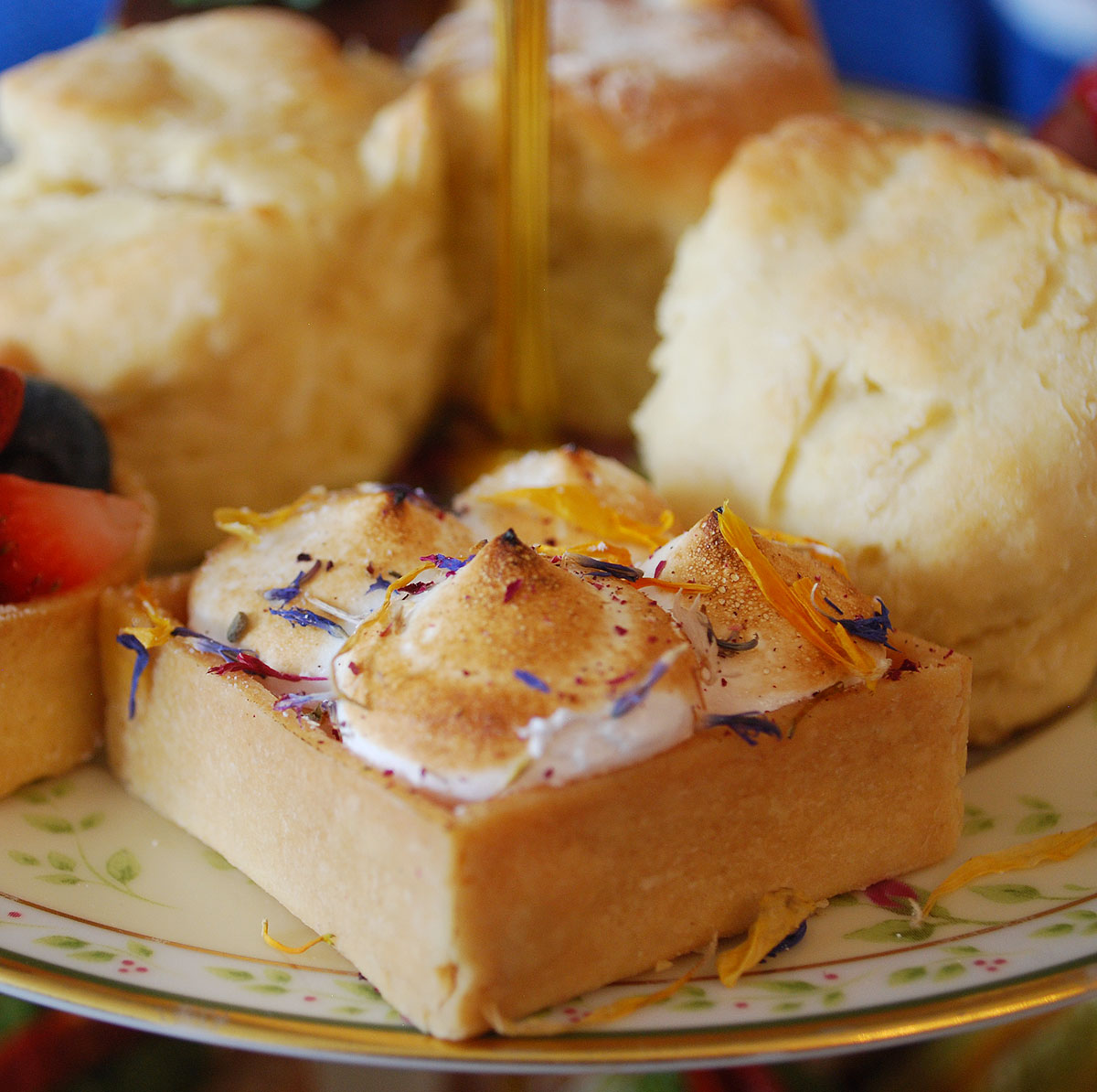 When it came to the tasty homemade fluffy scones, they were topped with jam and fresh cream dolloped with cute little spoons from their eclectic vintage wares.
I was very excited to start to work my way through the sweet selection. The chocolate, mint and matcha opera cake was a piece of bright green art and a combination I had not seen in a High Tea. The cake flavours were each strongly unique however perfectly complimented each other. The salted lemon meringue was a light citron flavour with the shortest of crusts and was followed by the fresh seasonal fruit tart of berries, which was the perfect way to end a gorgeous combination of different yet strangely familiar treats.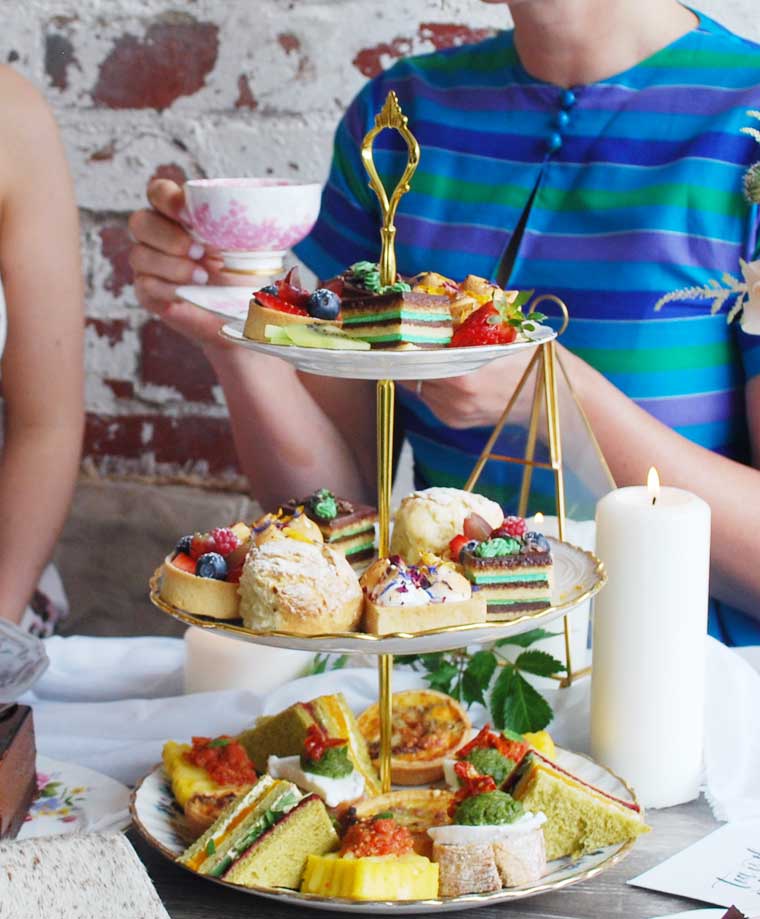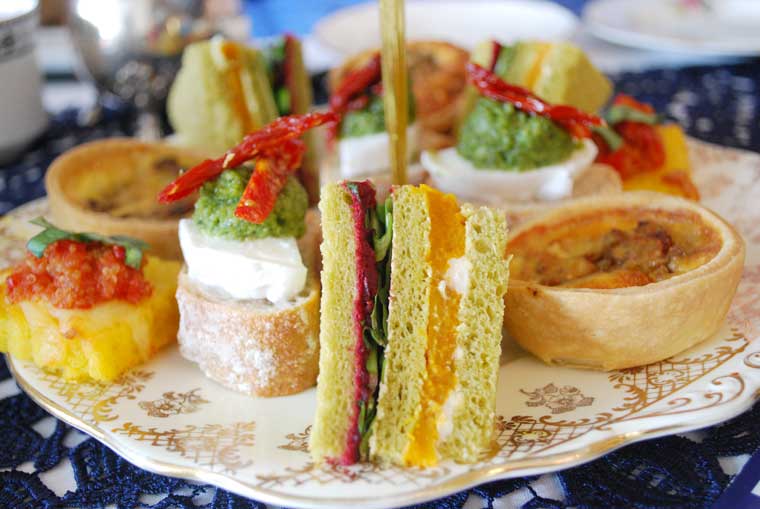 You can clearly see in the presentation and detail of their charming High Tea that Sarah and Jess are passionate. Both speak of the importance of sourcing local produce with diary ingredients from Jonesy's Dairy Fresh, free-range eggs from South Gippsland, butter from King Valley Dairy, on the banks of the King River, fruit locally sourced in Brunswick and Meredith Goats Cheese, ensuring the flavours are abundant and local support is strong.
As the tea is blended in Brunswick by Impala & Peacock, make sure you ask about the different flavours available. They have a wonderful selection each with their own unique story, such as Coconut Mint, a refreshing sweet treat that unites the comfort of sweet cacao, refreshing peppermint, soothing calendula, and fun loving coconut. Or the Guyokuro Green, a rare and strong Japanese green tea held in high regard for its potent health benefits where the tea plant is shaded before harvest to increase the natural antioxidants and chlorophyll colour contributing to its umani tones. Each tea card gives you the degrees, minutes of infusing and steeping instructions for optimum flavour. An experience in itself.
If you love fabulous flavours and enjoy a creative twist to your traditional high tea then this is a must. With a friendly team, happy to chat through their creations and new menus launching each season, it is one to put on your bucket list, sooner rather than later, in 2017.
Mary Eats Cake Gluten Free/ Vegan High Tea Menu:
Macadamia and basil pesto on roasted potato and cauliflower pattie with sundried tomato
Beetroot, roasted pumpkin, rocket, and vegan cheese
Crispy polenta with quinoa capsicum salsa and basil
Mushroom caps filled with caramelised eggplant
Cacao and macadamia chocolate truffle
Lychee and raspberry chia seed pudding
Chocolate, mint, and matcha raw slice
Fresh seasonal fruit tart
Exclusive Tea Rooms – minimum of 12 guests
Mobile Mary:
The complete high Tea experience with food, tea, vintage teaware, flowers, service staff brought to your home or venue of choice for a minimum of 20 guests.