Rochelle Adonis, located in bustling Beaufort Street Highgate, is pretty as a picture and so is their mouth-watering high tea.
It is a very respectable $48 per head Tuesday – Friday and $55 per head on Saturday – Sunday. For a little extra you can indulge in a glass of Chandon Brut Rose, Moet, or perhaps a bottle of Prosecco, to name a few.
On the day I visited I was lucky enough to indulge in the Australian Classics menu that proved so popular on Australia Day, they continued the offer for the month of February.
For the traditionalists out there are still a lot of high tea elements you will recognise. For starters the pretty individual china place settings and the first course is cucumber and dill ribbon sandwiches. A special mention to the white bread that was so squishy it actually melted in your mouth, seriously!
Next up was the individual white platter with four savoury treats. I started with the refreshing tomato and fire roast capsicum gazpacho in a tall glass. The Australian classics menu then really kicked into gear with the Angus beef party sausage roll. The flaky pastry worked well with the beef and dollops of tangy tomato jam on top.
The mini fish burger was both cute to look at it and bursting with flavour thanks to the pistachio crumbed sweet lip snapper. I rounded off the savoury platter with the prawn and avocado gougere that was generously filled with pan seared prawns, avocado salsa and cocktail dressing.
The palette cleanser made up of pineapple sorbet, lime sorbet and vanilla ice cream that followed not only 'cleansed' but actually left you wanting more. It was then time to order my Artisan Tea Co Minted Lavender tea in readiness for the sweet treats that lay ahead. There is also Vittoria espresso coffee available.
Out came the silver platter (which I noticed had a different design at every table) displaying four mouth-watering desserts. This is where the Australian Classics cranked up another notch. I started with the Peach Melba sundae served in a classic white cup that housed a lot in them. Namely, vanilla cake crumbs, peach compote, house churned vanilla ice cream (so creamy) and raspberry sauce with fresh peaches on top.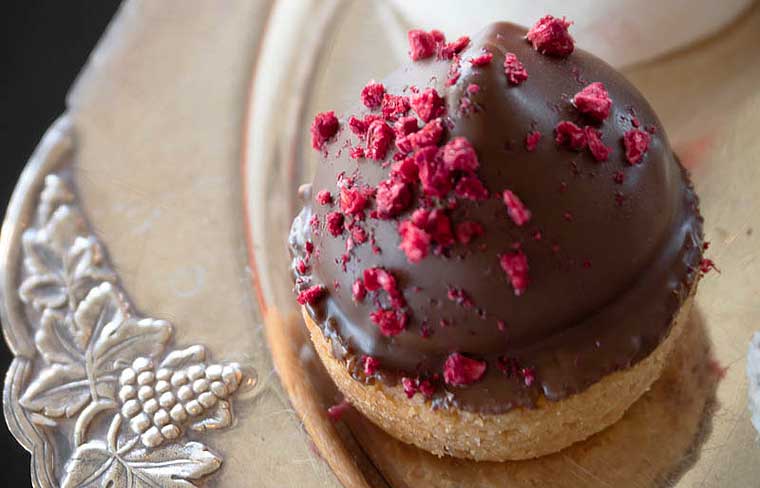 It doesn't get more Australian than the Pavlova and the miniature version with Chantilly cream, passionfruit curd, kiwi and strawberry and passionfruit syrup did not disappoint. Next up was dessert of the day for me, the lamington. This wasn't just any old lamington as it boasted vanilla sponge that had been soaked in vanilla bean panna cotta then dipped in chocolate and desiccated coconut, wow!
Before rounding off with the childhood favourite, the Wagon wheel tart, complete with vanilla sable and white chocolate tart filling, vanilla marshmallow and dipped in chocolate. Just when I thought I was done out came a homemade chocolate truffle. Being a chocoholic, this was THE perfect way to round out my high tea experience.
Rochelle Adonis' high tea boasts beautiful food and great service, thank you Clare for being so accommodating. I would say if you're planning on going with a friend or significant other it may pay to sit away from the larger groups as the fun and frivolity can get quite loud.
A wander around revealed a semi enclosed room with a grand table that seats 16, perfect for your hen's or birthday do's. There are three sittings available when you book on weekends, 12pm, 2pm and 4pm.
Unfortunately they don't cater for vegans or those with fructose or dairy intolerances as their website states, "we choose not to use substitutes for ingredients such as butter, milk, cream, eggs, sugar and flour in our offerings of High Tea".
The Australian Classic menu winds up at the end of February but don't despair their ever-changing High Tea menu is sure to please most palettes. There's even high tea vouchers and other goodies available on their website that would make wonderful gifts for any high tea enthusiast.