Set sail for High Tea by the sea at The Anchorage Port Stephens for indulgent afternoon tea and bottomless bubbles.
Savour a generous selection of house-made sweet treats, unlimited Ronnefeldt Tea and Australian sparkling wine all to the spectacular backdrop of sparkling blue water at The Anchorage Hotel & Spa Port Stephens.
The Anchorage Hotel & Spa has recently been refurbished and is looking as dazzling as ever, oozing Hamptons style and seaside chic. The resort boasts 80 absolute waterfront rooms and suites, conference and wedding facilities, a divine day spa and exceptional dining at The Wild Herring – recently awarded Best Seafood Restaurant in Region NSW at the Restaurant & Catering Awards for Excellence, plus casual dining at The Galley Kitchen and Moby's whiskey bar.
It's downstairs at The Galley Kitchen where High Tea is served on the terrace overlooking the marina. The table is beautifully set with colourful tea sets adding a sense of celebration to the convivial scene.
Before I go any further, I have two words for you "bottomless bubbles" and not just any bubbles, but beautiful Brokenwood sparkling from the neighbouring Hunter Valley wine region. Need I write further, are you booking yet?
Once our glasses are full, the friendly and efficient staff delivers a traditional three-tiered stand laden with goodies, alongside a platter of freshly made sandwiches and some hot canapés. We start with the hot selection of homemade lamb sausage rolls and mushroom and zucchini quiche which were flavoursome and filling. The trio of sandwiches to follow included cucumber, smoked salmon and coronation chicken.
We're finally ready to devour the tasty tower including scones with strawberry jam. The scones are light but crunchy and the perfect petite size. The addition of vanilla bean cream and a dusting of icing sugar make every morsel moreish.
The final two layers are a selection of cakes, tarts and macarons including passionfruit cheesecake, caramel slice, blueberry tart, mini carrot cake and a slice of chocolate and raspberry cake with the chocolate deliciously light but rich in flavour.
On our visit, the restaurant was filled with guests enjoying high tea from family groups, mums & daughters and those celebrating special occasions providing a jovial atmosphere.
The menu changes seasonally, devised by Executive Chef Michael Jenkins. Jenkins is a long-time local whose style is best described as modern Australian with a slight Asian influence. "I have had the good fortune to have lived and worked in the Port Stephens region several times throughout my career and what continues to draw me back here is the ability to source some of the world's most incredible fresh ingredients." notes Executive Chef Michael Jenkins.
With prior notice, the Anchorage chefs happily handle dietary requirements with ease, offering gluten free and vegetarian options.
Unlimited tea is included in your High Tea experience (if you can tear yourself away from the bottomless bubbles) with The Galley Kitchen offering a selection of Ronnefeld Tea including Earl Grey, English Breakfast, Vanilla and more.
The highlight of High Tea at The Anchorage is certainly the ambience and picturesque seaside setting and of course the bottomless bubbles!
High Tea at The Anchorage Port Stephens is ideal for an afternoon of celebration with friends or loved ones against a backdrop of sparkling blue water, cruising yachts and brilliant blue sky.
High Tea by the Sea at The Anchorage Sample High Tea Menu: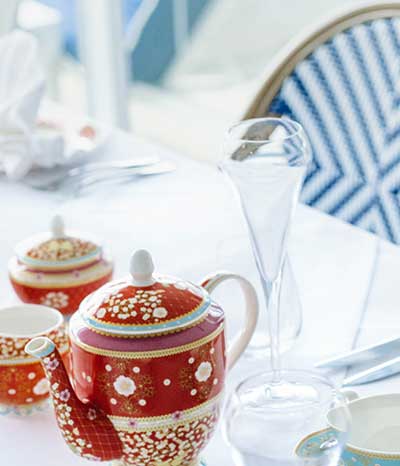 Savoury:
Lamb sausage rolls
Mushroom and zucchini quiche
Cucumber ribbon sandwiches
Smoked salmon sandwich
Coronation chicken sandwich
Scones:
Scones with vanilla bean cream and strawberry jam
Sweet:
Assorted macarons
Passionfruit cheesecake
Caramel slice
Chocolate & raspberry cake
Blueberry tart
Mini carrot cake