Have you ever had a hankering for a high tea with a Spanish twist? Well from 2 - 25 January, Heno & Rey in the InterContinental Perth is offering exactly that with Te Alto which is Spanish for high tea.
There was a lot to like about this so moving onto the all important heroes of the day and there were so many.
My experience kicked off in the best way possible with a refreshing watermelon, mint and vanilla sangria. There is also the choice of T2 tea and Little Owl coffee. A few refreshing sips in and the ever attentive waiter presented me with my blue Spanish inspired ceramic serving plate. Then something happened that I don't often see in high tea land. I was given my own, yes my own, three-tier unique serving tray that perfectly showcased the Spanish delicacies that lay ahead. Points for the attention to detail at this early stage.
I opted to start on the middle shelf where three savoury treats on grilled bread resided . First up was the charred octopus with a rich romesco sauce and fried cauliflower. This wonderful combination of flavours saw the octopus working well with the capsicum and garlic in the romesco sauce before rounding off with the salty fried cauliflower on top.
Next up was the shaved jamon serrano or dry-cured Spanish ham on tomato and grilled bread. Don't let the lack of ingredients fool you it was packed full of flavour. My savoury journey concluded with manchego cheese with membrillo or Spanish paste and sprinkled with muscatels. It was the perfect way to round out the savouries.
View this post on Instagram
At this point I opted for a peppermint tea to compliment the sweets before me. I chose to start with the top tier which comprised of your traditional buttermilk scone and double cream but then came the 'twist'. The condiment was an individual pot of orange marmalade instead of your customary strawberry jam. But wait there's more…there was also a fig scone that likewise went down a treat with the double cream and marmalade.
The final tier started with the Pasteis de nata or Portuguese custard tart. The egg custard and flaky pastry simply melted in my mouth. Then onto the ever favourite cinnamon churro's where I was generously given two to dip in a delicate chestnut sauce that left you wanting more.
Once again I left the best for last with the chocolate and orange torta. It comprised of a chocolate sponge base followed by a chocolate and orange liqueur mousse with a delicately balanced candied slice of orange on top. Simply sensational!
All of this is the brainchild of Andrew McGie, Director of Food and Beverage, InterContinental Perth who boasts an impressive resume having worked in the hospitality industry for over 20 years in the United Kingdom, Abu Dhabi and Portugal to name a few. He says, 'the Spanish High Tea reflects the relaxing pace of the Spanish lifestyle, particularly in summer whilst also showcasing some of the best Western Australian produce.'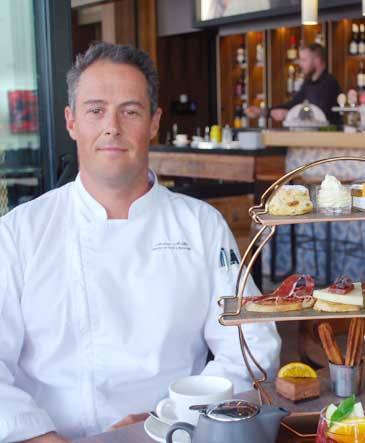 It is also worth mentioning the great ambience of Heno & Rey. Located in Perth's King Street precinct, the authentic Spanish music and street side alfresco setting works really well with the Spanish theme.
Normally a tapas bar, Heno & Rey delivered the Spanish high tea experience in spades and yes vegan, vegetarian and gluten free options are available with some notice. It is a very respectable $59pp and is available every day from 12pm – 5pm.
So don't delay make a booking today as Te Alto, high tea with a Spanish twist ends on January 25, 2019. You won't be sorry you did!
High Tea with a Spanish twist at Heno & Rey Perth Menu: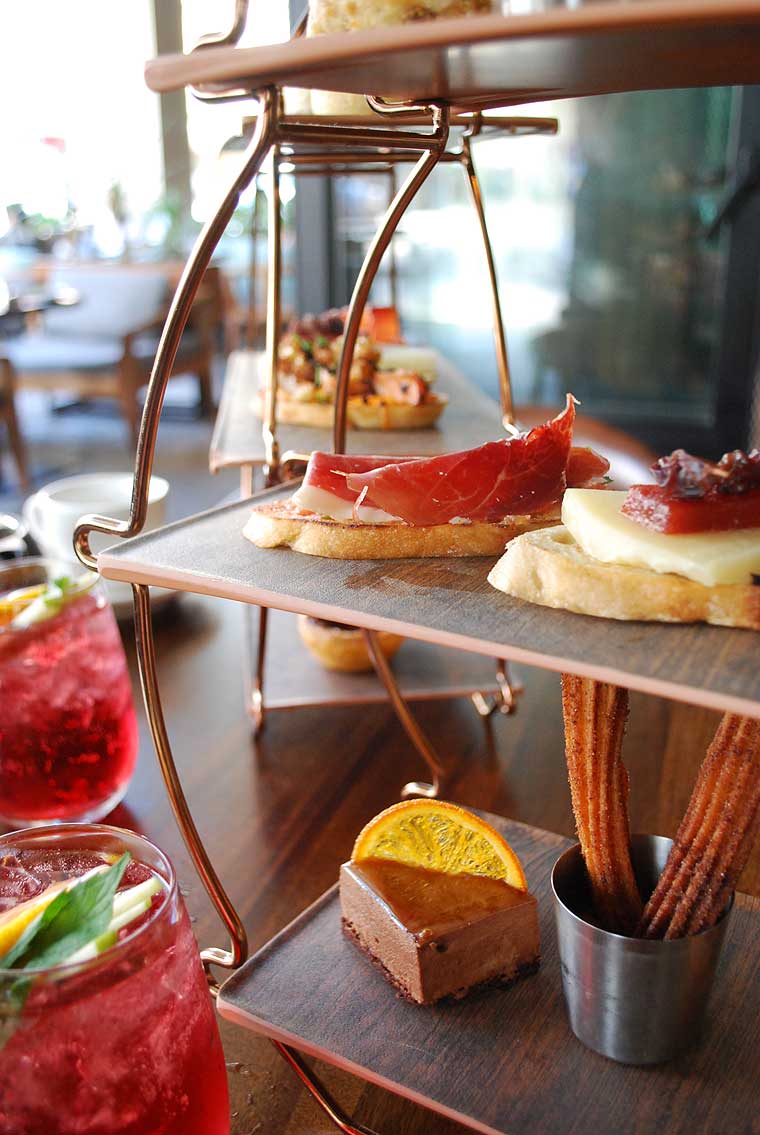 Fig scone
Buttermilk scone with double cream with orange marmalade
Pasteis de nata
Chocolate and orange torta
Cinnamon Churros with chestnut
Tomato bread with Jamon serrano
Manchego cheese with membrillo on spiced fruit toast
Charred octopus with romesco with fried cauliflower
Glass of rose and watermelon sangria
Served with your choice of T2 tea or Little Owl coffee
Heno & Rey is located on the ground level of the InterContinental Perth on the corner of King Street and Hay Street, Perth to book call 08 9486 5700.