It is the place where Victoria's movers and shakers congregate to debate, shut down and pass legislation – but did you know that Parliament House also serves a very impressive high tea?
In fact, Strangers Corridor in Parliament House has been serving high tea since 1924 and offers enthusiasts the opportunity to both visit the majestic building and indulge in a high tea that uses only locally grown and produced Victorian foods.
As the name suggests, Strangers Corridor is a place that strangers – that is, people who are not Members of Parliament – can dine within Parliament House.
Located outside the Members' dining room, Strangers Corridor is quite literally a corridor, however to call it that does not do the space justice.
Strangers Corridor is adorned with wood-panelled walls, stained glass windows and chandeliers, and somehow manages to be both spacious yet intimate.
Each table is set with white linen tablecloths and napkins, cushy high-backed red felt chairs, and glass bowls of jam and cream waiting to be dolloped on the bite-sized scones on offer.
The venue only serves high tea on Thursday afternoons of non-Parliamentary sitting weeks, adding to the exclusivity of it all.
When the High Tea Society visits, we are immediately offered a glass of Parliament Sparkling in vintage coupe champagne glasses, which add an unexpected element of glamour and decadence to proceedings.
The high tea soon follows and is served on a two-tier stand, with scones delivered fresh from the oven on a side plate, their delicious aroma wafting enticingly in the air.
It is clear from the outset that this is a menu where dietary requirements are kept front of mind, with many of the items vegetarian, gluten free or dairy free. Strangers Corridor can also tailor menus exclusively for those seeking a vegetarian, gluten free or dairy free experience – just mention on booking.
The traditional sandwich fillings of smoked salmon, chicken and egg and mayonnaise are all here, with each filling served within a different type of mini roll.
While all delicious – the egg with parsley mayonnaise definitely rates a stand-out mention here – having three rolls as a starter was a bit much and converting at least one of the options to a finger sandwich would have been preferable.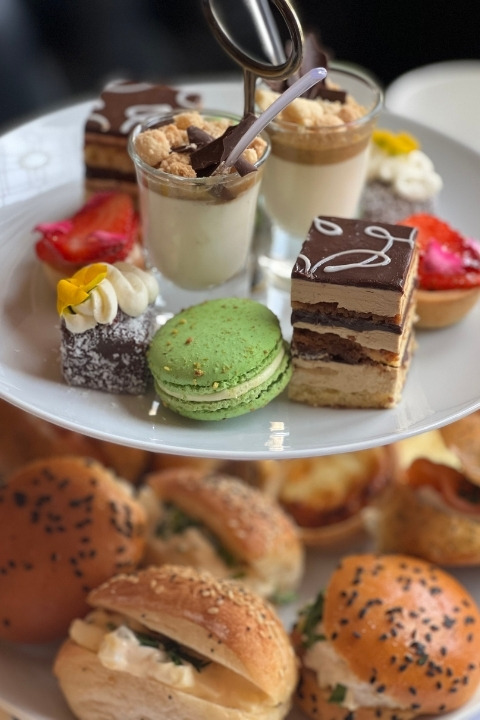 Moving on to the desserts, and those with a love of salted caramel will be seduced by the Golden Gaytime panacotta. Served in a shot glass, the vanilla pannacotta is topped with a toffee sauce and butter biscuit crumb that is to die for.
The freshness of the petit lamington also shone through and the opera cake was deliciously rich and a good coffee hit for espresso lovers.
Speaking of coffee, it's at this point that we are offered a selection of black and herbal teas from the Love Tea collection (served in individual teapots) or espresso coffee.
Last but not least are two varieties of scones, the traditional Parliament scones and "fat rascal" scones jam-packed with organic fruits, lemon and spices.
As mentioned earlier these scones are on the petite side, however, due to the overall size of the high tea menu this is the perfect way to round out the high tea.
If you have a spare Thursday afternoon free, high tea at Strangers Corridor is a must-try.
Strangers Corridor High Tea Menu:
Sandwiches and savouries:
Melbourne's pantry smoked salmon, lemon scented cream cheese and dill served on a pink salt bun
Poached Milawa chicken, herb mayonnaise, butter lettuce in a buttermilk roll
East Gippsland free range egg and parsley mayonnaise roll
Free range pork, sage and fennel sausage roll, flaky pastry, piccalilli
Caramelised red onion, thyme and Meredith goats cheese tart with an apple balsamic glaze
Desserts:
Strawberry tart with lemon myrtle and ricotta cream
Golden Gaytime pannacotta featuring vanilla panacotta, toffee sauce and a butter biscuit crumble with chocolate shards
Gateaux opera with espresso butter cream, chocolate ganache and sponge layers
Pistachio macaron filled with pistachio mousseline
Petit lamington with vanilla sponge, raspberry jam and toasted coconut
Traditional Parliament scones and fat rascal scones served with house raspberry jam, Seville orange marmalade and Gippsland double cream
High Tea Melbourne – find more experiences
in our High Tea Venue Directory