Tealicious Cakes serve a traditional High Tea in the historic town of Williunga, South of Adelaide in the scenic Fleurieu Peninsula.
This is a spectacular time of the year to head to Willunga with the Almond Blossoms lining the streets. Willunga was surveyed in 1839 and some of the buildings are still in use so there is a lot of heritage in the town.
The traditional High Tea at Tealicious Cakes fits in well, as it is classic and not one detail was missed. From the floral vintage teacup sets to the pastel pink coffee maker; it was extremely pretty and fresh and tasty too.
We started with a refreshing glass of pink lemonade. Tealicious has a great range of tea from Kappy's Organic Coffee and Tea. Kappy's have been making tea and coffee in South Australia since 1932. We had the Queen Anne loose leaf tea.
Most of the high tea items are made from scratch from local ingredients with extensive attention to detail.
The mini vanilla cupcake was moist, and the icing was like nothing I've had before. It was so smooth, like body butter.
The tarts were extremely fresh. The sundried tomato and fetta ones were oozing with the flavour of locally grown tomatoes.
The mini raspberry cheesecake was so smooth and refreshing.
The scones were light and tasty. The jam was like pure fruit and the cream was fluffy and luscious.
All the high tea items were nice. The high tea at Tealicious was enjoyable.
I suggest you buy some additional cupcakes on your way out. The flavours in the cabinet range from lemon and poppy seed to red velvet. The cupcakes are worth the drive!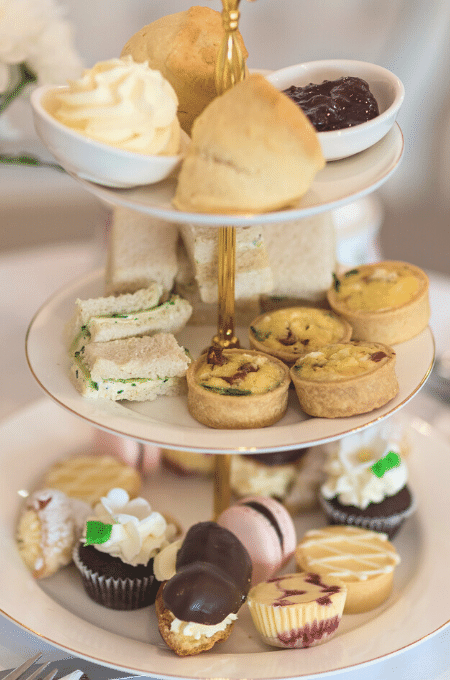 Tealicious Cakes Traditional High Tea Menu:
SAVOURY:
Mini Quiches
Selection of Ribbon Sandwiches
SWEET:
Macarons
Chocolate Éclair
Lemon Tart
Raspberry Cheesecake
Mini Cupcake
Crème Horn
Scones with jam and cream
(items may vary)
High Tea in Adelaide – find more experiences
in our High Tea Venue Directory