High Tea at the Lab is a decadent affair, with a glorious backdrop of old-world elegance; The Treasury Brisbane is an experience to be savoured.
Photographers: Sally Scott & Kym O'Gorman
If indulging in High Tea is one of your favourite past times, then add High Tea at The Lab in the stunning Treasury Hotel Brisbane to your must-do list, considered one of the most generous and great value high teas in Brisbane.
The heritage-listed former government administration building, built in the Italian Renaissance style has been stunningly transformed to create a hotel and dining precinct of modern luxury and style. The Lab Bar & Restaurant impresses with its soaring ceilings, ornate wood-panelled bar and large picture windows to watch the world go by.
We're seated by the window at a beautifully clothed table and are swiftly served a glass of Chandon on arrival. Our individual three-tiered high tea stands arrive laden with goodies. Our afternoon tea is presented separately on this occasion so as to cater to my dining companions dietary requirements.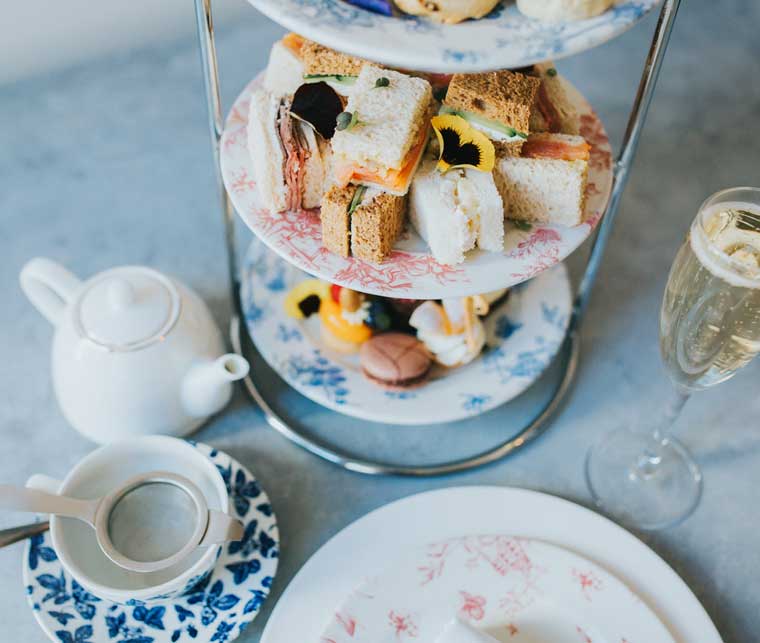 There are two options at the Treasury's 'Height of High Tea' menu, the standard high tea for $45 per person or upgrade to the premium package for just $14 more and enjoy two hours of Chandon wines including Domaine Chandon Brut Rose, Sparkling Chandon Brut or Sparkling Pinot Shiraz – it would be churlish not to!
High Tea is presented on the sweetest floral high tea stand with eclectic mismatched cups and saucers, which provide a real whimsical style. The sweet and savoury high tea selection is the creation of Executive Chef, Steven Jones. Steven's vision for the Treasury's high tea was perfected during his years working at five-star establishments in London, and now he is setting a new benchmark for the high tea scene in Brisbane. On our visit, Sous Chef Gemma Jennings passionately describes today's selection, as the menu changes weekly based on availability of seasonal produce and the chef's creativity.
We dived in to the middle tier of sandwiches first, a pleasing selection of delicate gourmet sandwiches which were all terrific, particularly the chicken & brie and egg & rocket, all generously filled and with the perfect ratio of filling to bread.
The savoury top tier selection included a vegetable quiche and frittata and plain and sultana scones served with cream and individual serves of Bonne Maman Raspberry Preserve. The scones were wonderfully petite and a crunchy perfection.
Save room for the sweet selection…almost too pretty to eat, we adored the Raspberry éclaron – a brilliant macaron éclair fusion we'd like to see more of on high tea menus as well as saving the best til last with the Choc-orange tartlet, always a wining combination.
With prior notice, the Treasury chefs handle dietary requirements with ease, making some creative additions to the gluten free high tea such as Paleo brownies and Fig & Cherry slice. The Green tea & avocado mousse was tasty, but the colour wasn't as visually appealing as the other items. The gluten free chocolate friand however was so good we were fighting over the last morsel.
While it's hard to go past the free-flowing Chandon sparkling wines, guests also enjoy a choice of bottomless La Maison Du Thé French handcrafted teas including English Breakfast, Earl Grey and Darjeeling.
High Tea at The Lab is steeped in history and grandeur and is an experience best savoured with family or friends. 'The Height of High Tea' at The Treasury is ideal for a mother/daughter outing, bridal shower or simply an afternoon of indulgence.
Sample Menu for the High Tea at The Treasury Brisbane: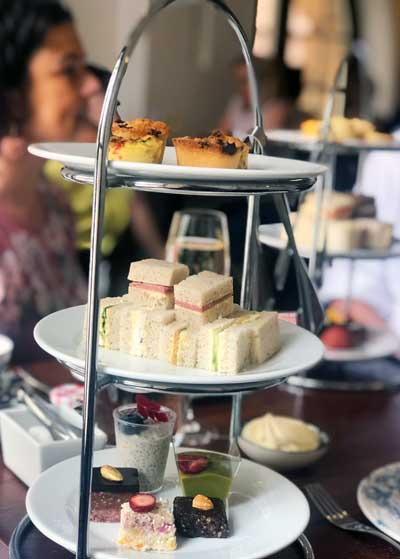 Top Tier:
Selection of traditional items including:
Plain and fruit scones
customary jam & cream
Petite quiches and frittatas
Middle Tier:
Artisan bread fashioned with produce from locally sourced purveyors of fine meats & cheeses made into hand cut delicate gourmet sandwiches including:
Roast beef & horseradish
Egg & rocket
Cucumber on Rye
Gruyere cheese & tomato
Chicken & Brie
Smoked Salmon & Gravalax Sauce
Lower Tier:
Decadent and elegant pastries made by our own Pastry Chefs including:
Chocolate & berry custard bun
Frangelico mousse slice
Raspberry éclaron
Bailey's cheese cake filled chocolate cup
Choc-orange tartlet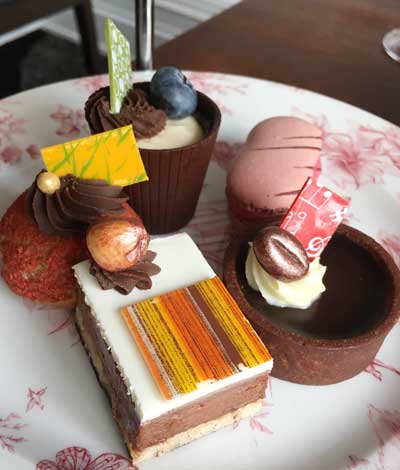 Dietary offering (GF & LF):
Chia seed pudding
Green tea & avocado mousse
Tropical slice
Fig & cherry slice| Paleo brownie
Tea Selection: Your choice of bottomless La Maison Du Thé French handcrafted tea:
English Breakfast
Earl Grey
Darjeeling
Green Tea
Lemon + Ginger
Peppermint
Chamomile