While the casino itself is members only, the rest of the newest jewel in the Barangaroo precinct's crown is open for everyone to visit. High Tea Society recently had the pleasure of experiencing the new High Tea at TWR Crown Sydney.
The High Tea at TWR Crown Sydney is offered from Friday to Sunday between 2-5pm and is a great way to spend an afternoon by the water, especially if you like people watching as Barangaroo is always abuzz. We had a Saturday afternoon booking and the place was full of life.
TWR is designed as two different areas, inside is styled more like a piano bar (with a dazzling bar, grand piano with pianist and singer), while the terrace outside is bright and airy with low lounges dotted around, an ideal place to kick back and relax well into the evening.
If you're a fan of beautiful little canapes like I am you will love this high tea menu. Everything is perfectly presented and bite sized. It's a generous menu too, so those with a larger appetite are still well catered for.
The jury is out on our favourite sandwich. I think the chicken, celery, walnut and tarragon sandwich with the bursts of freshness from the celery and the distinctive hint of tarragon marry perfectly with the chicken – it is also beautiful to look at with the curls of fresh celery and snow pea tendrils as garnish. While my partner enjoyed the Chinese pork belly slider the most. He described it as an unctuous experience with the charred pork belly melting away to reveal a zing of the pickled carrots freshening things up at the end.
The crackers in the top tier of the stand were all amazingly crunchy and stayed that way without a hint of becoming soggy from the toppings on them. Guacamole was an unexpected choice in the smoked salmon tostada and the generous sprinkle of glistening salmon roe on top added a refreshing pop as they exploded. The duck rillette was rich, silky smooth and very enjoyable.
The sweets were so pretty it was hard to know where to start – but we managed! Everything was perfectly balanced whether it was creamy with a citrus zing, or rich chocolate and nutty. A special mention goes to the lemon and lime mousse which had citrus bursts and a texture similar to a light cheesecake. But the dish of the day had to be the cinnamon filo with grapefruit marmalade and Cointreau Chantilly. The cinnamon filo scroll was pushed right to the edge of caramelized puff. Topped with a sweet Chantilly with a hint of orange from the Cointreau and some bitterness from the grapefruit marmalade. It was amazing.
All-in-all it was a very pleasant afternoon spent people watching beside the water while sipping champagne and sampling a well thought out and executed menu from a clearly talented team in the kitchen.
High Tea at TWR Crown Sydney menu: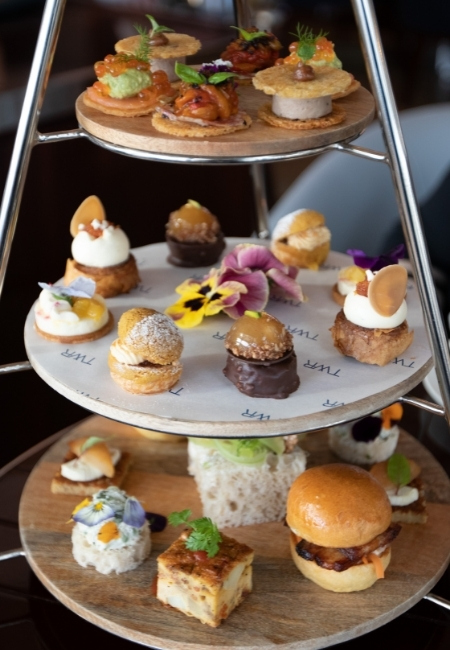 Sandwiches:
Chicken, celery, walnut, tarragon
Crab, apple, cucumber, herbs
Salami, piperade
Chinese pork belly, pickles, chilli mayo
Bites:
Socca, caramelised onion, pear, rosemary, Holy Goat cheese
Confit tomato, potato, speck frittata
Duck rillette, rhubarb
Smoked salmon tostada, guacamole
Sweet:
Lemon & lime mousse, bergamot & mint confit, sable
Pecan dacquoise, male pea compote, pecan chocolate dip
Vanilla butter praline, salted caramel Chantilly, choux, roasted hazelnut
Cinnamon filo, grapefruit marmalade, Cointreau Chantilly
Plain & sultana scones with cream and jam
High Tea Sydney – find more experiences
in our High Tea Venue Directory