At Sydney's Vaucluse House, one can while away a pleasant afternoon enjoying high tea in one of the most beautiful gardens in all of the Eastern Suburbs.
If you so choose one sunny day to take a short skip from the hustle and bustle of Sydney's metropolis, through Sydney's Eastern suburbs, over the hills and through the valleys of Rose and Double Bay, you'll eventually come to rest in the valley of Vaucluse. And nestled right in the centre of the suburb, the jewel in it's crown, lies 19th century mansion, Vaucluse House. Originally a stately home, the house and grounds were opened for public pleasure in 1915, and, today, in their tearooms, High Tea is available from Wednesday through Sundays.
The tearooms themselves lie enveloped inside the the lush, secluded gardens, where, upon being seated, the thought of Sydney's 4.9m population just being a hop skip and a jump a way, seems ludicrous. The only sounds we could hear were the songs of the birds and the bubbling murmer of those who had assembled, with friends and family, for a special meal.
We enjoyed the brightness of the outdoor area, however, if clouds or a shower should show, there's the indoor dining room, which has large windows enabling guests to still enjoy the views. Although Vaucluse House itself seems crystallised in history, chefs have their fingers on the pulse of modern dietary requirements: and a completely plant based high tea had been prepared for our vegan guest – which must have been no mean feat!
Although impressed with the granola cheesecake square, and completely vegan chocolate macaron, the other items on the plant-based plate, especially the scone, which was rather hard and cold, were, in honesty, rather forgettable.
On the beautiful blue willow patterned stand of our omnivore's plate, also lay a scone, which unfortunately, although a lot fluffier in texture, was quite stale, as were the curling sides of the poached chicken sandwiches that comprised the savoury layer of the high tea tiers. A salmon & cream cheese cornet with caviar was an unusual menu item, though, the only that really stood out taste-wise.
The sweet selection served was, unfortunately, not the same menu as the one promoted on the Vaucluse House website, a shame as we were really looking forward to trying the rosewater meringue with fairy floss. We did greedily enjoy the mini lemon tart, though and, ever fans of a lovely spot of tea, we enjoyed the mini earl grey infused creme brulee.
Indeed, even to tea connoisseurs such as ourselves, the hot beverage selection was the meal's saving grace. Mild, cleansing Oolong and a sticky honey chai variety washed down a rather forgettable food experience sweetly.
Quaffing a second glass of sparkling wine, which we accepted with tipsy, surprised gratitude, we mused how ideal an experience this would be for younger families, as we took a turn through the kitchen garden, farmyard, and bee hives, honeyed light dappling through the trees. Sounds emerged from over a grassy knoll – we discovered that a Vaucluse House wedding was taking place.
If you're looking for impressive, delicious, high quality food, you'll not find it here. In ways, though, owing intrinsically to the expansive, emerald green regality of the special location, it almost doesn't matter.
High Tea Menu at the Vaucluse House Tearooms: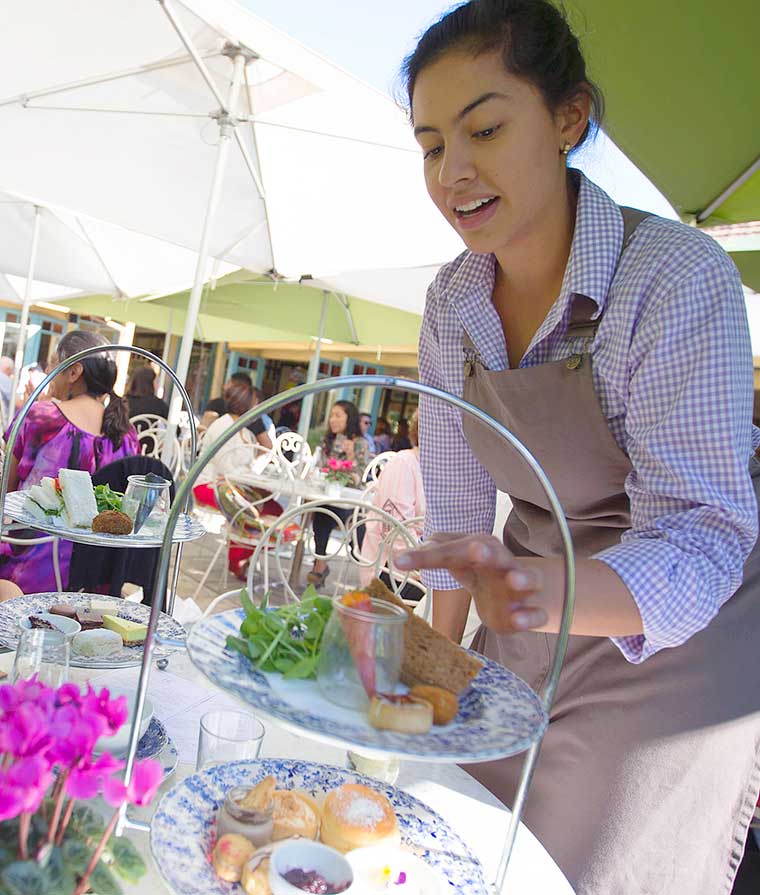 Savoury:
Poached Chicken & Walnut Sandwich
Egg & Cress Sandwich
Confit Duck Croquette with Piccalilli
Salmon & Herbed Cream Cheese Cornet with Keta Caviar
Truffled Asparagus Tart with Pancetta & Parmesan
Sweet:
Mini Chocolate & Pistachio Éclair
Buttermilk Scones with Clotted Cream, Rosella & Berry Preserve
Earl Grey Crème Brulee with Orange & Almond Biscuit
Lemon & Raspberry Melting Moments
Regency Cheesecake with Syllabub
Served with a glass of Morgan's Bay Sparkling Cuvée NSW. Cocktail upgrade Cipriani Bellini + $10. French upgrade NV Pol Roger Brut + $15.