Cinema Nova, a long-time favourite of Melbournian film-buffs, is also a destination for high tea aficionados (who knew?). For those who like something a little quirky and fun with their high tea, Cinema Nova offers high tea during select film screenings on weekend afternoons.
When High Tea Society visited, we saw Murder On The Orient Express. The lavish new production was made all the more enjoyable by having a pot of tea and some pretty sweets and savouries served to us at our cinema seat.
We arrived about fifteen minutes before the film was due to start and were ushered to our seats in one of the Nova's cinemas, which had large comfortable chairs and a small tray-table over the armrest of each seat. Our waiter took our drinks order and then returned about five minutes later, during the previews, with our drinks and high tea.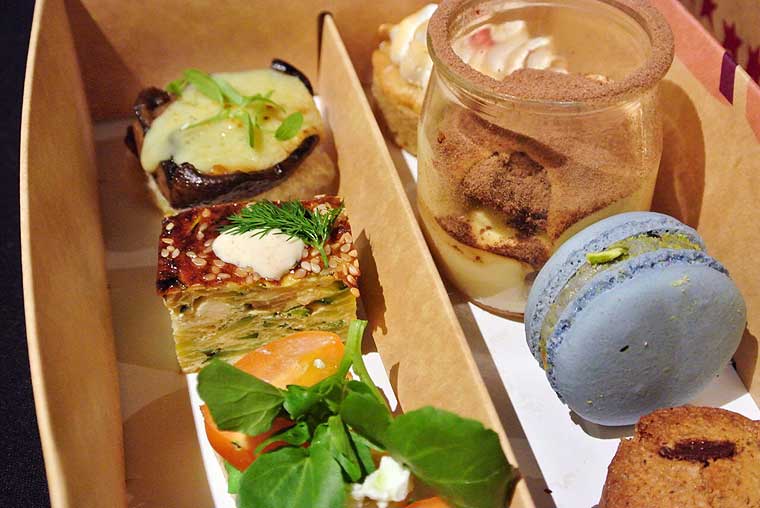 The high tea sweets and savouries were served on an individual cardboard tray in two rows. Each item was about two-bite size and tasty, though the open sandwiches proved a little tricky to eat in the dark. The zucchini frittata was moist and well seasoned. The tiramisu, served in a jar with a teaspoon, was a nice nod to the Nova's location on Lygon street, Melbourne's Italian precinct. The macaron had a light texture, but didn't really have any flavour at all. I guessed it might have been blueberry, but that was more from the colour of it than anything else. My favourite item was by far the chocolate cookie, which was thick, chewy and very chocolately. To be honest, I would have been very happy with a pot of tea and five or six of those cookies! The tea was served in individual teapots and cold drinks were served in proper glassware, which does add a luxurious element to the cinema experience.
Some aspects of the high tea feel a bit basic, like the laminated menus and food being served in a cardboard tray, but the quality of the food and drinks is high, the service is lovely and friendly and the novelty factor makes high tea at Cinema Nova a very worthwhile experience.
Cinema Nova's Weekend High Tea Menu
Savouries:
Open brioche sandwich with salmon, avocado mousse and watercress
Open sandwich with jamon and grana padano on pan de ajo
Zucchini frittata with spiced yoghurt
A variety of house made sweets, for example:
Miniature double chocolate cookie
Blueberry macaron
Classic tiramisu
Iced almond tea cake
A choice of drinks:
Pimms Cup cocktail
Sparkling wine
Iced tea
Tea – English Breakfast, Earl Grey, Green, Peppermint, Chamomile or Lemongrass and Ginger
Group bookings for high tea are possible, but this is also the kind of high tea you could easily attend on your own, since you spend the majority of the time watching a film. With notice, a vegetarian high tea can be provided, but a gluten-free high tea is not currently available. High tea at Cinema Nova, while in some ways limited by the format, is nevertheless a decadent and fun way to spend the afternoon, and a decided step up from the usual popcorn and choc top!
Cinema Nova
Location: 380 Lygon Street, Carlton, Victoria, 3053
When: Specific screenings with high tea are held on Saturday and Sunday afternoons, check the Cinema Nova Website for times.
Cost: $45 including film admission
Bookings: Online, via the Cinema Nova website.