QT Hotels are known for thinking outside of the box, so who better to develop their newest QTea high tea menu than the Willy Wonka of pastry himself, Adriano Zumbo.
Housed in Sydney's historic Gowing's building this arm of the QT hotel chain is a mishmash of vintage and theatrical whimsy. Their QTea is served in the lobby lounge and also Studio Q, a private room off to the side. On both of our visits (more on that later) we were in Studio Q. It's a comfortable space dotted with low couches and coffee tables, with a small side table beside each to rest the QTea stand on.
The tier itself most definitely deserves a special mention all its own. It's a series of small hollow cubes stacked haphazardly around a central point. Jet black in colour, each menu item is placed inside its own dark box so you need to hunt for what you'd like to eat next. But how exactly do you search on all four sides while seated at the table? Easy… the whole thing spins! It's the most original – and most interactive – tier we've ever seen. Just don't get too excited and spin it too fast unless you want your QTea in your lap.
While we were enjoying our first visit to sample the regular menu, we discovered that Mr Zumbo was hard at work in his creative kitchen developing a special plant-based, gluten free menu exclusively for QTea which all sounded very mysterious and exciting. So of course we had to return a few weeks later to experience it for our vegan and/or gluten free readers, it would be rude not to, right?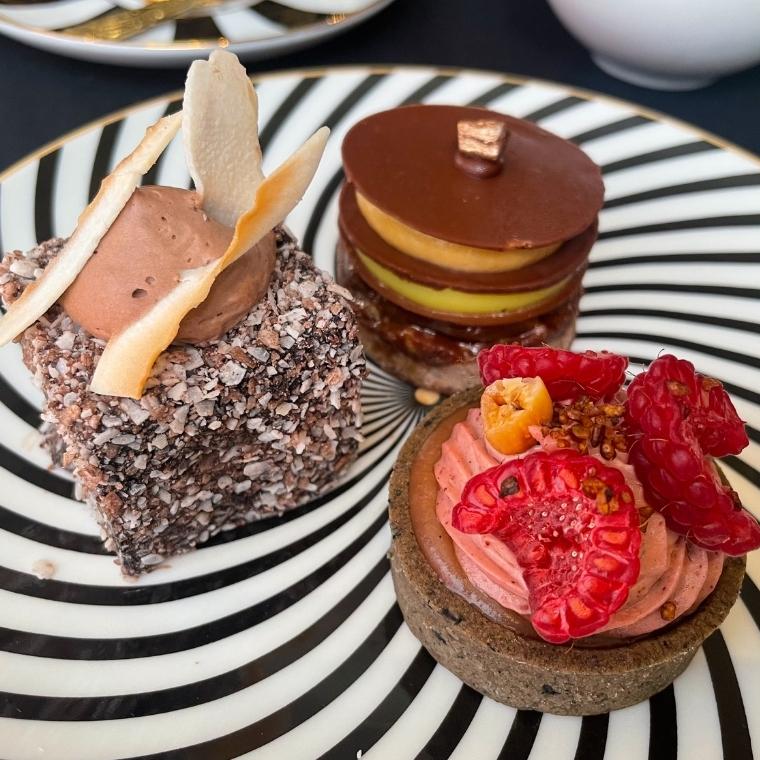 Both menus include five savoury elements and three sweet; and, just to shake things up even more – neither have traditional scones! The "sconez" on the regular menu have a real buttery texture closer to a brioche. The plant-based "scone" element was a macadamia friand. Both are served with the Tasmanian strawberry and lemon myrtle jam which is more fruit than jam and totally delicious. One menu has clotted cream and the other a vanilla cream which felt like a thickened nut milk that had been whipped a little. Unfortunately, it didn't hold its structure as well as the traditional cream, but it was still delicious none the less.
There were so many hits on both savoury menus so it's actually quite hard to shortlist our favourites. If we had to pick a winner on the regular menu it would be the Garden Patch. A bright, light chilled pea puree in a beetroot waffle cone tart shell topped with thin shavings of carrot and micro herbs. It's a very spring inspired dish. Kudos on the plant-based menu goes to the Crumpetz. If all gluten free crumpets had the same taste and texture as these bite-sized morsels, we'd happily make the swap.
The sweet menus are everything you would expect and more being created by a talented pastry chef like Adriano Zumbo. Everything is beautiful with little layers of different flavours and textures. Most options look like mini versions of a much larger dessert which, for their tiny size, says a lot about the skills of the pastry chefs creating them.
The regular sweet menu is full of pops of tangy gels and curds, tempered by shortcrust shells and rich dark chocolate. The balance was spot on, nothing overly sweet, but not too tangy either. While the love heart is beautiful with its blood red raspberry glaze and intricate layered centre, it's the passionfruit tart that won us over. A passionfruit custard centre gives the tastebuds a creamy tingle, a perfect shortcrust shell without a hint of sogginess and a two-tone glaze on top, kind of like a tequila sunrise. There's a reason why it's known as a Zumbo classic and we hope it never changes.
The plant-based, gluten free sweet menu is just as delightful. We were amazed at how rich and glossy the caramels used were without the addition of a good knob of butter. The dark chocolate lamington was a pleasant surprise. So dark in the centre with chocolate and a texture almost as light as its gluten laden counterpart. The caramel, passionfruit, pecan stack sounds a little out there, but it's so rich and delicious. The raspberry tart was definitely the prettiest sweet across both menus and was also our favourite of both experiences. The tart shell is wonderfully crunchy, filled with a gooey caramel, topped with a raspberry mouse for lightness and raspberry halves for freshness. The sprinkling of hazelnuts adds an earthy nuttiness too.
When it's all said and done, there is no "better" menu to choose when you visit for a QTea high tea. Both are thoroughly enjoyable in their own right. While we have done a few very average plant-based high teas over the years, this one definitely stands its ground as an equal not a substitute. We would happily visit again with our vegan friends to show them that high tea can be enjoyed by everyone.
QTea High Tea Menu:
Smoked salmon & caviar – potato blini, wasabi cream
Lobster roll – brioche bun, coconut lime & chilli mayo
Garden patch – green peas, mint, carrots
Goat cheese tart – confit tomato, asparagus
Caesar slider
Sconez with Tasmanian strawberry and lemon myrtle jam with clotted cream
Passionfruit tart
Yuzus – vanilla, sesame, yuzu curd
Just love me – chocolate, raspberry, pistachio
Zumbarons – 2 per person
QT Plant-based, gluten free menu:
Crumpetz with lemon & almond curd, cucumber, dill
Sweet & spicy – dolmade, spiced pumpkin, chickpea
Almond curd tart – confit tomatoes, black olive
Beet mine – beetroot roll, pickled beetroot, radish, plant-based ricotta
Cos cupz – macadamia ajo blanco cream, tomato and espelette pepper
Macadamia fingerz with Tasmanian strawberry and lemon myrtle jam, vanilla cream
Dirty Dani – caramel, passionfruit & pecan stack
Dark chocolate lamington
Raspberry & hazelnut caramel tart
Zumbarons – 2 per person
Tea selection:
East Frisian
Bohemian Blue
Genmaicha
Miss Grey
Mumbai Chai
Turkish Delight
Rooibox Chocolate Bomb
Burnt Blueberry (QTea's signature brew, blended in house and amazing)
For any dietary or allergen requirements, please advise on booking.
High Tea Sydney – find more experiences
in our High Tea Venue Directory