The NGV Gallery in Melbourne has created Kaffeehaus a 'pop-up' Viennese style cafe to complement the Vienna: Art & Design exhibition, and serves Viennese sweets, coffees and savouries.
In the early 20th century, Vienna was a thriving metropolis, scientists and poets, artists and politicians often rubbed shoulders over a coffee in the warm coffee houses. The exhibition features a collection of tea and coffee sets as designers (from the Vienna Workshop) would design both home interior, furniture and tea ware objects for clients. The exhibition features over 250 works by Austria's most celebrated artists Gustave Klimt, Egon Schiele, Josef Hoffmann and Adolf Loos.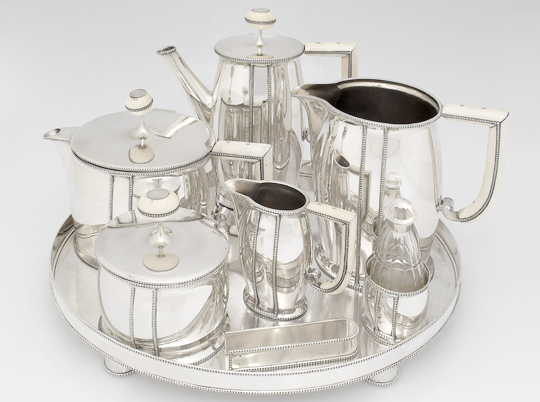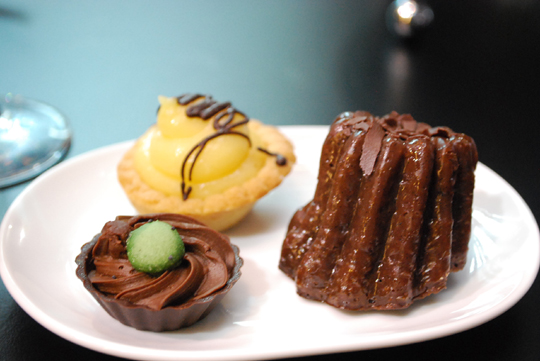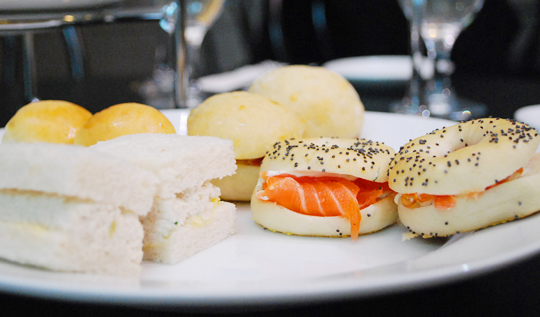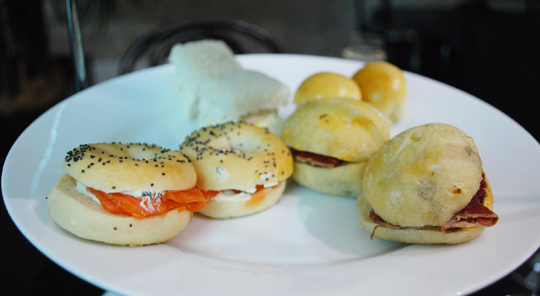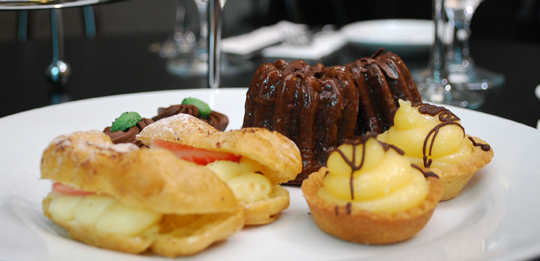 The Viennese inspired Afternoon Tea at the NGV is in a temporary café Kaffeehaus, open for the duration of the exhibition.  The Kaffeehaus has been created by Peter Rowland the inhouse catering service at the NGV. As you would expect the chicken sandwiches are very good and there is a good selection of Viennese style cakes including: Sacher torte – rich chocolate cake; Gugelhupf – Viennese tea cake and Apflestrudel – apple cake.
Viennese Inspired at the NGV Afternoon Tea Menu:
Venison pies
Poppy seed bagel with smoked ocean trout, sour cream, dill, capers, pea and salmon.
Mini black olive & parmesan ciabatta with roast capsicum, braesola and grain mustard mayonnaise.
Baby brioche bread roll with tarrago triple cream brie and quince paste.
Chicken and mayonnaise finger sandwich.
Sacher torte – rich chocolate cake
Gugelhupf – Viennese tea cake
Apflestrudel – apple cake
With tea served in individual tea pots.
There is also a selection of speciality Vienna coffees that can be ordered as well. If you want something smaller than the full afternoon tea, individual cakes and savoury items are available.
The Kaffeehaus afternoon tea is a lovely way to end a day after viewing the Vienna: Art & Design exhibition.  This afternoon tea is more about extending the exhibition experience than an afternoon tea for foodies.
Vienna Art & Design Exhibition
Is showing at the NGV in Melbourne until the 9th of October 2011, admission fees apply.