Beas of Bloomsbury offers a relaxed, informal and casually elegant spot to take afternoon tea in London with the added benefit of a grand view of London's most famous cathedral dome.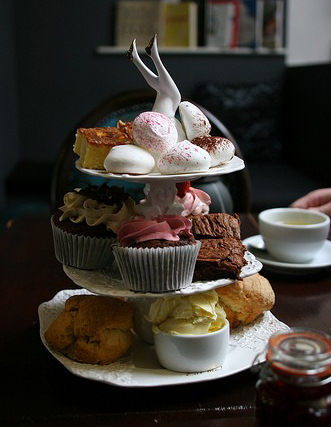 Afternoon tea at Beas of Bloomsbury in St Paul's is a relaxed, informal and casually elegant spot to take afternoon tea in London with the added benefit of a grand view of London's most famous cathedral dome.
The interiors are small and yet quirky, in keeping with the Bea's of Bloomsbury charm. It's a small slip of a venue – corridor shaped, with one side of floor to ceiling glass next to One New Change shopping centre. You order up your selection from the counter downstairs and upstairs there is a similar sized space, just wide enough to hold a length of banquette-style seating, covered in bright and warm velvety colours. Teapots hang from the ceiling and there is some exposed brick and metal work to keep it looking too twee.
Bea's attracts a varied crowd, there are those having the traditional afternoon tea but also people on business having meetings with a cake and a coffee and shoppers and tourists alike sampling something sweet to give them a jolt of energy.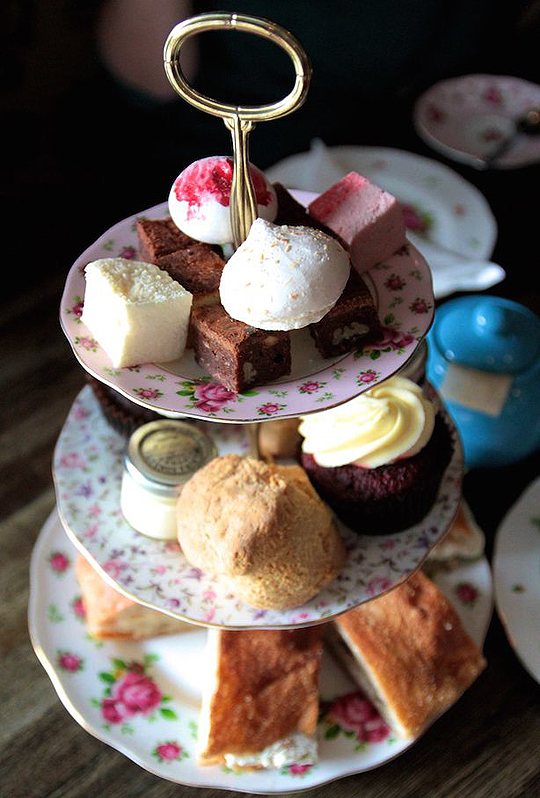 We join the afternoon tea brigade and sit down in a corner of the room upstairs, all the better to see the whole room and settle in. First up, drinks.
The tea menu was short and sweet; it doesn't try to bamboozle you with options, but still offers up a decent selection. We opt for an Earl Grey and a fruity number of Blackcurrant and Hibiscus. They come in solid china teapots and mugs, which are deceptively large and need no topping up, although it does make for a slightly stronger brew than the delicate flavor of an Earl Grey really calls for.
An additional treat is called for though; Bea's offers a Champagne Full Afternoon tea complete with a glass of the bubbly stuff to go with your tea, so it's all too easy to indulge in these relaxed settings.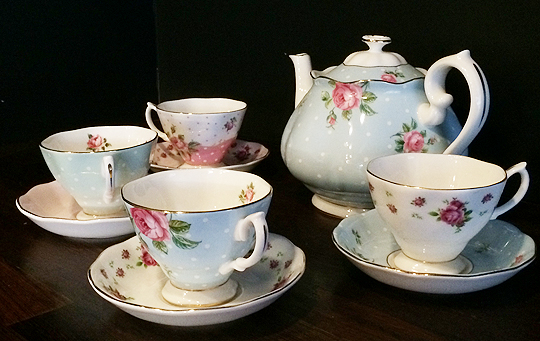 The afternoon tea begins with a cake stand filled to the brim with sandwiches, scones and a mouthwatering cake and dessert selection. Where to begin?
As is traditional, we start with the sandwiches – these are not the delicate crustless variety, but flavoursome focaccia with a range of innovative flavours; Cream cheese & Walnut, Parma Ham and Onion Jam with Mozzarella. The cream cheese and walnut wins for its simplicity and when paired with the slightly salty focaccia and rosemary bread is a taste sensation.
One note of warning though, these delectable sandwiches are quite considerably more filling than their delicate thin bread counterparts and we find ourselves filling up far too soon and yet there is a whole platter full of delicious food to savour.
The scones are good and when served with lashings of cream and raspberry jam, just as toothsome as any traditional English fare of scones with tea.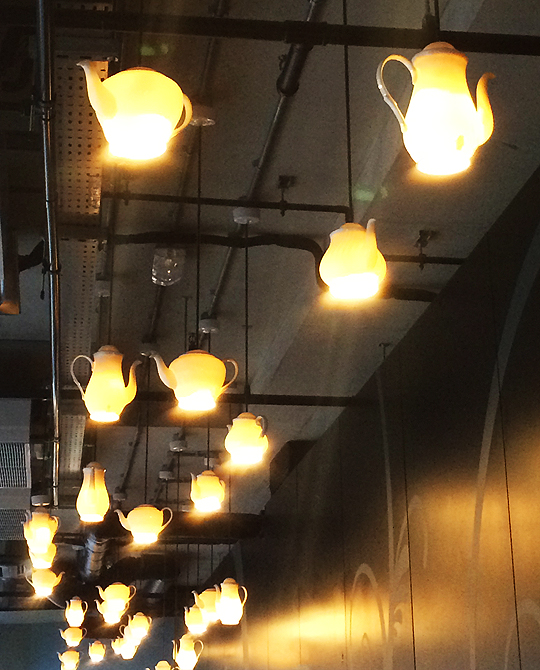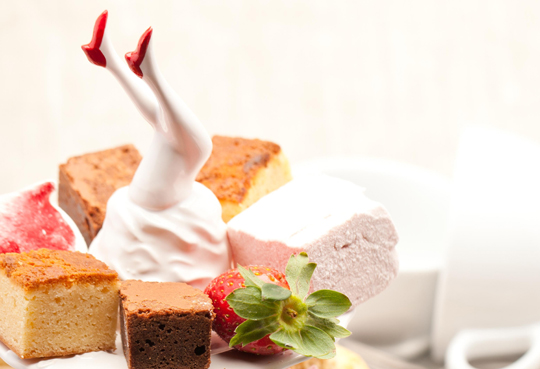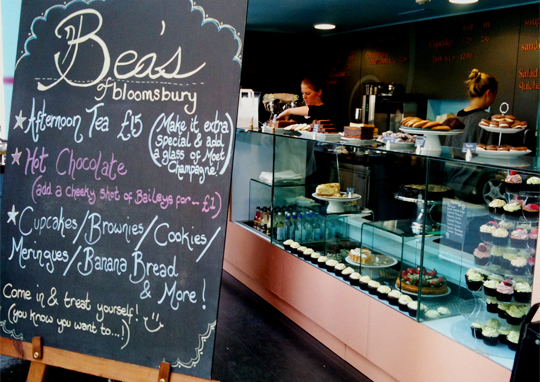 But the cakes are where Bea's truly excels. We opt to share half of each of the cupcakes – chocolate topped with raspberry cream and the other chocolate base again topped with pistachio cream. A failing of the cupcake trend of the moment is a tendency towards excessive icing but Bea's has balanced the icing/ cupcake ratio perfectly. Furthermore, the icing tastes exactly of the fruit it represents and not just a sugary concoction on top. We're torn between the two flavours; so distinct and perfect as they are in their own rights, we call it a tie.
The additional sweet things on top are getting more and more challenging to eat. This is an afternoon tea designed for the very hungry and with meringues, blondies, brownies and marshmallow yet to go, we are soon defeated. The charming staff offers to pack them up though and offer up little boxes to take our sweet treats home, which is a lovely touch and one more high tea establishments should offer.
Afternoon tea at Beas of Bloomsbury isn't your usual traditional English afternoon tea experience, but a high quality one nonetheless, designed with a more relaxed atmosphere in mind.
Beas of Bloomsbury Afternoon Tea Menu
The menu changes regularly, but you can expect:
Freshly Baked Scone with Cornish Clotted Cream & Jam
One delicious cupcake
Selection of mini meringues and fruity marshmallows
Selection of Valrhona brownies, white chocolate blondies & the infamous killer brownies
Selection of afternoon tea sandwiches