This Edinburgh institution provides a lavish setting in the Scottish country-side so luxurious it screams old money and charm. Think chandeliers, open fires, leather couches, velvet, and chairs made of stag antlers.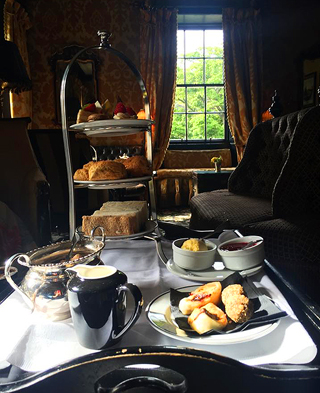 You couldn't find a more perfect setting for a traditional afternoon tea than Prestonfield House. This Edinburgh institution provides a lavish setting in the Scottish country-side so luxurious it screams old money and charm. Think chandeliers, open fires, leather couches, velvet, and chairs made of stag antlers.
Built in 1687 for Sir James Dick, Lord Provost of Edinburgh, the regal estate is bedecked in the most opulent furnishings. The family lived here for many years. It was built by Architect-Royal Sir William Bruce, who had recently designed the nearby Holyrood Palace for King Charles II. More recently it has been acquired by James Thomson OBE, a prominent Scottish hotelier, who has transformed it into one of the most sought after luxury hotel experiences in the UK. The hotel has seen guests such as Grace Kelly, the Dalai Lama, Sean Connery and Elton John.
The 20 acre property is host to a golf course, stables, gardens and parklands and the building itself – with a 5 star hotel, restaurant and tea rooms.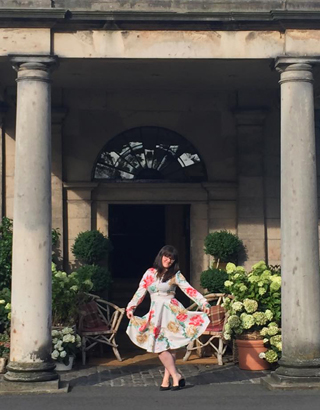 For a girl from Melbourne, Australia, walking into the Prestonfield feels like walking into a scene from Pride & Prejudice….or Ladette to Lady.
As they walk under the giant pillars of the entry-way and past the stands holding umbrellas and croquet mallets, guests are greeted by adorable young men dressed in Traditional Scottish kilt. High tea can be taken in one of the many tea rooms inside the Prestonfield building or in summer in the rose gardens, the gothic tea house or on the terrace. Despite it being the middle of summer, we ate inside (the Scottish summer is notoriously un-summery).
An option for high tea is to receive a glass of Billecart-Salmn Champagne on arrival for an extra 10 pounds and of course we were happy to oblige.
Seated in the yellow room with a view of the gardens and soft afternoon light illuminating the gold velvet wallpaper, offerings were served up in the traditional high tea accoutrements – a 3 tier tray -with antique silverware adding a pleasant touch, as well as detail such as brown and white sugar cubes, silver vases holding fresh floral arrangements and candelabras.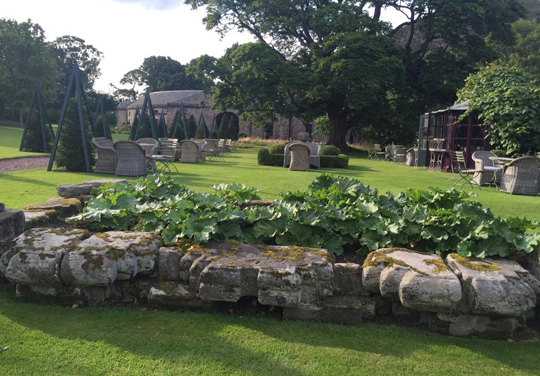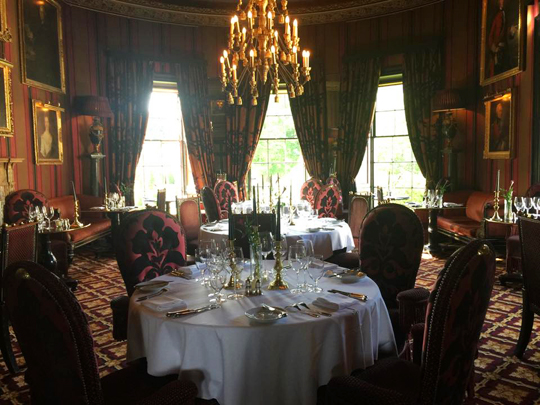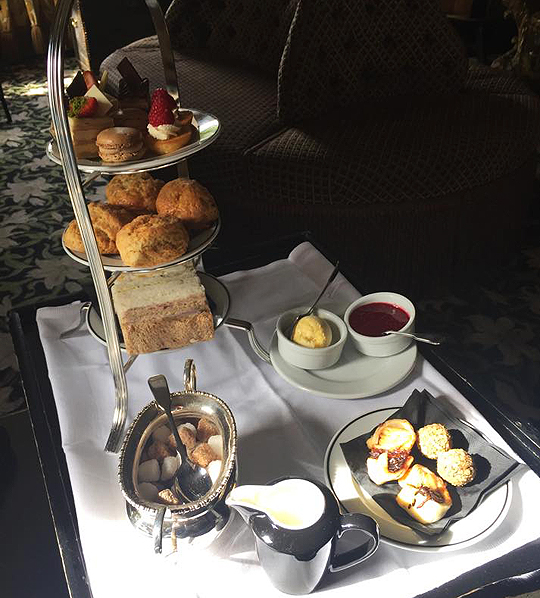 Alongside high tea essentials such as scones, cucumber sandwiches and macaroons, the staff at Prestonfield also serve up haggis bon bon. The delicate pastry and hint of spiced meat is a great way to try this traditional Scottish fare for those that may be feeling faint of heart (it is after all, offal). To my surprise, the haggis bon bons were my favourite dish of the afternoon.
Freshly baked scones are complemented by deliciously tart homemade raspberry jam and thick clotted cream. As for cakes, the Raspberry and lemon drizzle cake and passion fruit macaroons would have to be a highlight.
Prestonfield boasts a large selection of teas spanning planters range, single estates, exotic and herbal teas – and coffee.
Our waiter, a young Edinburghian, is very attentive and friendly, even cracking a few jokes with us. Despite it's incredible luxury and upper class background, it is not stuffy.
The outside area looks the par for the course too, with hedges crafted into various shapes, impeccably manicured lawns and a garden which boasts the first rhubarb plant to be imported into the United Kingdom, imported from China. It is not uncommon to see a peacock wandering around the grounds.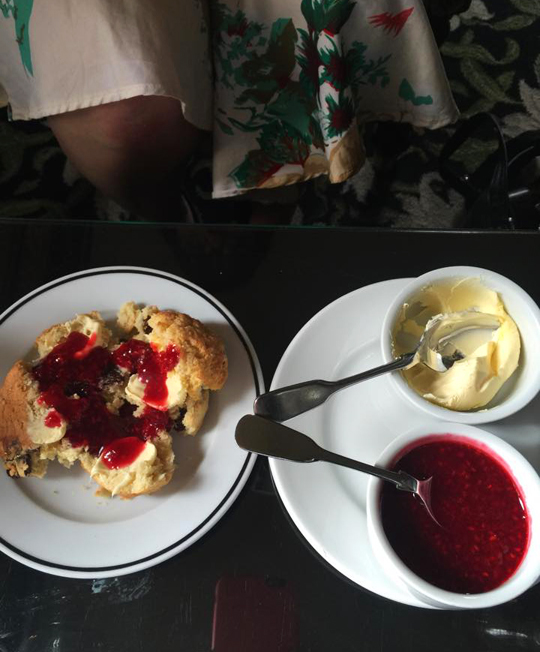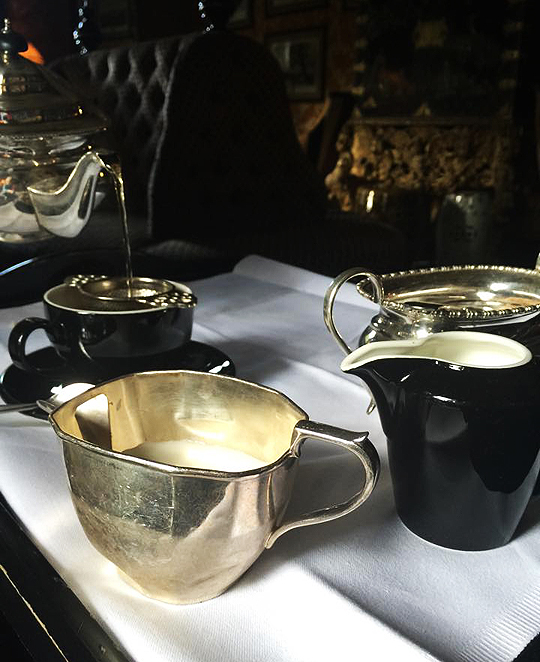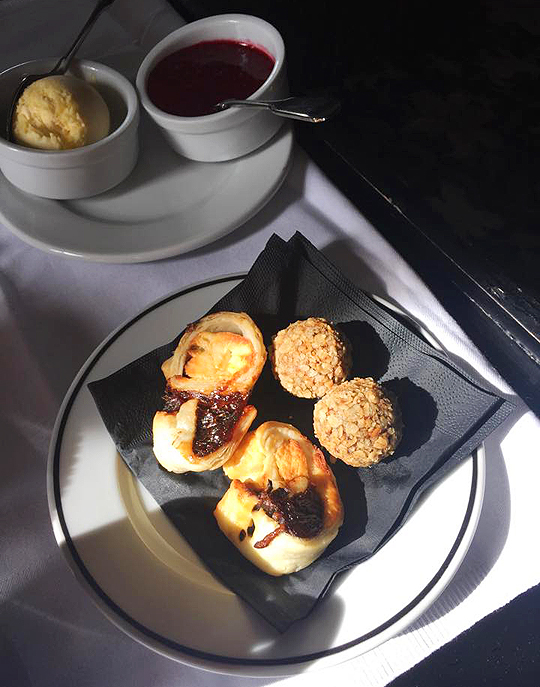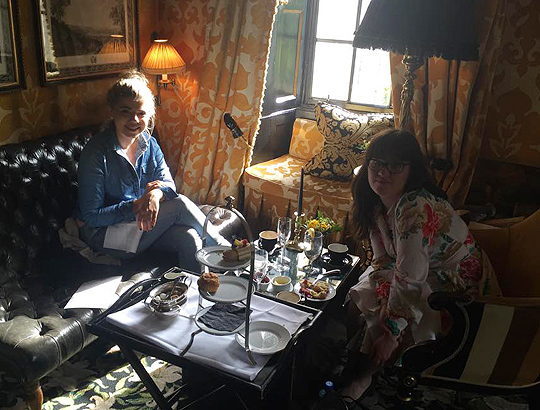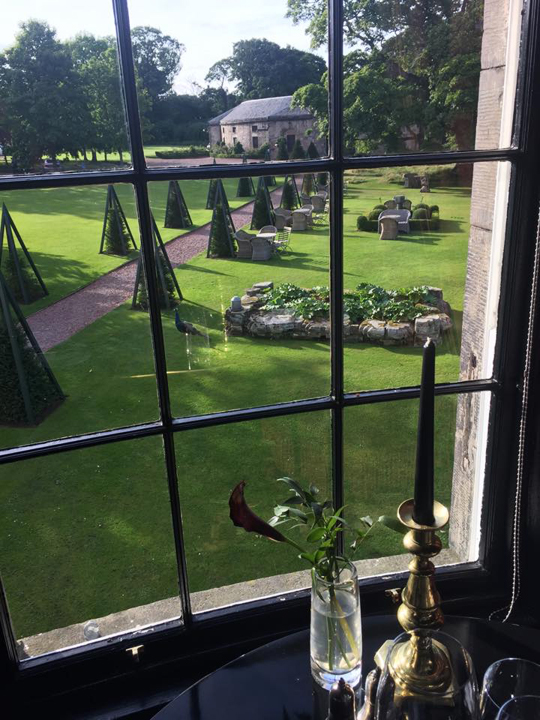 The restaurant is called 'Rhubarb' and looks out onto the aforementioned garden. It is a sight to behold – resplendent in rich marrone tapestries, velvet, candles, mahogany, chandeliers and gold framed paintings. Benjamin Franklin (who has a room dedicated to his visit) once dined and stayed here, saying "Joys of Prestonfield adieu, cheerful meals, balmy rest, beds that never bugs molest."
Prestonfield is an incredibly spectacular experience and well worth it if you are ever in Edinburgh.
Prestonfield's Afternoon Tea Menu

Tea sandwiches: Honey Roast Ayrshire, Dijon Mustard Butter on Brown Bread;
Egg Mayonnaise and Cress on White Bread and Cucumber with Dill Butter on White Bread.

Savouries: Caramelised Red Onion and Goat's Cheese Palmiers and Haggis Bon Bonbon.

Scones: Fruit and Plain Scones with Clotted Cream and Home-Made Raspberry Jam.

Cakes: Opera Gateau; Vanilla, White Chocolate & Strawberry Gateau; Raspberry and Lemon Drizzle Cake and Carmela Chocolate and Passion Fruit Macaroon.

A wide selection of loose leaf teas and coffee is available and a glass of Billecart-Salmon Champagne.