I went to sketch (absolutely no capital S please) believing it would be another themed tea, but I couldn't have been more wrong.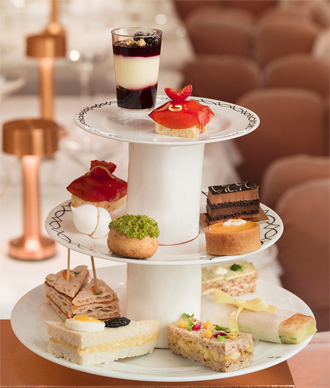 Themed afternoon teas are becoming more and more commonplace in London, with all manner of historical and literary characters brought to life through cake and scones (Marie Antoinette, Mad Hatter) and many calendar events scheduled through sandwiches (Christmas, Fathers' Day, Wimbledon, Halloween)…
The truth is, whilst some of the above have been excellent, theming is not always successful. A little playfulness goes a long way and it's a very fine line between quirky and irky.
Everything about this vast, labyrinthine, typically Georgian townhouse just off Regent Street in the heart of the capital is weird, wonderful and a little bit bonkers. Even their own literature tells us that sketch is 'complex and unique'. The whole place is art. Just being inside makes you feel part of the artwork and, as it turns out, the afternoon tea is a masterpiece!
Led through the entrance, past the parlour cafe and then the glade bar, you emerge in a vast central dining room, the gallery, filled with the dim chatter and clatter of dozens of diners all below a huge skylight and ornate coving.
Oh, and it's pink. Very, very pink. A veritable rainbow of rosé; a feast of fuchsia.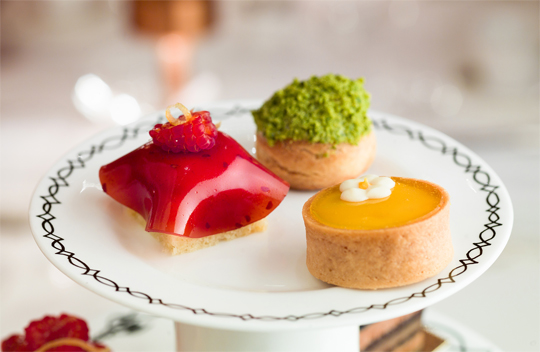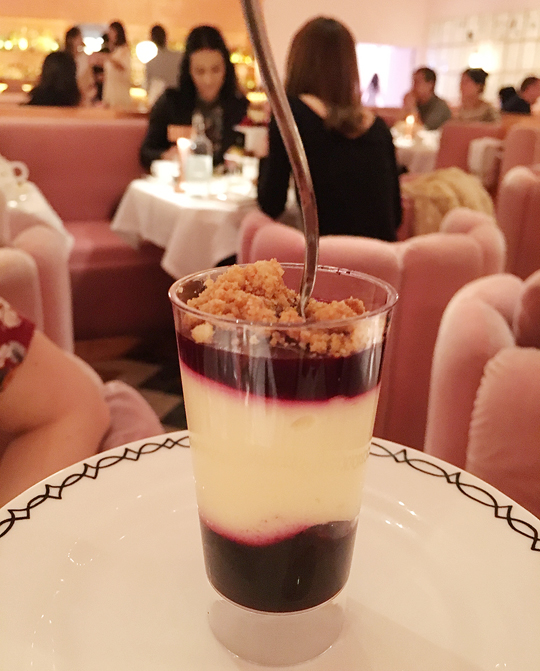 Lining the wall are 239 (often rude, always clever and funny) cartoons by Turner Prize nominee David Shrigley, who also provides the words of wisdom on the crockery, and the furniture (pinky, pink, pink) is by architect and designer India Madhavi.
For somewhere so arty and outwardly laid-back you'd perhaps be surprised at the ruthless efficiency of all the staff working the floor, but you'd be equally delighted in their manner. Our French waitress would talk us clearly through everything on the plate and then apologise for the time taken in doing so. Charming.
So, to the food. In parts, this was the best afternoon tea I've eaten in London…and there have been quite a few.
The sandwich menu included much that you'd hope to see – coronation chicken, smoked salmon, cucumber etc, but I feel it necessary to bow down to the egg mayonnaise, cut into the most pointy of isoscelean triangles. Rich, creamy egg was packed inside the soft white bread and perched on top was the smallest pinch of caviar and a tiny cold boiled egg which had maintained its runny yolk and had clearly been plucked from the bottom of an incredibly contented quail!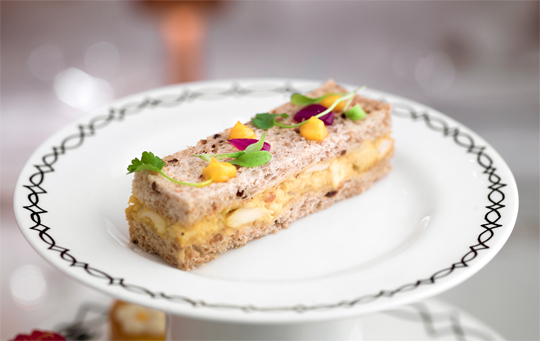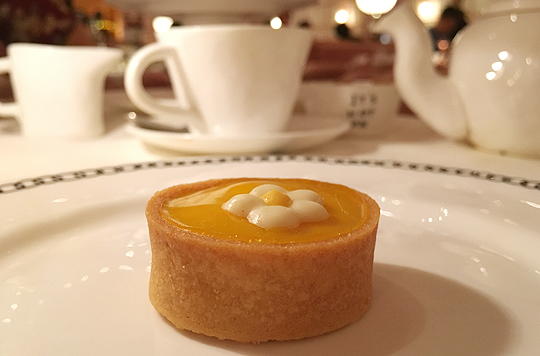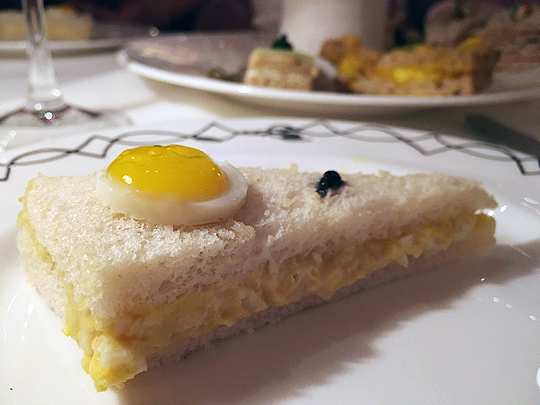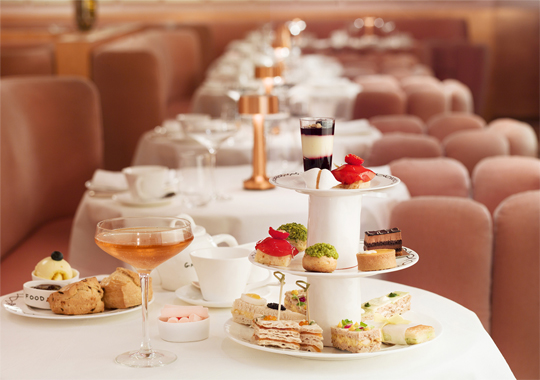 After ordering a few extra sandwiches (something you can do with no extra cost), the sultana and plain scones arrived at just the right moment, alongside strawberry and fig jams and a clotted cream so thick it had my arteries trembling.
The sweets were plenteous but mercifully small enough to enjoy without reaching the point of critical fullness. A passion fruit tartlet was deeply passionate and the pistachio choux burst with rich, deep flavours at the bite. The cassis cheesecake came deconstructed in a shot glass and a chocolate and mint gateau seemed to just melt away on the tongue.
And as a final twist, a little side bowl of both pink and white marshmallow.
Almost 20 different teas were on offer and while the breakfast and Earl Grey were very fine, the black vanilla tea really stood out. As you'd expect, fizz is an option with this tea and a glass of Pommery Brut Silver certainly hit the spot.
I don't feel I can hold back in my praise of sketch. They offer a tea which is remarkable for its quality, setting and service. I believe the whole point of afternoon tea is to feel special and this place certainly manages that, and then some.
With Christmas fast approaching, I would have no hesitation in advising (if not ordering) you to eschew some of the more famous names and head to sketch. Take your mother and she will love you more.
Oh, and make sure you don't miss the bathrooms. Completely nuts.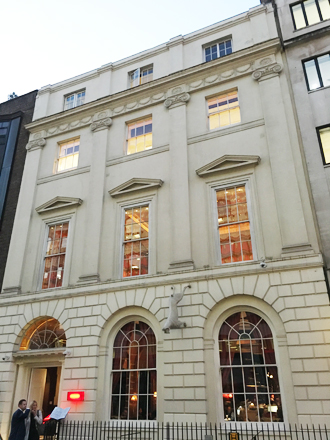 sketch Afternoon Tea Menu

Assorted finger sandwiches:

corn-fed coronation chicken
smoked salmon and Jacob's cream
cucumber and ricotta
mozzarella and pesto panini
egg and mayonnaise
quail egg, caviar

Sultana or plain scone, served with clotted cream, fig and strawberry jams

sketch pastries:

passion fruit tartlet
lemon and raspberry cake
pistachio choux
cassis cheesecake
chocolate and mint gâteau
tangy citrus meringue
malabar marshmallow

Choice of teas