At the entrance to The Langham Hotel London there is a sense of history – after all it is one of London's oldest and first purpose built hotels, established in 1865.
What an absolute treat – imagine a rainy Sunday afternoon in London in a grand hotel catching up with a dear friend while enjoying amazing treats and classic teas – my recent London visit was just this. What a great way to  experience afternoon tea in the most traditional way.
Entering the Langham Hotel London there's a sense of history in the air – after all it is one of London's oldest and first purpose built hotels, established in 1865. From the greeting on arrival by the top hatted doorman to the grand, yet discreet hotel entrance you know you are about to receive a truly British hospitality experience.
Afternoon Tea is served just at the top of the stairs in the Palm Court which is the centrepiece of the Hotel and where the art of taking Afternoon Tea was said to be born. With a touch of art deco "Gatsby" style, in the design and a piano being played in the background you easily forget that the hustle and bustle of busy Oxford Street is merely a five minute walk away – the Palm Court really is an oasis of calm. As we are seated we are surrounded by groups of guests enjoying their afternoon delights as you can hear their engaged chatter.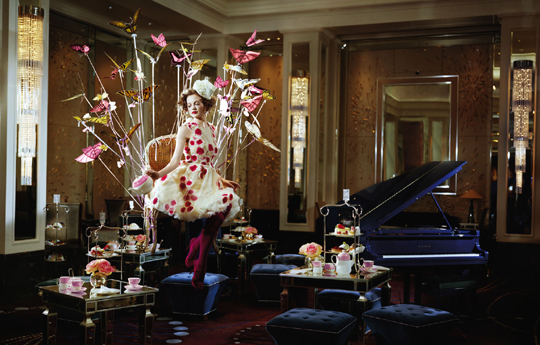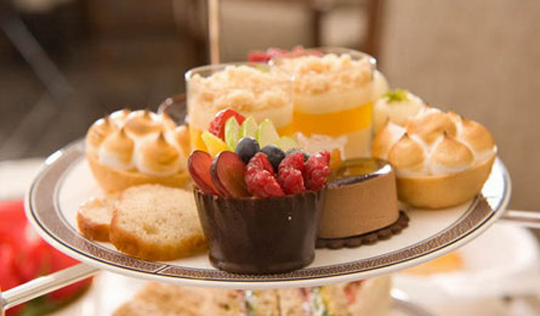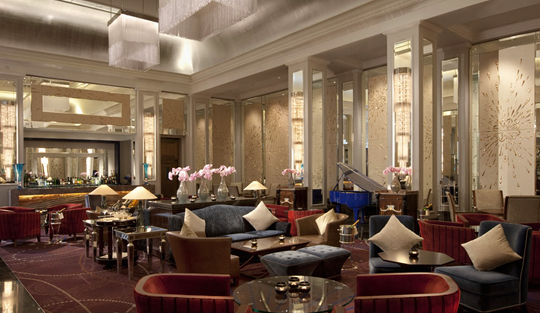 Firstly a glass of bubbles such as Ruinart or Louis Roederer to set the scene and an amuse bouche of Hibiscus and Blackcurrant Jelly served in little glass pots as we peruse the menu. At the Palm Court on our visit, we are advised there are two menu choices – the Wonderland Afternoon Tea or The Theo Fennell Bijoux Afternoon Tea. Showing great attention to detail, we are asked if we have any dietary or allergy requirements as each menu is explained in detail.
The Wonderland Afternoon Tea is the classic choice – finger sandwiches with British ingredients such as Poached Loch Duart Salmon or Roast Castle of Mey Beef and a  fabulous selection of scones served of course with Devonshire Clotted Cream and British Preserves. Finally of course, the pastries and mini cakes – chocolate tart, strawberry meringue, banana cake and the piece de resistance the must have Victoria Sponge.
Langham London Afternoon Tea Menu
Choose from our range of teas with the assistance of our tea sommelier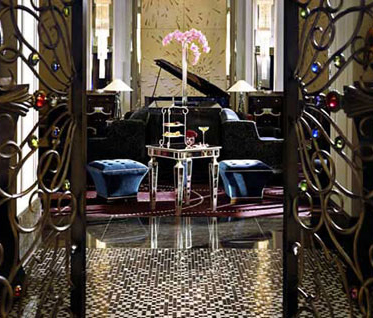 Finger sandwiches including:
Poached Loch Duart salmon with crème fraîche and caraway
Egg mayonnaise with mustard cress
Roast Castle of Mey with tarragon mustard and landcress
Cornfed chicken with sweetcorn, spring onion and dijon mustard
Atlantic prawns with marie rose sauce
Warm selection of golden raisin and plain scones from the Palm Court bakery with Devonshire clotted cream and strawberry preserve.
Selection of French pastries and specialist mini cakes:
Chocolate tart
Banana cake
Victoria sponge
Strawberry meringue
Hibiscus and blackcurrant jelly
Our choice as we are looking for the wow factor, is the second menu option – the Theo Fennell Bijoux Afternoon Tea. Theo Fennell has over 25 years experience in the jewellery business and is considered one of Britain's foremost designers of jewellery and  silverware. His flagship store is on Fulham Road, in addition he has an exclusive range in both Harrods and Selfridges.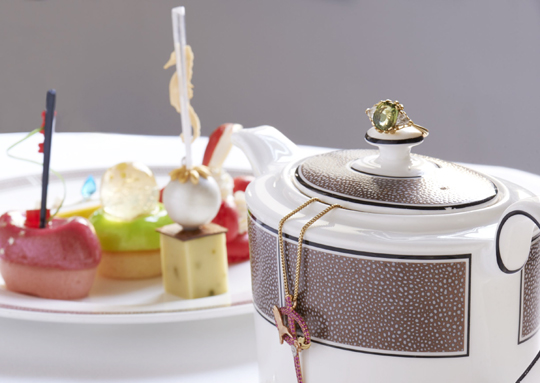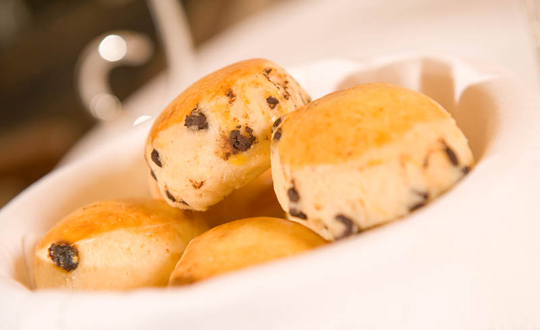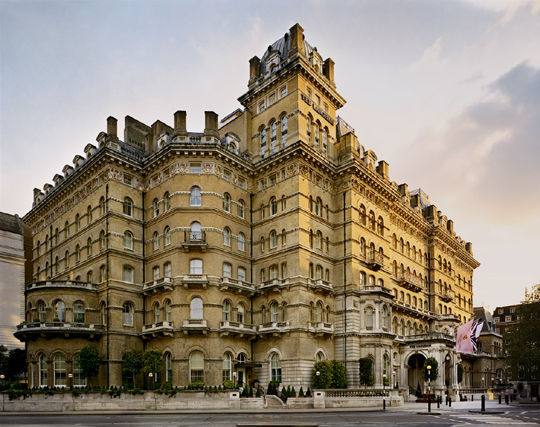 The talented Pastry Chefs at the Langham have created a glittering afternoon tea menu inspired by the designs of Theo Fennell. On starting we are offered an amazing selection of savoury treats – foie gras with smoked duck & mandarin, beetroot cured Scottish salmon with grey goose vodka cream, crayfish with fennel, crème fraiche and tobiko fish roe just to name a few. Next comes a glistening selection of sweets inspired by Theo's most recent jewellery collection – think salted caramel pearl and pistachio fudge, Victoria plum with sakura sponge, Kentish Stawberry with white balsamic macaron and royal gala apple with champagne. Then a selection of scones of course – the Bedford scone, raisin scone and finally chocolate and marinated orange, all light & fluffy really just perfection.
The afternoon tea was served on high tea stands specially designed for The Langham London which are set off the side of the table rather than the traditional centre. These stands are ideal as they make conversation so much easier. The Tea Sommelier continually returns to our table ensuring our pots of tea are refreshed – my guest enjoys a pot of fresh mint tea whilst I enjoy the Langham Blend.
The ambience, the food and the experience are exceptional – The Langham Hotel is a true oasis in a big city such as London. I look forward to my return as a guest in this wonderful hotel and again experience the afternoon tea delights of the Palm Court and its surrounds.