Le Grand Hotel of Europe, the Langham Hotel London is glamour and luxury personified. A haven of calm away from the hubbub of Oxford Street and its associated shopping pleasures, Palm Court, scene of the Langham hotel's Afternoon Tea is balm to a tired soul.
Glittering chandeliers, rose-gold walls and sparkling mirrors contribute to a boudoir-style feel and with a tinkling piano in the corner, there's an upbeat feeling of relaxation in the air, not the hushed silence that can sometimes be present in the city's 5-star hotels.
Afternoon tea at the Langham pays homage to that great British tradition, an afternoon cuppa with a biscuit. Executive Chef Andrew Gravett, overseen by Michel Roux Jr have designed the tea to evoke a feeling of lightness rather than a rich meal and by jove, they've nailed it.

We start off with a glass of chilled Laurent Perrier and a selection of the softest, fluffiest sandwiches. All the classic flavours are here, smoked salmon, coronation chicken, cucumber & cream cheese and roast beef and they're gone all too soon. I've been offered refills of sandwiches in the past at other teas, which perhaps marked a departure from the heavy Afternoon Teas of yore – instead a buttery cheese scone served with tomato chutney, one of my personal favourites, and something I could have eaten at least a few more of – marked the end to the savoury course.
Rose patterned Wedgwood china shows off the selection of pastries and our tea – all from the Jing tea collection. I start with a subtle Silver Needle, leaving the more robust Earl Grey for afters.
There is one difference in referring to the upcoming pastries as biscuits in that there is no dunking potential here. A Hobnob is reimagined as an oat sable with a flapjack centre and topped with raspberries, a Bread and Butter pudding in the hands of these chefs becomes a caramelised brioche, vanilla diplomat, apricot compote and sable. My personal favourite, the Custard cream meets an After Eight is a chocolate shell with mint and chocolate ganache and children of all ages will be thrilled by the 99, a strawberry ice cream with dulcey cone and cream.
The only note I didn't love was the lemon meringue pie, it was just too large to do justice to and with scones yet to come, it didn't feel like a pudding to prioritise. Scones are served when you're ready so they're at the perfect temperature and they're about as classic as you can get. Plain and raisin scones served with the usual accompaniments of strawberry jam and clotted cream and at the Langham, one more addition of apricot jam.
At the close of our Afternoon Tea sitting, I feel refreshed, full (but not uncomfortably so) and having just enjoyed a relaxing couple of hours in luxurious surroundings. I have to recommend Afternoon Tea at the Langham London for anyone looking to push the boat out and treat themselves – tourists or locals alike!
Traditional Afternoon Tea Menu: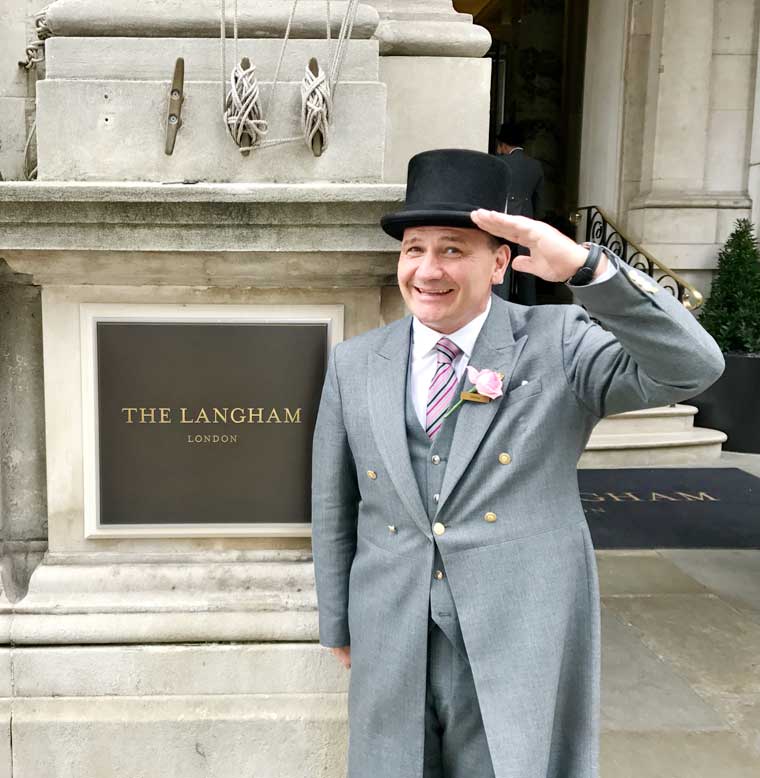 A selection of indulgent finger sandwiches:
Scottish smoked salmon, sour cream, dill, granary bread
Coronation Chicken, lamb's lettuce, spiced madras bread
Roast beef, mustard, watercress, tomato bread
Classic cucumber, cream cheese, chives, white bread
Ploughman's cheese scone, St James cheese, tomato chutney
Pastries inspired by the nation's favourite treats
Classic and raisin scones from our Palm Court bakery served with Cornish clotted cream and chef's seasonal preserves
Black tea, green tea, Oolong tea and herbal infusions from Jing Teas.
Afternoon Tea London – find more experiences
in our High Tea Venue Directory