The Stamford Plaza Adelaide Indulgent High Tea is held on the ground floor of the hotel at the Cascades Cocktail Lounge.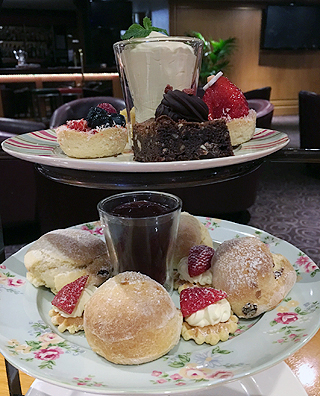 The 5-star hotel is a well-known landmark along the scenic, historic and busy North Terrace in the heart of the city.
The Stamford Plaza Adelaide Indulgent High Tea is held on the ground floor of the hotel at the Cascades Cocktail Lounge.
Pastry Chef Ellie Jung really knows how to cook and produces a really delicious and excellent High Tea. You can tell she puts passion and heart into her food!
The setting in the Cascades Cocktail lounge is relaxed and intimate. The table setting was presented nicely with gorgeous Robert Gordon Australia, Liberty Floral cups, saucers and plates.
For the Indulgent High Tea, we were greeted with a glass of sparkling wine on arrival.
A selection of unlimited Dilmah tea was served from English Breakfast to Green Tea.
My friend had a coffee and said it was the best coffee she had tasted in a while. Kate, our hostess said it was a European brand and was ordered in especially for the hotel and was very popular with the patrons and diners.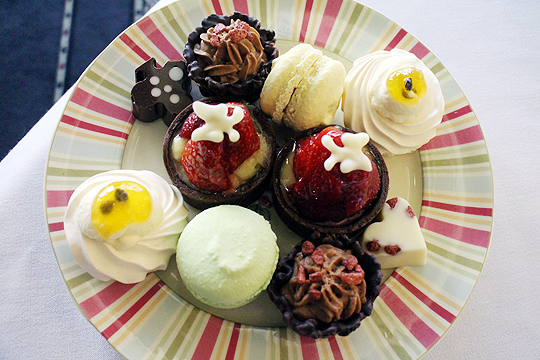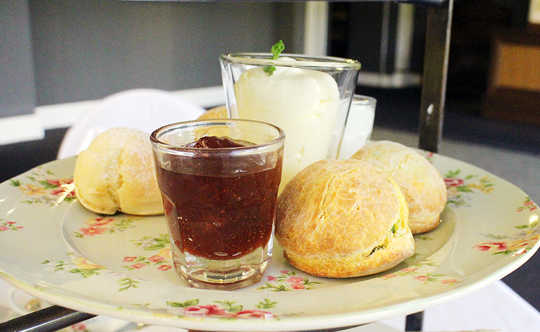 The Chicken Curry Puffs were really tasty and fresh with light flaky pastry. They had just enough spice.
Vegetable Quiche was very appetising and wasn't not too heavy. They were really simple and hearty with a selection of capsicum and carrot with a wholemeal base.
The Brie wrapped in ham with a flat crouton was a really great flavour combination. Who doesn't love Brie? Delicious!
Turkish bread sandwiches in the Indulgent High Tea, were really fresh, tasty and filling! The selection today was, Metwurst with mixed lettuce, tomato and a spicy tomato relish plus the always classic favourite; turkey, cranberry, lettuce and cream cheese. Always a winner!
The Duck and pistachio pate with crispbread was so fresh and absolutely delicious. Such a nice flavour. Definitely moreish!
Since we weren't full enough (not!) we were ready to tackle the sweet portion of the Indulgent High Tea.
Mini waffles with strawberries and cream was a nice and different touch.
The Scones were made from scratch (Thank you!) and were fresh, fluffy and doughy just like a homemade scone should be. There was a selection of sultana and plain ones served with Strawberry Jam and fresh Vanilla Cream. Ten out of ten for the Scones!
Almond and orange gluten free cake was very moist and tasty.
The assorted fruit flans consisted of custard, coconut, strawberry and berries. The tarts were really fresh, light and not too sweet. Really good!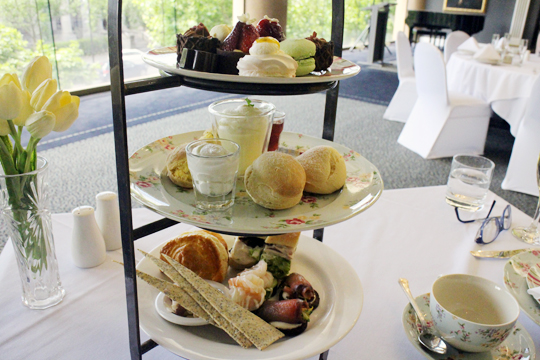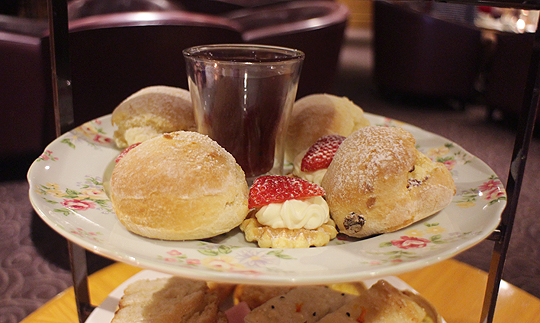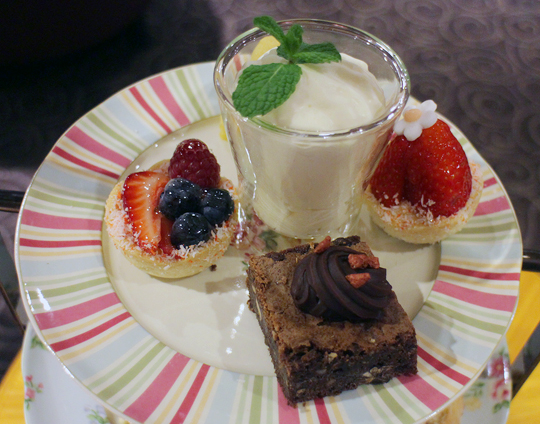 Chocolate and macadamia brownie was delicious! It was nice and moist. I could definitely go back for seconds on this!
The Hostess Kate, was extremely knowledgeable of the product, really helpful and very passionate about the Indulgent High Tea. They also cater for allergies, vegetarian and gluten free diets, on request.
The Stamford Plaza Adelaide, Indulgent High Tea in the Cascades Cocktail Lounge was really lovely and a really nice experience. I would definitely recommend for you to go and I look forward to returning in the future!
Stamford Plaza Adelaide Indulgent High Tea Menu
SAVOURY
Stamford Signature curry puffs
Mini quiches
Grilled ham and brie cheese brioche
Assorted ribbon sandwiches
Duck Pate with crisp bread
SWEET
Fruit and plain scones with jam and cream
Mini strawberry waffles
Assorted fruit flans
Gluten Free Almond and Orange cake
Chocolate and Macadamia Brownie
BEVERAGES
A glass of sparkling wine on arrival
Freshly brewed Coffee and Tea