Squirreled away in the back streets of Sydney's Darlinghurst is a little place called The Food Society. It's a European restaurant serving up a unique high tea experience every Saturday, based around tea and vodka.
Stepping inside, it looks like your granny has done the décor. Crocheted table runners, placemats, bric-a-brac on sideboards, miss-matched fine bone china, you get the gist. Perhaps not so granny-like is the glittering bar along one wall. It's where the vodka magic happens.
Being here for the vodka high tea (it's also available without vodka for those who prefer not to drink) we started with the signature Spiced Apple Pie cocktail. It was fantastic. Zubrowka Bison Grass vodka with house infused spiced apple juice, cinnamon, star anise, lemon zest and a green apple garnish. Delicious.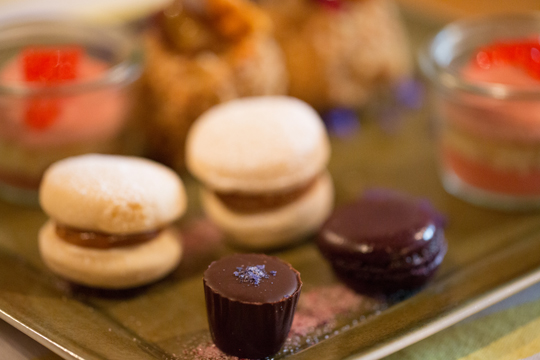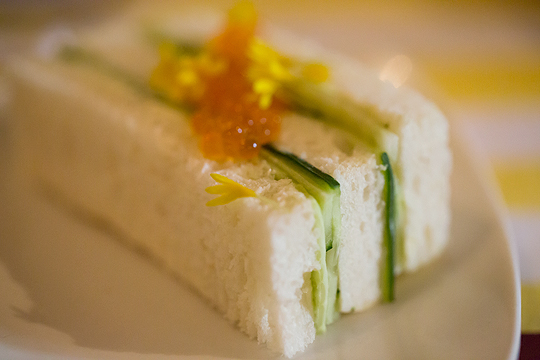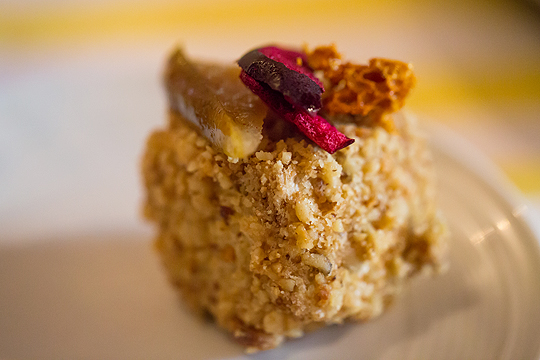 As you can see from the menu below, this high tea is a little left of centre. It's definitely one for the Sydney 'foodie' set who are always on the lookout for the newest, tastiest dining experiences for their Instagram pages.
The high tea is served in three parts – savoury canapés, a sandwich stand, then the sweet options. While the whole menu is great, for us it was the canapés that really shone. The duck vol au vent was a deliciously retro bite-sized morsel. Flaky pastry, shredded duck confit with chanterelle mushrooms and an extra heady hit of truffle – nothing to fault with this one. We could have eaten a dozen of them.
Thank goodness we didn't though, because next came the delicate mini goat's cheese tart. Served in a shortcrust pastry shell with the perfect amount of buttery flake and topped with a dice of caramelised fennel and parsnip, this was another canapé winner.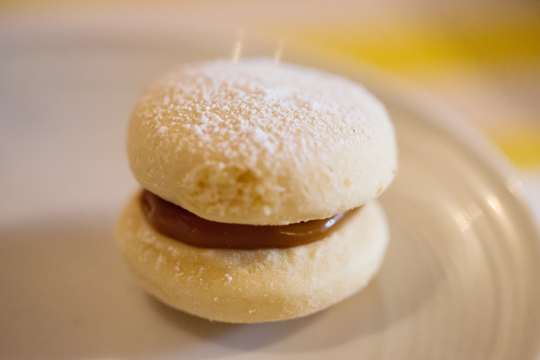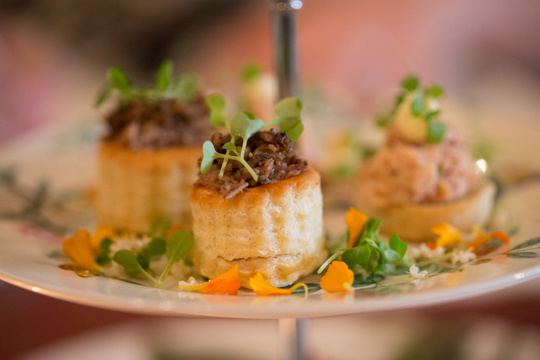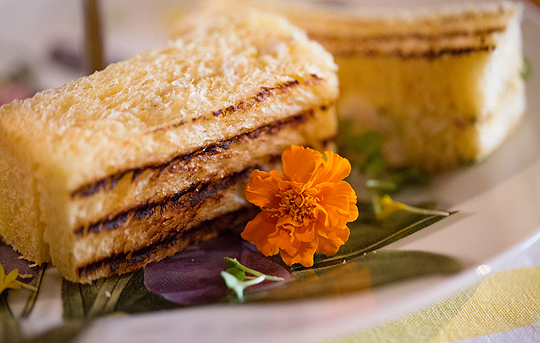 The one nod to tradition was the cucumber sandwich, and I'm happy with that because cucumber sandwiches are my favourite flavour on any high tea stand (it could be that I'm a sucker for cream cheese!). The chicken sandwich was served on chargrilled brioche which had a lovely smoked flavour. Both sandwiches had the perfect filling to bread ratio too. There's nothing worse than a tiny smear of filling, something you don't have to worry about here.
This is another high tea that skips the scones (something that we've found at a few venues of late). The selection and quality of the sweet tier means that you won't actually miss them anyway. The mini trifle is a great mix of jelly, cake and custard and is just the right size for a taste, but isn't overly sweet or filling. The shortbread biscuits are held together with a big dollop of a delicious caramel. It's best to twist them apart (like an Oreo) so you can easily get to the goodness inside.
The prettiest (and we think the best) element of the sweets, is the Czech style spiced honey cake. It looks like it's going to be quite dense and heavy, but once you take your first bite you'll realise just how light this cake is. It was quite unexpected, and the house made honeycomb and caramelised pear on top just add to the experience. It was the perfect end to a really enjoyable, refreshingly unique high tea menu.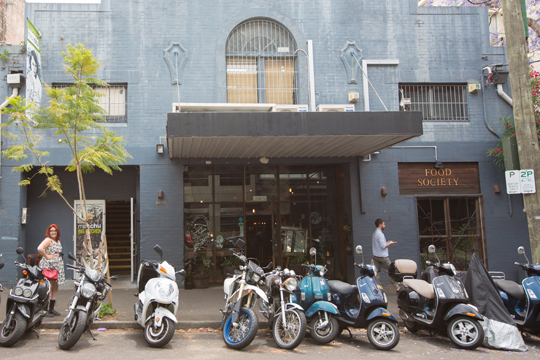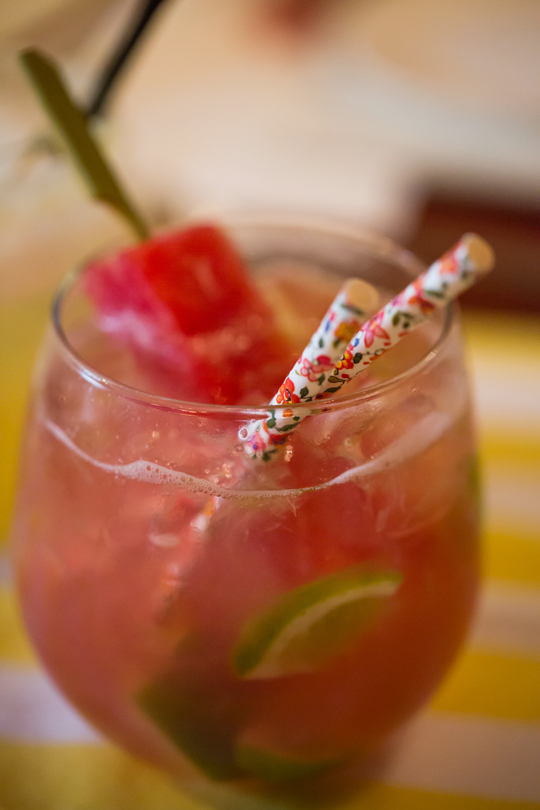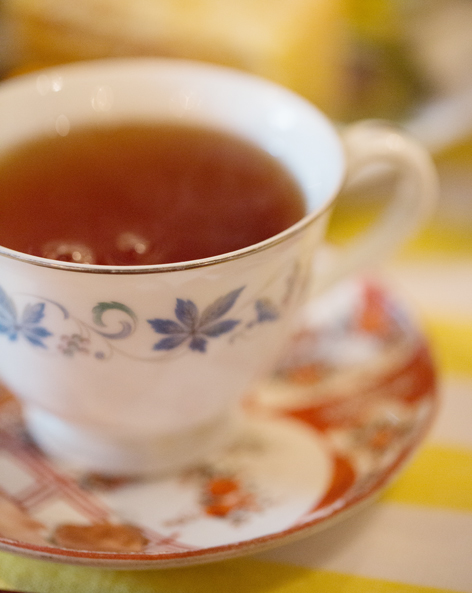 Overall, it's up to you how much vodka you'd like to add to your experience. There is a selection of cocktails on offer, but if you're after something a little more European, speak to the waiters about doing a vodka tasting. There is a whole menu to choose from, and they can recommend a few flavours for you to sample.
Vodka High Tea Menu

Goats cheese tartlet – shortcrust pastry with goat's cheese, pinenuts and mint.
Baked and topped with caramelized fennel and parsnip
Salmon pastrami  – green tea smoked Tasmanian salmon pastrami, pure chamomile flower jelly, shiso leaves and celeriac cream on truffle salt toast
Retro classic duck vol au vent
Confit Pepe's duck, pan fried chanterelles and chestnut cream and white truffle
Chef's daily warm savoury pastry with house made condiments
The best chicken sandwich – chargrilled brioche finger sandwich, house smoked free range chicken and tarragon, duck egg hollandaise, baby herbs and nasturtium flowers
Classic cucumber sandwich – the classic, shaved cucumber, chervil cream cheese, pink peppercorns and salmon caviar
Sweat tea trifle – petit tea cups filled with vodka cured rhubarb jelly, pomegranate and acai custard, vanilla sponge, sweet pickled north Australian hibiscus flowers, pomegranate and acai pearl salad
Alfajores – shortbread biscuits filled with dulce de leche
Mini berry macarons
Czech style honey cake – layered spiced honey cake, salted caramel cream, house made honeycomb, and caramelized local pears.
Dark chocolate truffle of lavender and earl grey