As a major supporter of the National Gallery of Victoria, Melbourne's Sofitel has created the perfect high tea pairing for the NGV's 2019 Winter Masterpieces: Terracotta Warriors: Guardians of Immortality.
There is a definite Chinese infusion to the menu – with nearly every delectable treat giving a nod to the origin of the infamous Terracotta Warriors. From the Crisp wonton with chocolate, ginger and pineapple dessert through to the sweet chilli cream cheese, five spice roasted chestnut sandwiches – the touches ranged from subtle through to dim sum favourites.
There were many we loved on this menu – the hot inclusions definitely left us with no confusion about the origin of this menu! If you love asian savoury then the pork bun, prawn wonton, sticky ginger beef and the sweet corn soup will hit the spot. The savouries on offer balanced out the desserts perfectly. Equally the sandwiches where all delicious and I am not sure one of each was enough.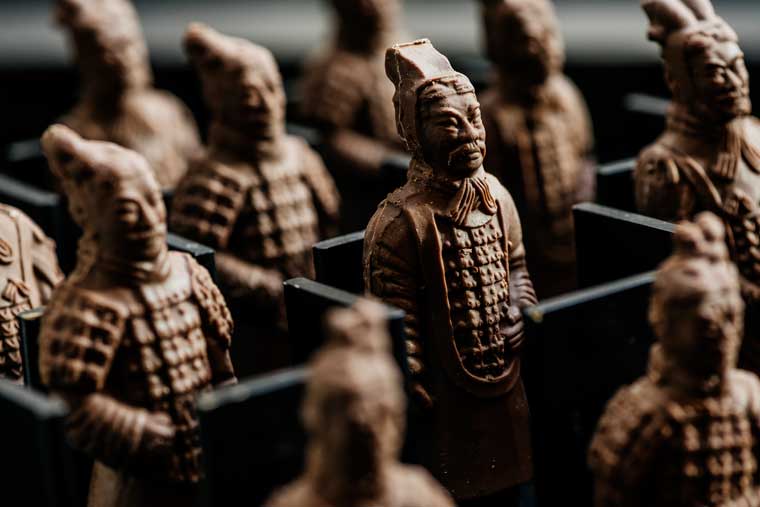 The sweet selection was as always beautifully presented with some fun flavour pairings – as well as our all time favourite: scones with blackberry preserve and lemon curd (why mess with a masterpiece?!). One of the best scones in town.
But beyond the (if you choose) free flowing sparkling wine and incredible spread is something we haven't encountered at a High Tea event before – your very own art project to not just create and take home – but to eat as well (and they are made from beautiful chocolate)! As part of the High Tea every guest receives their very own solid milk chocolate replica Warrior.
And not only are you invited to paint your chocolate warrior – the edible chocolate paint provided (from the four chocolate fountains) has been colour matched with four Dulux paints that have been created for the NGV's exhibition… we love a collaboration, this is definitely next level.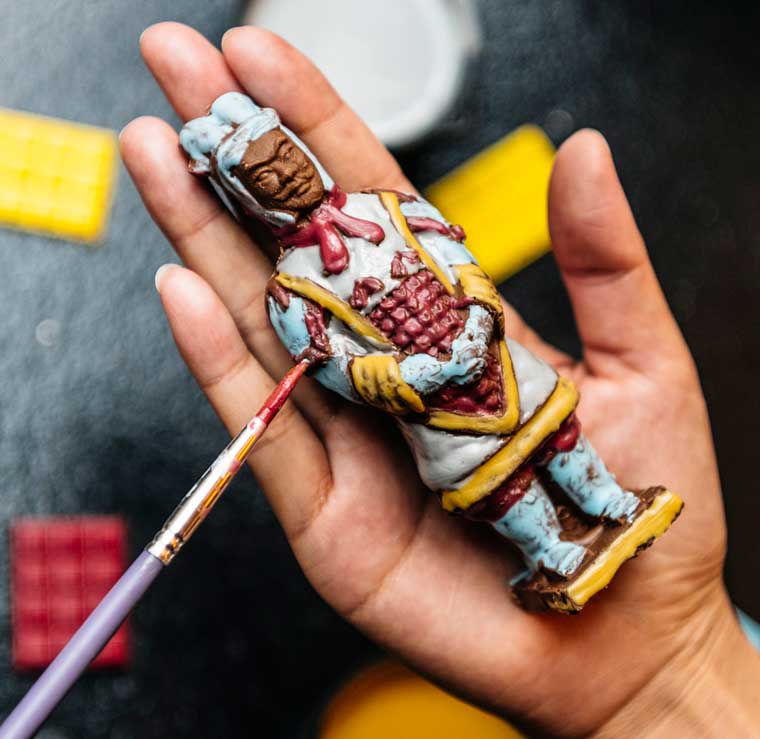 The menu offers plenty of options for vegetarians, gluten free and nut free diets (although if you have sever allergies it's worth noting the food isn't prepared in an allergen free environment).
The starting price for adults, $99, includes a glass of sparkling along with the tea menu and/or coffee. Alternatively, you can opt for the free flowing sparkling package of $118. Children's prices depend on age and range from $35-$55. Worth noting all guests receive their own chocolate warrior to decorate and take home.
If you are planning a special visit to the NGV to experience Terracotta Warriors: Guardians of Immortality then the Sofitel's Terracotta Warriors High Tea is the perfect accompaniment! Or if you just need an excuse for a special treat this winter, then do not miss this high tea masterpiece.
High Tea Melbourne – find more experiences in
our High Tea Venue Directory