Discover the best Afternoon Teas Dubai has to offer.
Dubai is known as a city of wealth and luxury, boasting the world's tallest building, the Burj Khalifa, the Dubai Mall and the infamous Palm Jumeirah. Located on the eastern coast of the Arabian Peninsula, Dubai offers beautiful beaches, yearlong sunshine and surrounding deserts alongside luxurious accommodation, Michelin star restaurants and exclusive boutiques.
For those looking to escape the heat and rest their feet, there is plenty of opportunities to indulge in an afternoon tea experience unique to Dubai. This list covers all from very traditional to Eastern inspired, afternoon tea is about opulent locations and delicious delicacies throughout.
Best Afternoon Tea Dubai: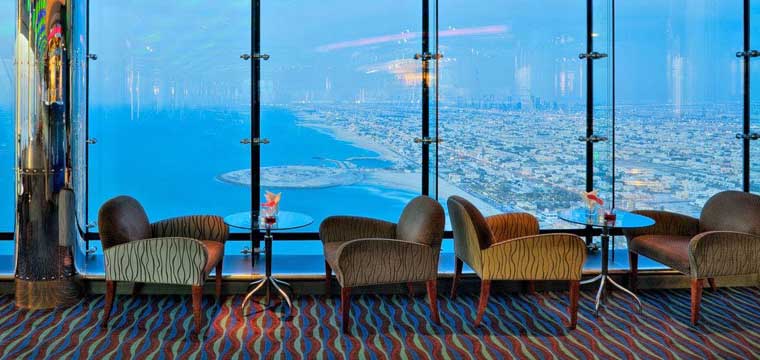 Skyview Bar & Sahn Eddar – Burj Al Arab
The Burg Al Arab offers 3 dining experiences for those who want to enjoy afternoon tea. The premium experience is Sky Tea held in the Skyview bar, giving guest panoramic views of Dubai. Guests can sit and take in the view over 7 courses. Please note that Sky Tea is only available for guests who are over the age of 18. The Sahn Eddar offers guests two options the Ultimate Afternoon Tea, consisting of 7 courses and High Tea, consisting of 3. The 7 course teas both offer the same menu with a selection of tea, coffee, pastries, finger sandwiches and scones with jam and cream.
Skyview bar – 27th floor, Burj Al Arab, Jumeirah Beach Road, Dubai
Sahn Eddar – 1st floor, Burj Al Arab, Jumeriah Beach Road, Dubai
Learn more about Afternoon Tea at the Burj Al Arab
At.Mosphere Restaurant and Lounge – Burj Khalifa
Located in the world's tallest building the Burj Khalifa, the At.Mosphere Lounge offers afternoon tea with a view from the 122nd floor. Guests can choose from the Basic tea or Luxury tea, and whether they would like a window seats at the time of booking Alongside an assortment of loose leaf teas, guests can also indulge with champagne and cocktails.
122nd Floor, Burj Khalifa, Downtown Dubai, Dubai
Learn more about Afternoon Tea at Burj Khalifa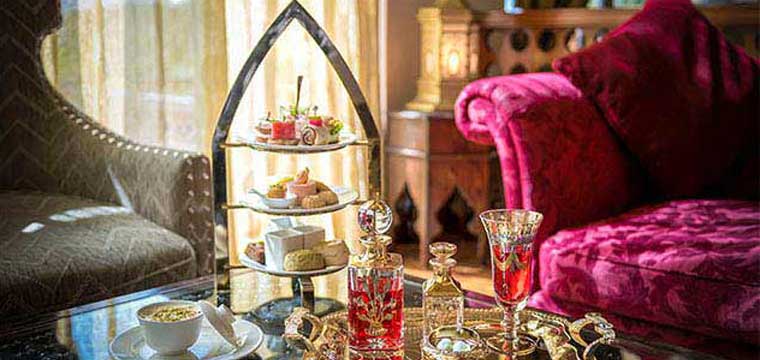 Al Bayt, Palace Downtown
Not only does Al Bayt offer a luxurious interior, but also panoramic views of Burj Lake and the Dubai Fountain. Guests can choose from the Traditional Afternoon Tea experience or the Arabian Afternoon Tea experience which is a combination of the classic with Arabian influences. There is a large selections of teas available, and for guest who want to experience the ultimate indulgence, there is the Palace Cappuccino. Guests can enjoy a delicious cup of cappuccino topped with 22 carat gold dust, what a way to finish off an afternoon tea experience.
Palace Downtown Sheikh Mohammed Bin Rashed Boulevard, Downtown Dubai, Dubai
Learn more about Afternoon Tea at Al Bayt, Palace Downtown
La Farine – JW Marriot Marquis
La Farine offers a dark and modern setting for Afternoon Tea, offering what everyone loves with Afternoon tea but with a modern twist. The service includes five courses, and tea is unlimited during the sitting. Teas can even be purchased afterwards, including La Farine signature tea, Currant Dream.
Choix Patisserie and Restaurant
Pierre Gagnaire has chosen Dubai for his first standalone patisserie. The modern setting is chic, with accents of yellow and pink throughout. The menu is seasonal, but always includes a French flair through pastries and tea choices.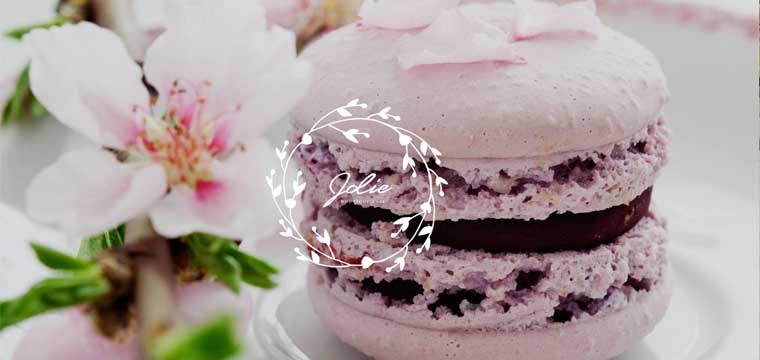 Jolie Floral Boutique
Entering Jolie Floral Botique, you are welcomed with the scent of roses and the sight of fresh flowers. Guests can enjoy a tradition afternoon tea, with finger sandwiches, canapes and delicate desserts on offer. Scones of course are also a part of the tea experience. On offer is a unique selection of flower teas unique to Jolie's.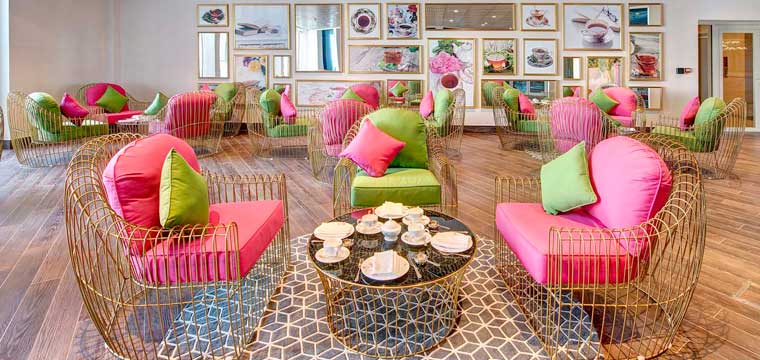 DUKES Champagne and Tea lounge
The oh-so-British Tea Lounge is an luxurious venue, with plush fabrics, pops of colour and crisp airiness. Overlooking the Arabian Gulf it is perfect for an elegant, yet intimate affair. Along with the traditional afternoon tea offerings, DUKES teas supplied some of the best tea estates around the world.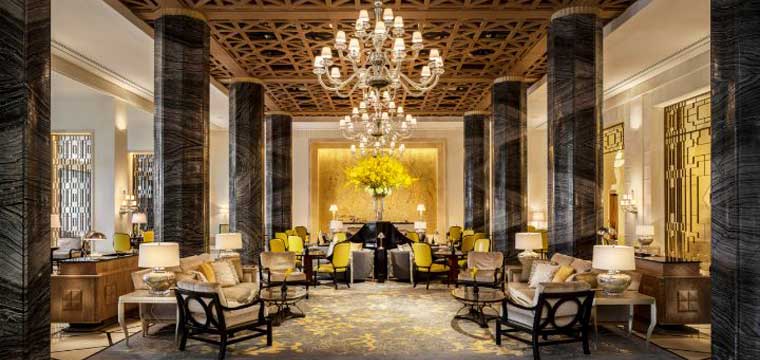 Shai Salon – Four Seasons Resort Dubai at Jumeirah Beach
The Shai Salon allows guests to enjoy afternoon tea in an opulent setting. With marble and golden accents featured through with cushions and plush fabrics. There is a large selection of teas available from all around the world, including Flowering tea, Oolong, Black and Herbal.
Four Seasons Resort Dubai, Jumeirah Beach Road, Jumeirah 2, Dubai
Read our review of the Afternoon Tea at the Shai Salon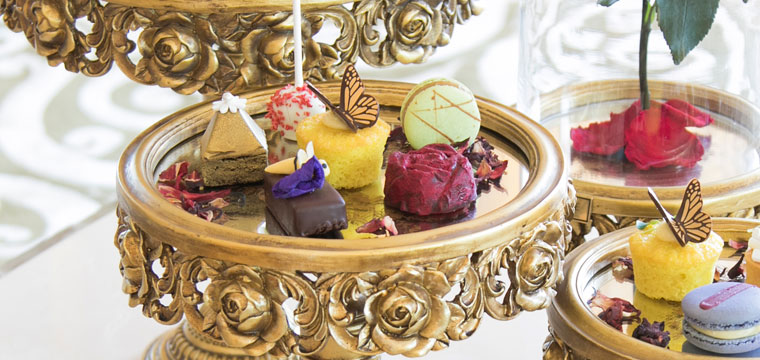 Raffles Salon, Raffles Dubai
The Raffles Salon is an opulent escape from the hustle and bustle of the city. The Salon is Arabian luxury, with hints of golds and rich warm tones throughout. Raffles menu changes throughout the year, with its current menu, The Collection – The Floral Afternoon Tea a collaboration with Forever Rose London. This menu focuses on floral delights, including dry rose petal scones and jasmine tea infused chicken roulade.
Raffles Salon, Raffles Dubai, Sheikh Rashid Road, Wafi, Dubai
Learn more about Afternoon Tea at the Raffles Salon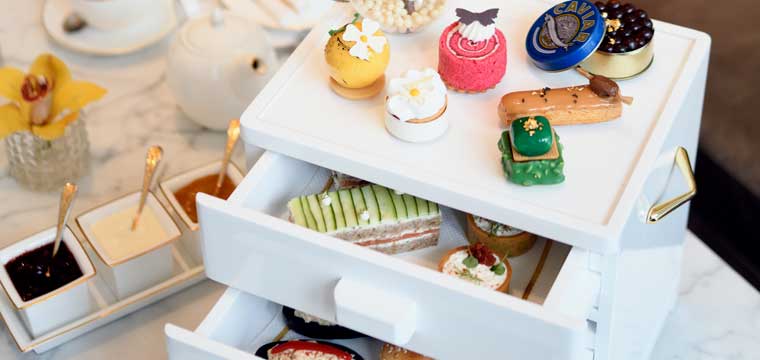 The Lounge at Address Boulevard
The Art Crafted Afternoon Tea is a refined experience, with scones and a large assortment of teas on offer. The true highlight though, is the chest of drawers used to present the decadent offerings available. Each drawer containing, finger sandwiches, mini Burata and chocolate caviar to name a few. There is also a large assortments of teas on offer.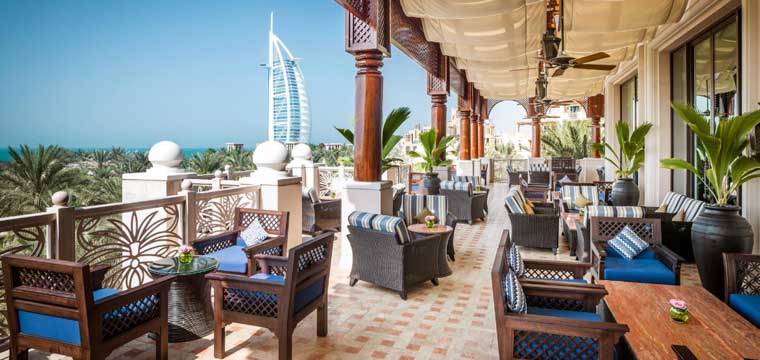 Al Fayrooz, Al Qasr
Step into an Arabian oasis, with marble columns, plush couches and views of the Arabian Gulf. Al Fayrooz offers guests multiple afternoon tea experiences including the Arabesque Afternoon Tea, Royal Afternoon Tea, or the Hendricks Afternoon Tea, which includes a Gin & Tonic or Hendrick's martini. Delicacies served include Strawberry Kunafa Millie-Feuille and Apricot Orange Blossom Soufflé
Find more Dubai Afternoon Tea experiences
in our High Tea Venue Directory.