Win: A Carlisle Tea Health and Wellbeing Tea Hamper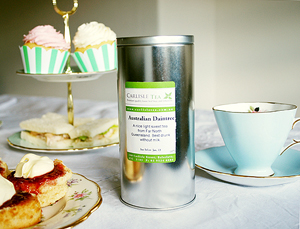 If you have indulged in too many freshly baked scones, delicate finger sandwiches and glasses of bubbly, finish off your high tea with a soothing and health enhancing pot of tea. 
Carlise Tea has over 100 speciality loose leaf teas including a selection to enhance your good health and wellbeing: clarity, relax, stressless, weight control, energising and cleanse.
Carlisle Tea's handcrafted blends combine fresh herbs, flowers, fruits and spices to produce delicious infusions that lift your mood and re-balance your energy.
To celebrate the launch of their new website Carlisle Tea is offering High Tea Society readers the chance to win a Heath and Wellbeing Hamper valued at $250.
COMPETITION IS CLOSED
Congratulations Lesley Fisher you win the Carlisle Tea Health and Wellbeing Hamper.
HOW TO ENTER:
To win the Carlisle Tea Heath and Wellbeing Hamper, you need to leave a comment on this post in 30 words or less answering the question: "How do you feel when you drink your favourite loose leaf tea infusion?". The winning entry will be decided on creativity or entertainment value. 
High Tea Society Competition Terms and Privacy:
– One entry per email address
– Prizes are redeemable and will be emailed or posted to an Australian address only.
– High Tea Society owns any information given as part of and will not sell, rent or give your personal details to any other company, unless it is part of the requirement to enter the competition.
– The Carlisle Tea competition closes on Tuesday 12 October 2010 at 5pm AEST. The winner will be announced on High Tea Society on 14 October, 2010.
This competition is sponsored by: