Master pâtissier and baker to the stars Eric Lanlard has published a gorgeous new book crammed with more than 80 deliciously achievable recipes for the perfect afternoon tea.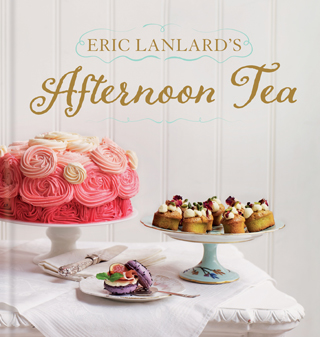 The book explores the key components of a sublime afternoon tea with chapters on Macarons & Choux, Savoury Tarts, Sandwiches & Scones, Cakes & Sweet Tarts, Patisserie and finally Biscuits. Eric shares his expertise on matching the right tea to the right food and offers six themed menus including a Valentine's Day tea, a summer al fresco summer menu and tea for an autumn afternoon, each offering a perfect blend of flavours, textures and visual impact.
We had the chance to ask Eric a few questions about his new book.
Do you have tips for creating an afternoon tea party at home?
Well it all starts with a good guest list. Make sure you invite people who are interesting and will get on with each other. Choose a theme, but not one that's too gimmicky since Afternoon Tea should be elegant and glamorous. It doesn't need to be overly complicated, something simple and al fresco is always wonderful and it's the little touches that will make the event memorable. Dressing the table with beautiful china, stemware, flowers and beautiful cake stands will set the mood and the ambience.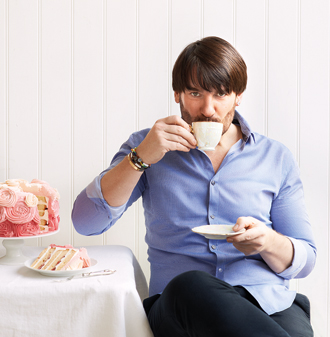 Try to be as organised as possible, choose your recipes carefully and allow yourself enough time to finish everything beautifully so you can then relax and enjoy your guests. There is nothing worse than a stressed or invisible host when you are a guest!
What can people expect to experience at your afternoon tea on board the P&O?
I served my signature Afternoon Tea on-board 3 "P&O cruises" ships (Britannia, Azurra and Ventura). My Afternoon Tea is very different to what you would expect from a traditional cream tea. For the savoury serving of the tea there are no sandwiches but instead an array of creations with beautiful flavours. Savoury macarons with lemon and black pepper with smoke salmon and grapefruits. Small brioche filled with filet of beef and horse radish crème fraiche. Gruyere eclairs with brie and red onion marmalade. And some light and fresh tartelettes with heirloom tomato and pesto.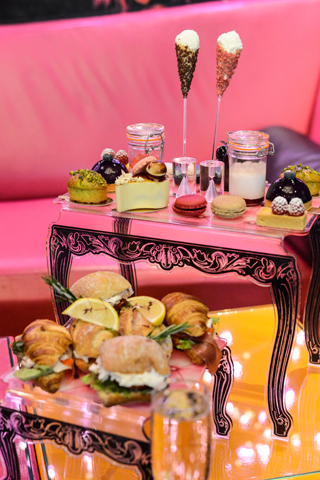 The sweet course is as just as inventive and there is a bit of interaction for the customer. Passion fruit and white chocolate pop cakes topped with cotton candy, chocolate cannelloni filled with roasted apple mousse and chocolate mousse. Jars of Eton Mess with injectable coulis. It's all very different, visually attractive and of course super yummy …and to finish there are a choice of scones which are flavoured with lemon zest and extract along with juicy golden sultanas. The beginning of the Afternoon Tea starts with the wait team delivering a spritz of edible Bergamot perfume inspired by Earl Grey tea – to set the mood.
When people visit your Cake Boy Café in London for afternoon tea what can they expect to experience?
The Tea at Cake-Boy is a French Afternoon Tea …so not a scone in sight! We serve our tea on designer little perspex tables giving customers a la Francais vibes. We use a fine tea from TWG Tea (Cake Boy and Harrods are the only London suppliers.) Our current signature piece is the Cassis Royale Dome. A blackcurrant dome filled with blueberry compote on a shortcrust pastry base lined with a sponge that has been soaked in champagne.
What is your favourite afternoon tea venue?
I had afternoon tea recently at the St Regis Hotel in Dubai. It was a great afternoon tea but it was the setting that stole the show. It was like having tea in a grand French Chateau with all the glamour associated with that. It was hard to believe I was in Dubai in the desert!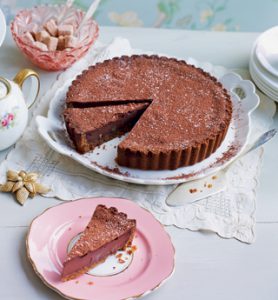 This is a delicious recipe which is very rich and indulgent. I have swapped a traditional pastry base and used pressed ginger biscuit crumbs. The filling is a rich chocolate custard which is baked in the oven with pieces of glace stem ginger. This tart is an exquisite combination of a crumbly buttery base with the sweet stem ginger cutting beautifully through the rich custard. If you like chocolate and ginger this one is for you!
"Even though the title of the book is Afternoon Tea, you can use the recipes individually for any occasion ….as most of them can stand alone as a desserts, canapes, birthday or celebration cakes." Eric Lanyard