Chicken & Cranberry Pinwheel Sandwich recipe by Amy Darcy.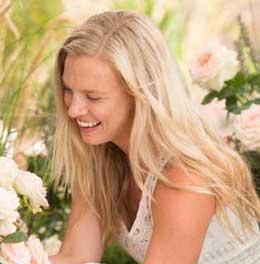 Amy Darcy is the blogger behind the health food, lifestyle and fitness blog Eat Pray Workout.
Inspired by Amy's Aunty who made pinwheel sandwiches for the high tea at her baby shower, she decided to make this yummy chicken, cranberry and pecan pinwheel sandwich recipe for  afternoon tea.
They are simple but look oh so sophisticated paired with a pretty tea cup.
---
Ingredients
---
Instructions
In a large bowl combine chicken, pecans and enough mayonnaise to moisten. Set aside in the fridge.

Take a slice of bread and remove the crusts, then using a roller, flatten the bread.

OPTION: If you wish to make your pinwheels bigger then buy a whole loaf and cut it length ways.

Spread with butter.

Spread chicken mix thinly over the bread and press down.

Roll bread tightly from one side to the other. Depending on how well they have stuck together you can either roll them in glad wrap and refrigerate them for up to 30 min or slice into bit sized pieces and serve immediately, decorating with your chosen herb.