The highest of high teas is offered at the 360 Bar & Dining at Sydney Tower on the last Sunday of each month.
An integral part of the Sydney skyline since the early '80s, the tower has been known by many different names depending on your age: Centrepoint Tower, Westfield Centrepoint Tower, AMP Tower, but the correct name is actually Sydney Tower.
Check in at the concierge and take the lift 305 metres up to the STUDIO. Stepping out of the lift you'll be amazed at the view out of the floor to ceiling windows. We were shocked at just how far you can see into the distance. From the Blue Mountains all the way up to what we assumed was Palm Beach (even if it was only Manly, it's a long way nonetheless!). Being up so high was also a little vertigo inducing, so prepare to feel a little different until you adjust (the bottomless champagne helps!)
The tables with their unobstructed views are all beautifully set with white linen tablecloths, fresh cut flowers, sparkling glassware and fine bone china.
Served across two stands, the menu for this high tea is in part French inspired. Salmon rillettes, a croque monsieur, macarons and caneles add a touch of France. The rillettes were served in individual cucumber cups. A lovely way to present them while also making them gluten free. The croque monsieur on the other hand, is definitely not! Fresh white bread sandwiched around smoked ham and cheese and toasted until oozing, it was delicious.
The macarons are an assortment of flavours, some sweeter than others. They're a good size, although knowing that the king of macarons – Laduree – is just downstairs detracted a little. The caneles on the other hand were fantastic. A thick caramelised crust taken to the point of almost scorched surrounding a baked custard centre, make sure you eat your fair share. I was saving half of mine for last and it got pinched by my photographer – how rude!
There's also a nod to Asian cuisine with two substantial savouries. A pulled pork slider (mini burger for those who've missed the trend) was nice and juicy. And strangely, there were sticky lamb ribs with an Asian slaw. There is no dainty way to eat these, so skip trying to pick them up with your fingers (you'll get covered in the delicious sticky glaze) and use your knife and fork. You'll want to ask for a clean plate once you're done, otherwise your sweets will taste savoury, and nobody wants a cake that tastes like coleslaw juice now do they!
I'm still not sure I agree with the 'non-traditional' option of not including scones at a high tea, but here we have it again. The replacement was a white chocolate and raspberry muffin. While it was a good example of a muffin, it just felt a little 'samey' after the mini cupcake that was also served. I've said it before and I'll say it again, mini cupcakes are OK for a kids high tea, but with the myriad options of petit fours available for chefs to create, a mini cupcake is disappointing, especially considering the impressive caneles on the menu – the kitchen clearly has the pastry skills.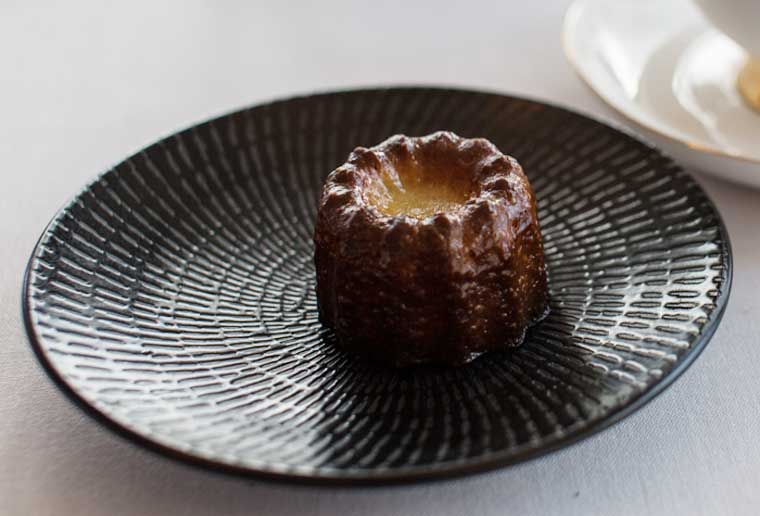 Overall, this high tea is an enjoyable experience. The venue with its impressive view along with the novelty of dining in an iconic Sydney structure all adds up to an event you should consider when planning your next high tea adventure. It's only offered once a month though, so bookings are essential.
360 Bar & Dining, Sydney Tower High Tea Menu: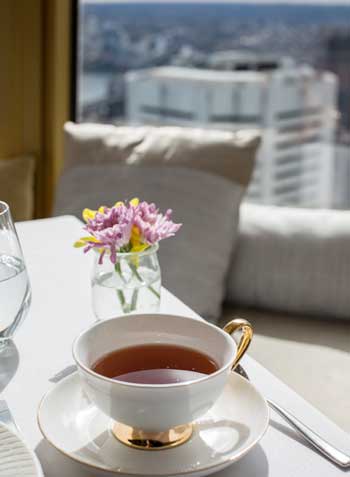 A glass of Piper-Heidsieck champagne
Sandwich selection:
Salmon rillettes, cucumber, capers
Vegetable frittata, crème fraîche & chives
Quail egg, bacon, tomato chutney
Sticky lamb ribs, Asian slaw
Pulled pork brioche slider
Croque-monsieur
White chocolate & raspberry muffin
Assorted macarons
Mini cupcakes
Canelés
Served with coffee or tea