Situated on the riverfront at Elizabeth Quay, the newly opened Ritz-Carlton, Perth is quite the place to partake in a glass or two of bubbly and a spot of afternoon tea in their Hearth Lounge.
I kicked off the afternoon with a glass of 'R' de Ruinart and what a beautiful drop it was. It wasn't long before the savouries came out. I was immediately impressed that the sweets and savouries were served separately as it allowed me to take my time and not worry the desserts were just sitting around. I started with a twist on your traditional Aussie steak sandwich. It was bite sized but wow did it pack some flavour, proving good things do come in small packages. The wagyu beef was beautifully grilled, the bread toasted to perfection and the tomato ketchup had just right amount of tang.
Next up was the Peel Inlet blue swimmer crab roll. I am a sucker for shellfish so I went in with some high expectations and it certainly lived up to every single one of them. The crab, mayo and mustard filling was to die for and nestled nicely in a toasted roll. It was hands down savoury of the day for me. However, that takes nothing away from the aged Cambray cheddar (from Nannup) tart with heirloom tomato and olive that followed. The filling was akin to a custard and the crust melted in my mouth, never mind the beautiful presentation.
It was then time for me to order a tea from the Margaret River based Seven Seas Tea. The lengthy list will satisfy most tea enthusiasts, I opted for peppermint.
What followed was a first for me. Damper instead of your traditional scone, with whipped dessert lime cream and housemade jam. I love that the damper was lovingly wrapped in ornate napery so it retained the heat whilst also adding some theatre to the moment. The wattleseed damper itself was oh so moreish and the lime cream added some tang along with the preserve, big hit!
The final course, I say course as it felt like a staged meal more than your traditional high tea, were the desserts which all looked as appetising as each other. I elected to try the lamington roll first and this Aussie classic had also undergone a makeover. Meticulously cased in white chocolate, the centre was a mouth-watering combination of coconut and rosella set in a fluffy sponge, beautiful!
Lime was a recurring feature in this menu and it made another appearance, in the baked finger lime cheesecake. This was surprisingly the most dense and rich of the desserts, not that there's anything wrong with that. I always like to finish a high tea with a chocolate dessert and this was no exception. From the impressive presentation to the biscuit casing, Lake Deborah salted caramel topping and moreish mousse centre, this was a top-notch dessert and rounded out my decadent afternoon perfectly.
At this point it is worth mentioning the bespoke hand-carved dishes from local homewares firm, Turner and Turner. They showed off the afternoon tea to perfection and the beautiful marble top table and comfy chairs encouraged a long afternoon overlooking the Swan River.
For a hotel that has only been open since November 15 2019, The Ritz-Carlton, Perth's signature afternoon tea at the Hearth Lounge is off to a flying start. The Executive Chef, Jed Gerrard has produced a beautiful menu "that showcases the best seasonal West Australian produce and unique native flavours," he said. The menu changes with every season to take full advantage of this.
I encourage you to do yourself a favour and book in an afternoon tea at The Ritz-Carlton, Perth's Hearth Lounge. It's no coincidence the restaurant recently won two Australian Good Food Guide Chef Hats. Enough said!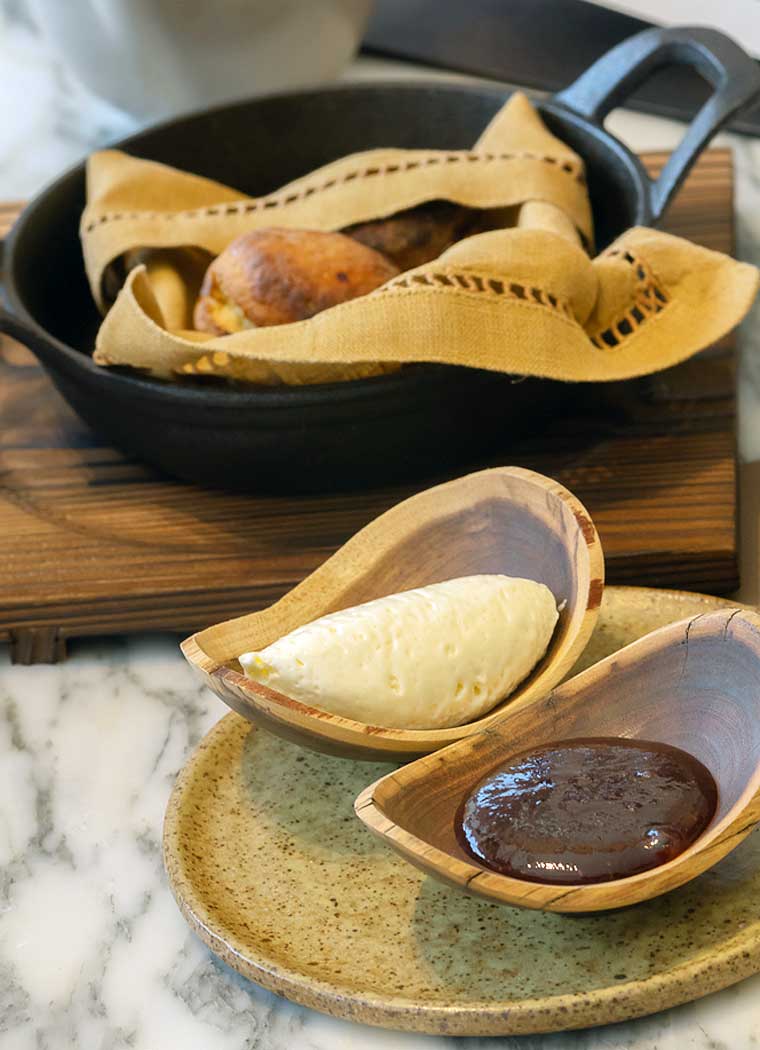 Afternoon Tea Menu:
Peel Inlet blue swimmer crab roll
Hearth grilled Futari Wagyu beef sandwich with bush tomato ketchup
Aged Cambray cheddar tart with heirloom tomato, olive
Wattle seed damper, whipped desert lime cream, seasonal preserves
Milk chocolate and wattle seed choux, Lake Deborah salt caramel
Lamington, rosella, coconut
Baked finger lime cheesecake
Sample menu only, subject to seasonal change without prior notice.