I'm back at the Hearth, Ritz-Carlton Perth, for their Signature Afternoon Tea, and it was just as impressive as my first two visits.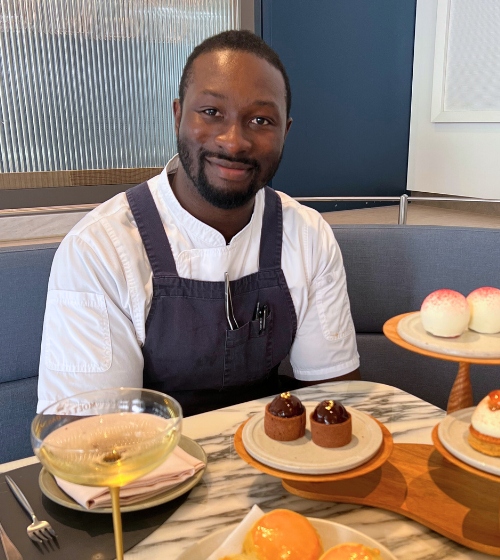 Starting with the gorgeous (h)earthy themed table and setting, which included a marble tabletop, and stone like crockery. I also loved the prompt appearance of the stunning old-style gold and glass champagne coupes, or saucers, (oh how I would love a set of these in my home) for the Moët & Chandon. After a few sips, the two wooden towers of beautifully presented sweet and savoury treats appeared at the table. It's worth noting that due to popular demand, an extra savoury item has been added to the menu.
The smoked chicken sandwich with Pink Lady apples, celery, and black garlic mayo intrigued me, so it was the first cab off the rank. The apple threw me a little, but the chicken and mayo more than made up for it. Next up was the scene stealing, Shark Bay prawns, brown butter, cucumber, citrus aioli and dill on a brioche bun. Everything worked so well together, with a special mention to the amazing, sweet local prawns. While the aged cheddar custard tart with ginger, grilled mushrooms, and quinoa was a rich, decadent delight and pesto fans (myself included) will love the smoky marinated zucchini, creamy goat's curd, mint, with carrot top pesto.
View this post on Instagram
It was then time for me to order a pot of Seven Seas peppermint tea in readiness for the showstopping desserts, and once steeped, I couldn't wait to try the St. Honoré, pecan praline, vanilla bean Chantilly, with toffee. There was a strong vanilla flavour, which combined well with the pecan base and toffee button on top. A touch of theatre arrived in the form of the strawberry infusion, hibiscus flower, coconut ganache and white chocolate. After I pierced the sweet snowball with my fork, the refreshingly tart strawberry filling spilled onto my plate, which I promptly scooped up with a spoon. The opposing flavours were a taste sensation and ALMOST the dish of the day. However, that honour went to the chocolate guava petit gâteau, guava crémeux, light chocolate mousse, and Angostura bitters. The dome casing was surprisingly spongy and housed THE most deluxe chocolate mousse. The guava added an overall richness to the dessert, which was finished off with more chocolate and a touch of edible gold foil on top.
My last dessert of the day was the two honey glazed scones, buttermilk and raisin. Served with whipped vanilla cream and strawberry conserve, which looked more like a puree, they were the perfect way to end my afternoon at the Ritz-Carlton.
The gorgeous view overlooking the picturesque Elizabeth Quay and the delicious menu never fail to disappoint. There are a range of afternoon tea experiences available, from $75 with Seven Seas Tea or Coffee by Offshoot, right up to the two-hour package with Moët & Chandon Grand Vintage Champagne for $190 per person. Ritz Kids can also enjoy Afternoon Tea at $49 including a choice of milk and juice.
Bookings are essential, and don't forget to include any gluten free, dairy free, vegetarian, or vegan requests in your reservation. Open Monday to Friday: 12pm – 4pm in the Hearth Lounge, and Saturday and Sunday: 12pm & 3pm in the Hearth Restaurant, their afternoon tea is a true delight for the senses, so do them a favour and make a booking today! Learn more about the Afternoon Tea at Hearth, Ritz-Carlton Perth here.
Afternoon Tea at Hearth, Ritz-Carlton Perth Menu: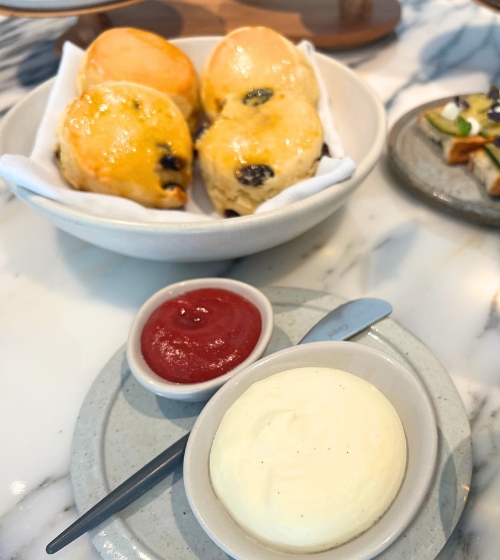 Savoury:
Smoked chicken sandwich, Pink Lady apples, celery, black garlic mayo
Shark Bay prawns, brown butter, cucumber, citrus aioli, dill
Aged cheddar custard tart, ginger, grilled mushrooms, quinoa
Charred marinated zucchini, goat's curd, mint, carrot top pesto
Sweet:
Strawberry infusion, hibiscus flower, coconut ganache, white chocolate
St. Honoré, pecan praline, vanilla bean chantilly, toffee
Chocolate guava petit gâteau, guava crémeux, light chocolate mousse, Angostura bitters
Buttermilk scone, raisin scone, whipped vanilla cream, seasonal preserves
High Tea Perth – find more experiences
in our High Tea Venue Directory